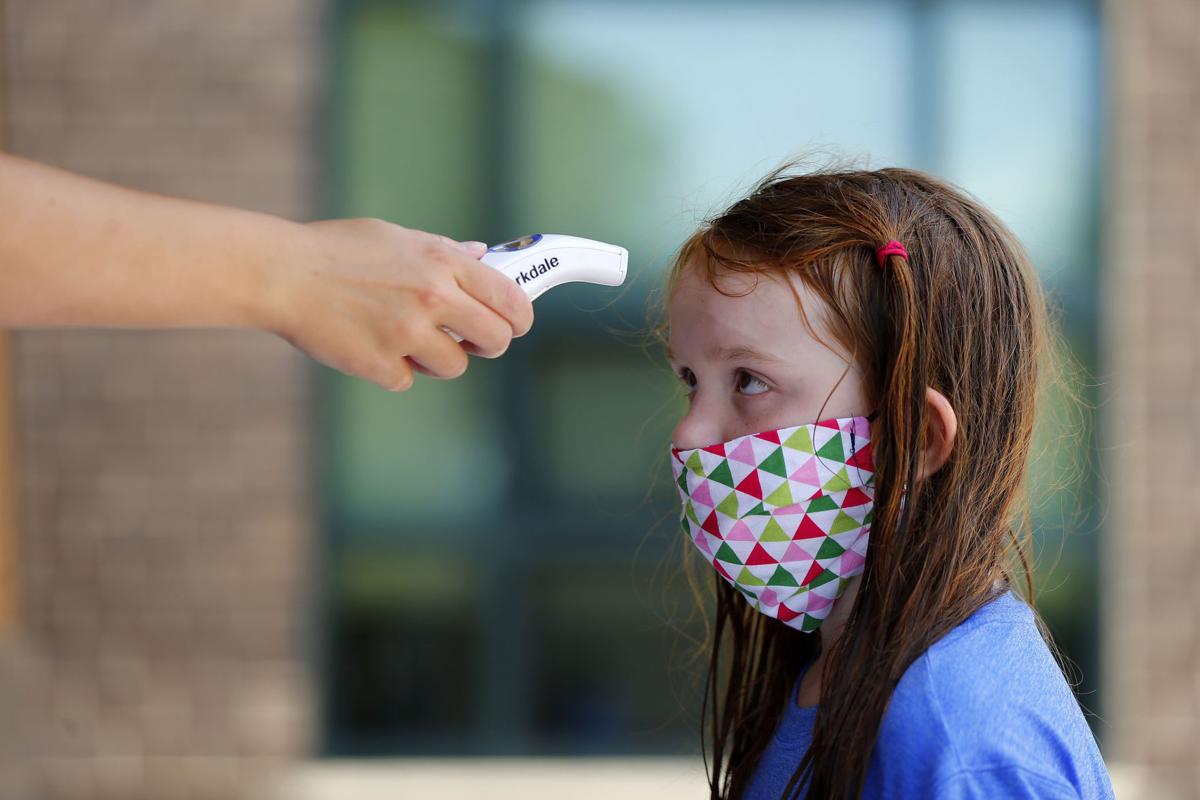 Local school districts preparing to reopen with in-person instruction aren't in a position to test all students and teachers for Covid-19 – neither before they return to the classroom nor on a consistent basis after school starts.
Instead, school administrators are turning to temperature screening to try to identify people showing symptoms before they potentially expose others to the novel coronavirus.
And, for the most part, districts will rely on parents, teachers and other staffers to conduct temperature checks at home before arriving on school grounds.
District officials say it is the best option for safely screening hundreds of students and staff each morning while avoiding backups at school entrances.
"We have really asked the parents in our community to be partners with the health and safety of our students," said Eden Superintendent Jeffrey Sortisio, whose district asks parents to check temperatures and fill out an online questionnaire. "I think it's the community's and the school district's responsibility jointly."
But the screening procedure raises questions. While the state Education Department required districts to include temperature screening in their reopening plans, the federal Centers for Disease Control and Prevention caution that it's not a 100% effective method for detecting Covid-19.
And, for those districts requiring temperature screening at home, it's both a matter of trusting that parents will perform this task and adding another responsibility for parents whose school morning routines were packed enough before the pandemic struck.
"I don't have time in the morning – it's not going to happen," parent Kara Buscaglia said at an Aug. 12 Williamsville schools forum, noting the difficulty in taking and recording online the temperatures of her four children before they go to school and she heads to work.
Public health officials are not requiring students and teachers to take a Covid-19 test before returning to school next month, nor is it realistic for school districts to conduct mass testing for the virus, given issues with access to tests and test supplies and the turnaround time for results.
"That's not pragmatic," said Dr. Thomas A. Russo, an expert in infectious diseases at the University at Buffalo.
Schools are turning to temperature checks instead because a reading of 100.4 degrees or above can be a symptom of Covid-19. But there are flaws with relying on temperature screenings for the virus.
"We have to remember that young children are much more likely to be asymptomatic," Russo said.
Studies have shown that about 16% of children who tested positive for Covid-19 didn't have symptoms, according to the CDC. Also, a fever can indicate someone has strep throat or the flu and not the virus.
And there can be issues if the people taking temperatures aren't trained in how to do it properly.
Given these limitations, the CDC doesn't recommend schools conduct screening of all students for Covid-19 symptoms.
However, the state Education Department required a protocol for daily temperature screening of all students and staff within district reopening plans for the fall.
Anyone who registers a temperature of 100 degrees or higher must stay home or be sent to a supervised isolation area at the school pending a return to home, the department said. The state guidelines say it is preferred that teachers, staff and students have their temperatures checked at home, before arriving at school.
In Hamburg, parents will have to take their children's temperatures and confirm through an online program that they've done so, said Superintendent Michael Cornell. School officials will be alerted when students show up who haven't had a confirmed temperature reading and staff will check their temperature, he said.
Officials realize this places a burden on parents to buy a thermometer and record daily readings, but they hope, like with mask wearing and social distancing, people will adjust to these new responsibilities.
"Those are all part of the social contract that people in the community have with one another," said Cornell, who also is president of the Buffalo Niagara Superintendents Association.
Similarly, in the Eden district, if any student arrives at school without the questionnaire being completed, the school nurse will call the student out of class to take their temperature and ask them the screening questions, Sortisio said.
In the Frontier School District, even with its hybrid model, it's not feasible for the staff to take every child's temperature every morning, Superintendent Richard Hughes said.
"It could take a couple hours just to get everyone in the building," Hughes said.
So it will be up to parents to take temperatures every day. And if a student has a temperature, they need to stay home.
"We understand it may be the flu. It may be seasonal changes," Hughes said. "But we've got to be cognizant that those minor changes, they may be something greater."
In Niagara Falls, parents will periodically and randomly receive an email questionnaire asking them to report results from home temperature checks, Superintendent Mark Laurrie said.
The schools would face logistical challenges if they were to take temperatures every morning, he noted. Further, if they did, and kids are found to be running a fever, it could prove awkward.
"I'm not going to temperature-shame them like that," he said.
Experts are relying less and less on temperature as an indicator of Covid-19, he noted, because a fever can be among the last symptoms to manifest.
Depew schools hope to have temperatures checked twice: Once at home and again as students and staff arrive at school.
"We're encouraging people to do both," said Depew Superintendent Jeffrey Rabey. "It's a double check."
Parents told the district in surveys and community forums that they didn't want the onus put entirely on them, he said.
The district purchased 10 scanning devices, which measure temperature through the forearm, at a cost of about $3,000 each. They were set to arrive this week.
Rabey said he doesn't believe the district will end up with long lines of students waiting to get in because the schools are operating at less than 50% capacity in a hybrid model and scanners will operate at two entrances to each building.
"The volume is not going to be what we think it will be," Rabey said.