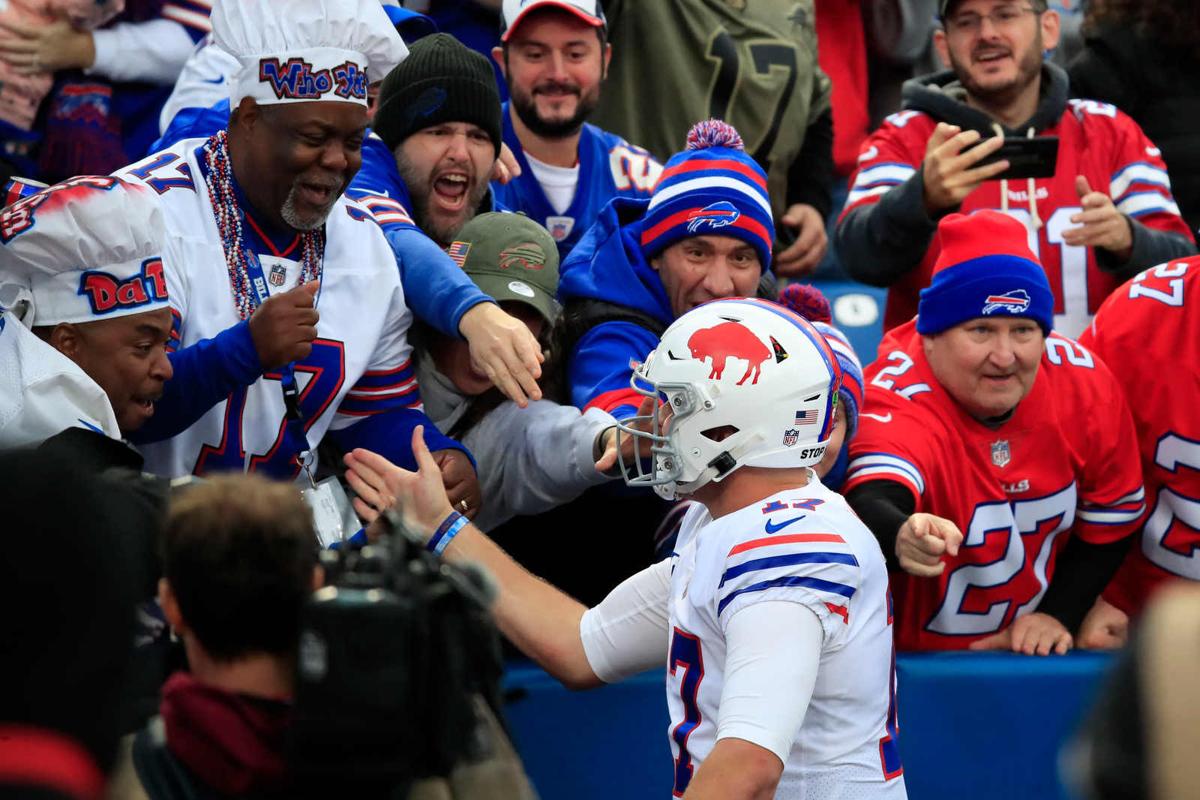 The Erie County Health Department stopped 258 people from entering Highmark Stadium for Sunday's Buffalo Bills-Miami Dolphins game because the fans failed to show proper documentation to prove their vaccination status.
That number dwarfs the number of people turned away at prior Bills games since the home game vaccination mandate went into effect late last month.
It's not clear what accounts for the higher number. Erie County Health Department spokeswoman Kara Kane said county health inspectors aren't screening any differently than in the past.
She said the county had more health sanitarians on hand to check vaccination records, which accounts for why more people had their records reviewed. In the past, the Health Department has had an average of 20 health inspectors working the Bills games. On Sunday, that number was 34.
The number of fans without proper vaccination documentation does not include those turned away by front-line Bills staff at the initial point of inspection, so the actual total of fans were were shut out of the stadium Sunday is likely higher.
Sunday's game was the first home game at which fans were required to show proof of full vaccination. At the Sept. 26 game against the Washington Football Team and the Oct. 3 game against the Houston Texans, fans were required to show proof of at least one vaccine shot.
At the home game against Houston, only 14 fans were turned away out of 666 people who were referred for secondary vetting.
Health inspectors checked the vaccination status of 666 stadium visitors on Sunday, according to County Executive Mark Poloncarz.
According to the county, 1,128 people required a secondary check. It's unclear how many were turned away for being unvaccinated, or having one shot of a two-dose vaccine.
Meanwhile, County Executive Mark Poloncarz said a surprising side benefit of requiring people to be vaccinated is that fewer fans are getting thrown out of games and arrested for bad behavior. Requiring proof of vaccination "probably kept out some of the knuckleheads that would normally have acted differently," Poloncarz said last week.
Stadium and arena goers must be fully vaccinated to attend games and events by the end of October. The only exception is for children younger than 12, who must wear a mask inside the stadium.
At the Houston game, no one at the stadium was arrested. That was a first for a Bills home game in recent memory, Poloncarz said.
One unexpected upside to the vaccination mandate for Buffalo Bills games? According to Count…
Two people at the stadium were arrested during the Miami game, according to the Erie County Sheriff's Office.
Meanwhile, Poloncarz took to social media on Monday to knock down comments from people suggesting they managed to fake their way in because vaccination vetting for the majority of fans at the stadium does not require fans to produce any identification to match against their vaccination cards or digital passes.
"Regardless of what may be published by individuals on social media, to date we have not had any confirmed instances of unvaccinated individuals in the stadium," he said in a Twitter post.
SHE IS LYING… they took her out in the hallway and verified her real Covid vaccine card w/ the HEALTH DEPARTMENT! This is all propaganda while she knows people are dying she is fully vaxxed. She is pure trash to do this when she knows she vaccinated. #puretrash https://t.co/TGkXey7zMW

— Primetime Ballers⭕️ (@PrimetimeBall_) October 31, 2021