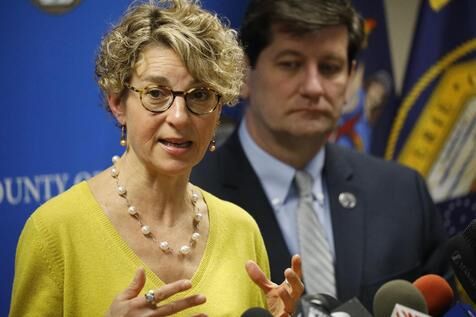 An expanded group of Western New York health-care workers and first responders are expected to receive the Covid-19 vaccine this week under new distribution guidelines released today by New York State. But it could still be "months" before the general population receives either one of the two approved vaccines, Erie County Health Commissioner Dr. Gale Burstein said during a press briefing Monday.
By the end of the week, Western New York will have received more than 64,000 vaccines earmarked for hospital workers, nursing home staff and other front-line medical workers, according to Gov. Andrew M. Cuomo.
This week, employees at urgent care centers and some outpatient clinics will also become eligible, as will workers administering Covid-19 tests and residents of group homes run by the state Office of Addiction Services and Supports.
But even as the state fast-tracks its distribution efforts – more than 140,000 New Yorkers have received the first dose of the Covid-19 vaccines developed by Pfizer/BioNTech and Moderna – there remain significant obstacles.
Western New York has made some progress on key Covid-19 metrics as the state continues to work on a plan to allow fans at a Bills home playoff game.
Total vaccine supply remains constrained, despite historic national efforts to produce more.
And Erie County, which does not currently have any vaccines of its own, will need to train more health-care workers to administer the vaccine before it can scale up its operations, Burstein said.
"So that's another hurdle," she said. "But we will be able to immunize thousands of people a week, once we can get our staff up and running, our pods set up and a big supply of vaccine – the supply of vaccine is a big rate-limiting step."
The expansion of distribution guidelines Monday came as part of New York's initial push to vaccinate people deemed most essential or at-risk. In the two weeks since the state received its initial shipment from Pfizer, it has designated a series of regional hospitals and hospital systems – including Catholic Health, ECMC and the University at Buffalo's Jacobs School of Medicine in Western New York – to develop plans for local vaccine allocation and distribution.
Vaccines have thus far been limited to hospital, nursing home and emergency service workers, coroners, medical examiners and some funeral workers, as well as some nursing home residents. A range of other "essential" front-line workers, potentially including emergency responders, teachers, pharmacists and transit employees, will not become eligible until late January, at the earliest. Healthy adults and children could wait several months after that.
On Sunday, the state authorized Erie County to vaccinate 1,000 front-line healthcare workers, Burstein said, but the county has not yet received the doses to do so. Cuomo told reporters Monday that New York expects its total supply to hit 1.15 million doses by the end of the week – enough for just under 6% of the state's population.
Ahead of the vaccines' arrival, Burstein said the county is working to train enough staff to administer it. But the state has yet to release mandatory immunization training for EMTs and paramedics, who are key to the county's plan for scaling up its vaccination efforts. 
"That's also holding us back," Burstein said. 
More than 123,500 Western New Yorkers have contracted Covid-19 since March 2020 and more tha…
The vaccine update came amid a week of mixed Covid-19 news for Western New York. On the positive side, Erie County's positive test rate fell for the fourth consecutive week, to a seven-day average of 5.6%, County Executive Mark Poloncarz said, and hospitalizations have stabilized.
Deaths, however, remain elevated: When the county receives complete fatality data on Tuesday, Poloncarz said, it will likely show that December was Western New York's deadliest month of the pandemic.
During Monday's press conference, Burstein also announced that Western New Yorkers exposed to Covid-19 will be asked, beginning Monday, to quarantine for 10 days instead of 14, following new guidance from the state Department of Health.
Poloncarz also addressed Monday allegations by County Comptroller Stefan Mychajliw that he played hockey at the Northtown Center in Amherst over the weekend, in violation of state rules that prohibit games and "competitive team practices." Poloncarz skated alone for "a few minutes" before leaving the rink, he said, adding that he and his family have recently faced "stalking" and escalating harassment.