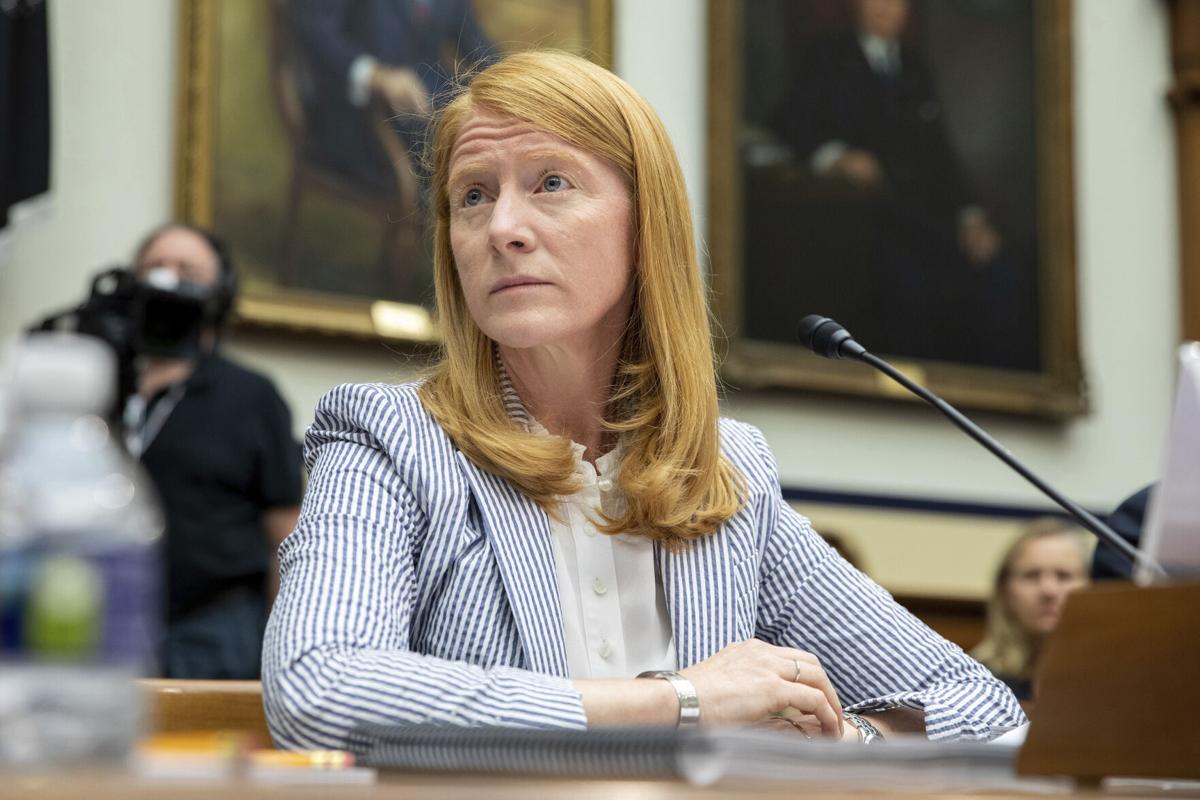 WASHINGTON – Congress is moving closer to changing the military justice system so that service members who are guilty of sexual assault and harassment actually face consequences for their crimes.
And in a Capitol Hill hearing room last week, a federal prosecutor from Buffalo explained why she thinks that needs to happen. She said the current system, in which commanding officers without legal training make decisions otherwise made by prosecutors in the civilian world, is plainly not working.
"The problem is broken trust," Meghan Tokash, an assistant U.S. attorney from Buffalo who just served a 90-day stint on President Biden's Independent Review Commission on Sexual Assault in the Military, said in an interview. "Members of the military, junior enlisted members, do not trust that commanders are making the right decisions when it comes to sexual harassment and sexual assaults."
That being the case, the commission earlier this month recommended taking prosecutorial decisions away from commanding officers and putting them into the hands of trained military prosecutors – a change that Sen. Kirsten E. Gillibrand, a New York Democrat, has been pushing for a decade.
Gillibrand's proposal took a big step forward last week, as the Senate Armed Services Committee included it in the annual must-pass defense authorization bill that will soon make it to the Senate floor. Gillibrand tweaked her military justice reform proposal to include provisions suggested by the commission, and said the commission's recommendations "continue to add momentum to efforts to reform the military justice system."
Just as Gillibrand has made the fight against sexual assault and harassment a focus of her career, so has Tokash. But there's one key difference. Tokash saw the military justice system from the inside.
At the start of her legal career, Tokash – a New Jersey native who then went by her maiden name, Meghan McEnerney – worked as a Department of the Army victim witness liaison officer. "And I recognized then that the level of expertise in the military as it pertains to prosecutions seemed lacking to me," she said.
Tokash then joined the Army, hoping to become a part of the Judge Advocate General's Corps, where she could "get in the fight" and prosecute the sort of cases she previously only heard about.
And after a stint as military defense counsel, she became a "JAG." For eight years, from Fort Hood in Texas to U.S. Army Europe Central Command in Germany to Kuwait and Afghanistan, she prosecuted soldiers accused of homicide, rape, sexual assault, domestic violence and child abuse, among other crimes.
It was harrowing but important work.
"The very last case I tried in the Army was in 2014, and it was a case involving a major who raped his three daughters and also sexually abused his three sons," Tokash said. "The three daughters had to come in and testify in the trial and face their dad, who they hadn't seen in over a year since he had been arrested. And so it was a really challenging case but probably one of the most satisfying results of my career. He was convicted and he was sentenced to life without possibility of parole."
Shortly after that, Tokash and her husband, Buffalo native Bill Tokash, left the Army and settled in Washington, D.C. Tokash got a job as a staff attorney for a Pentagon panel on military sexual assault, but that didn't last long.
"I really missed being in the fight and trying these very difficult cases," said Tokash, who then, in 2015, applied for and got a job at the U.S. attorney's office in her husband's hometown. 
She now lives with her husband, a federal investigator, in Buffalo. She started in the narcotics unit of the U.S. Attorney's Office, but last September, she got her wish: she now heads up a new "Special Victims Unit" focused on human trafficking, child exploitation and sexual assaults.
But Tokash remained a well-known expert on the military sexual assault issue, which is why Lynn Rosenthal, the chairwoman of Biden's Independent Review Commission on Sexual Assault in the Military, called Tokash in March and asked her to serve on the panel.
Rosenthal is glad she hired Tokash.
"She's a superstar," Rosenthal said.
Tokash focused her work on the panel on whether it was effective to have commanding officers making the decisions about whether sexual assault cases should be prosecuted – and found that it wasn't. The commission says that while some 20,000 service members a year report experiencing a sexual assault, fewer than 5,000 victims file complaints that could result in prosecution, and only a tiny number of those complaints result in action in the military justice system.
Commanding officers aren't trained to decide which cases should be prosecuted, and are in an inherent conflict of interest in trying to decide on the competing claims of service members in their unit, Tokash said. And with so few sexual assault prosecutions resulting in punishment, victims end up thinking "it's no use reporting sexual assault because you're just not going to be believed," she added.
The commission came to those conclusions based on a lot of hard work.
"It was a 90-day commission, which is fast and furious. I mean we were working seven days a week, 24/7 in some cases," Tokash said.  "We interviewed hundreds of military justice practitioners, both past and present. We interviewed former judges. We interviewed former court martial panel members, commanders past and present. We interviewed hundreds of victims of sexual assault all over the globe."
And at the end of it all, in early July, the commission issued its report and a detailed series of recommendations that centered on one big change: removing commanding officers from the prosecutorial process on sexual assault and other such cases.
Defense Secretary Lloyd J. Austin III immediately accepted those recommendations, as did President Biden, who said to the commission members: "Thank you for your tireless work to deliver thoughtful, effective, actionable recommendations for how we can drive sexual assault and harassment from the ranks of the United States military."
The commission's report did not immediately change the military justice system. Congress will have to do that, and there's still debate there about whether to follow Gillibrand's plan – which would remove commanding officers from prosecutorial decisions on all major crimes – or to pursue a narrower approach which would set up special units of trained prosecutors who only handle sexual assaults and other such cases.
The commission didn't address that issue: to do that, Tokash said, the commission would have needed another 90 days. But it did produce a report that satisfied those who think the military must reform its justice system.
"We felt like it was a very good report," said Natalie Khawam, an attorney for the family of Spc. Vanessa Guillen, a Fort Hood soldier who was murdered last year after complaining of sexual harassment. "It addressed so many issues that not only we were focused on, but also issues we were not aware of."
The report also was something of a career highlight for Tokash, who hopes it will finally lead to the kind of change that Gillibrand and some other lawmakers have been pushing for years.
"This may be uncomfortable, but this is not hard – and this will actually save lives," said Tokash, who testified before a House Armed Services subcommittee on the issue last week. "And I hope it will change the minds of Americans who are sitting down with their sons and daughters who are having conversations about wanting to join the military. It breaks my heart to know that there are parents who don't want their children to join the military because of the sexual assault problem. That should not be a conversation that anybody in America should be having."