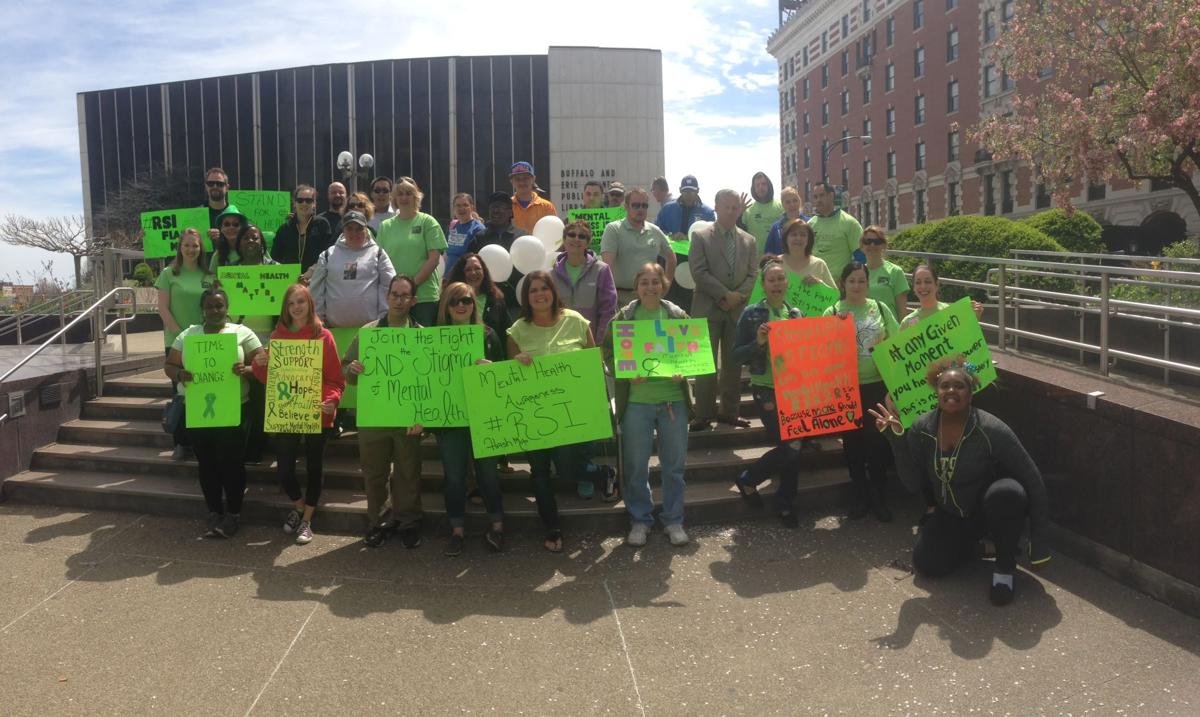 Michelle Scheib has an idea for those who are struggling – as well as their loved ones: Dance.
Scheib, who has successfully treated her anxiety and depression, is point person for an Informational Fair and Flash Mob that will run from 10 a.m. to 1 p.m. Thursday, May 4 at the Central Library, 1 Lafayette Square.
"We'll have 30 tables where people can go and find information and help from different agencies," said Scheib, 39, of Cheektowaga, Recovery Center service coordinator with Restoration Society Inc. (rsiwny.org), where she has worked nearly a decade. The nonprofit – funded through Erie County, grants and private donations – provides housing, employment and social supports for those with mental illness and substance use disorders.
Q. What will the informational fair be like?
Along with the informational tables, Chris Warden from Compeer will give a talk, "Much More Than a Diagnosis," from 10:05 to 10:25. Brian Costello, from Lakeshore Behavioral Services, will talk about mindfulness and meditation. Dennis George, from the Dennis George Quizmaster Game Show, will give quizzes and also emcee…
The whole mission of this event is to increase peoples' knowledge of mental health and to realize there are different places in Western New York where people can come to get the help they need. Anxiety and depression are more normal than most people think.
The Restoration Society, Lakeshore, the Mental Health Association of Erie County, the Mental Health Peer Connection and the Buffalo & Erie County Public Library System are sponsors and helped plan the event.
Q. What about the Flash Mob at noon?
Sow it Now Health & Fitness will teach us the "Footloose" dance from 11:20 to 11:40 a.m.; from 12 to 12:30, we'll go out on the Washington Street side of the library. We'll have a DJ and dance. We hope people will hear the music and come over and see what's going on. We ask people to wear lime green – the color for mental health awareness – and if people don't, we're OK. We have different stickers, so they can still feel part of it.
Q. What would you like to say to someone who might be struggling with depression, anxiety or similar health challenges?
It's OK to reach out for help. It's better to reach out for support. With us, we'll try to help you that day … let you know you're not alone.
Q. What do you wish most people were more aware of when it comes to those with mental health needs, as well as available services in Western New York?
That people with a mental health diagnosis can work – and keep a job. That people can better themselves. Our previous CEO, who worked here for 30 years, had a diagnosis.
The older generation (of those with a mental health diagnosis) were told that they couldn't work. The younger generation is afraid about what people are going to say. I wish that younger generation would know that it's OK to reach out. More celebrities are reaching out, including Lady Gaga.
Twitter: @BNrefresh, @ScottBScanlon