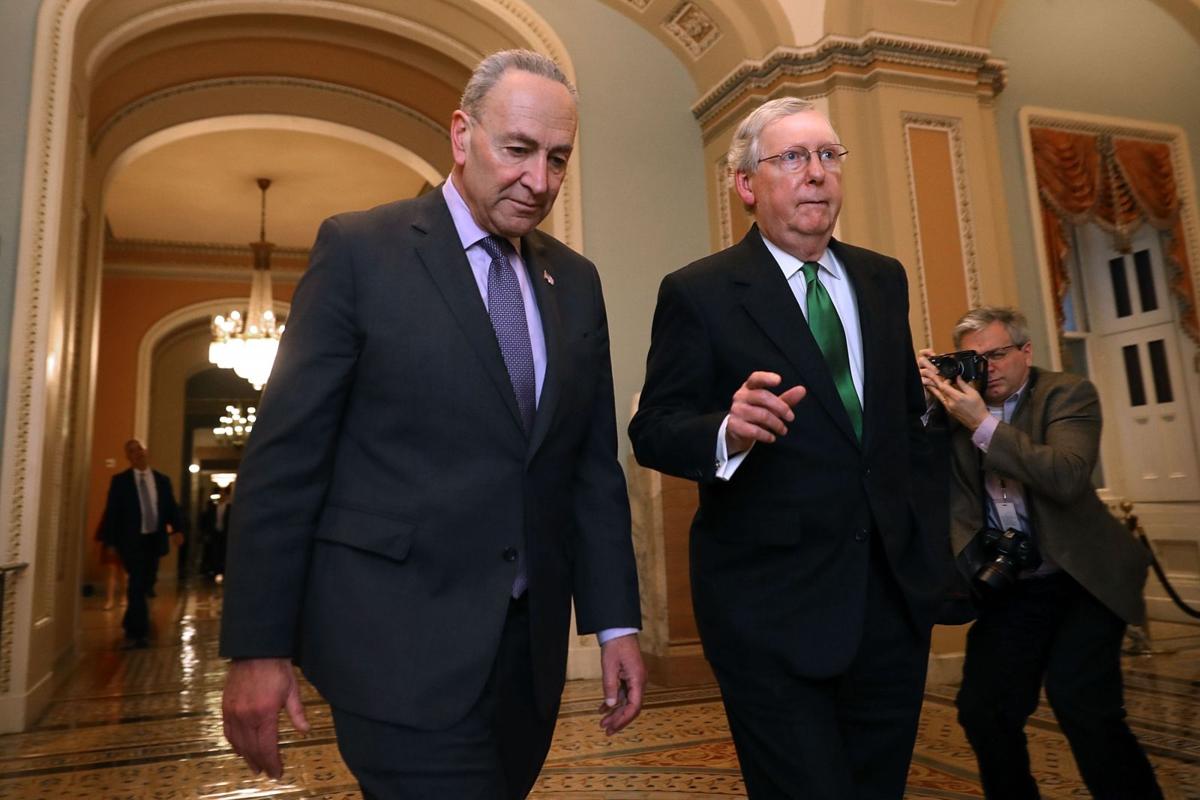 WASHINGTON – New York State didn't get the help from Congress that its Medicaid program needed after all, and that fact only bolstered Gov. Andrew M. Cuomo's argument that federal lawmakers are shortchanging the state amid the coronavirus crisis.
On Wednesday, House Republicans from New York thought they had won a technical fix in a $2 trillion economic recovery bill that would give Cuomo the flexibility to change the state's Medicaid program to help fill an ever-widening budget gap.
But the final bill, which the Senate passed late Wednesday night, didn't include that language.
"They never fixed that bill," Cuomo said at his daily briefing in Albany on Thursday. "They never fixed it. They said they would. They never did."
Congressional sources offered differing explanations of why the Medicaid fix was dropped from the final version of the legislation.
On Twitter, Rep. Lee Zeldin, a Long Island Republican, said Senate Majority Leader Mitch McConnell agreed to the change, but that Minority Leader Charles E. Schumer, a Democrat, blocked it.
"The 2nd coronavirus bill that passed Congress had a technical error where if NY enacts reforms saving even just $1 in Medicaid, it loses $6 BIL," Zeldin wrote. "That's absurd! McConnell proposed fixing it. Schumer said no. Let's fix this!"
But Schumer's office called Zeldin's tweet simply untrue. Schumer's spokeswoman noted that the bill Zeldin referred to would benefit both New York State and the counties in his district by adjusting the formulas that determine federal Medicaid funding.
"The coronavirus response bill passed a few weeks ago provided $6.7 billion in annual Emergency Medicaid aid for New York and $50 million directly for Zeldin's home county, Suffolk," said Allison Biasotti, Schumer's spokeswoman. "As well, New York will send about $176 million of additional Medicaid funding to Suffolk County. The funds are flowing to New York and there is no legal barrier to them being put to good use ASAP."
That money was included in earlier coronavirus legislation that disappointed Cuomo because it barred him from pushing Medicaid costs onto counties or making any other changes in the program.
Cuomo wanted the latest coronavirus bill to include language that would allow him to make Medicaid changes, but Democratic sources on Capitol Hill said that language was omitted for good reason.
The change in the language that Cuomo sought would have allowed cash-strapped governors nationwide to enact deep cuts in Medicaid, the federal/state health care program for lower-income Americans, in the midst of a pandemic when those people can't afford to lose their health care, those sources said. In addition, congressional Democrats feared that including the language Cuomo wanted might have forced them to make other concessions to Republicans in the bill.
No matter how or why the technical Medicaid fix was dropped, its omission was just one part of the stimulus bill that disappointed Cuomo.
Noting that New York State stands to get about $5 billion in total from the $2 trillion stimulus bill, he said that money can be used only for expenses related to the coronavirus pandemic.
The federal cash can't be used to cover the $10 billion to $15 billion in revenue the state is expected to lose because of the crisis – which means the state and local governments may have to make draconian cuts in education and other programs to fill that budget hole.
"The congressional action, in my opinion, simply failed to address the governmental need," said Cuomo, governor of a state with nearly half the nation's Covid-19 cases.
"You know the places in this nation that have the most intense problems," he added. "Address the places that need the help."
Cuomo said he had discussed his disappointment with New York's two U.S. senators and members of the state's House delegation about the limited aid the state received.
"I find it irresponsible. I find it reckless," Cuomo said of the state congressional delegation's failure to win more money for New York.
"We don't have the luxury at this time of being emotional about what they did," he added. "When this is over, I promise you I'm going to give them a piece of my mind."
But House Speaker Nancy Pelosi,  a California Democrat, defended the bill and its contribution to states.
Noting that Cuomo is doing "a spectacular job" and that she spoke with him Wednesday, she defended the bill and the amount of money it gives New York.
"He's called it a drop in the bucket," Pelosi said. "Well, it's several billion dollars, and it isn't anywhere near enough. But it's still several billion."