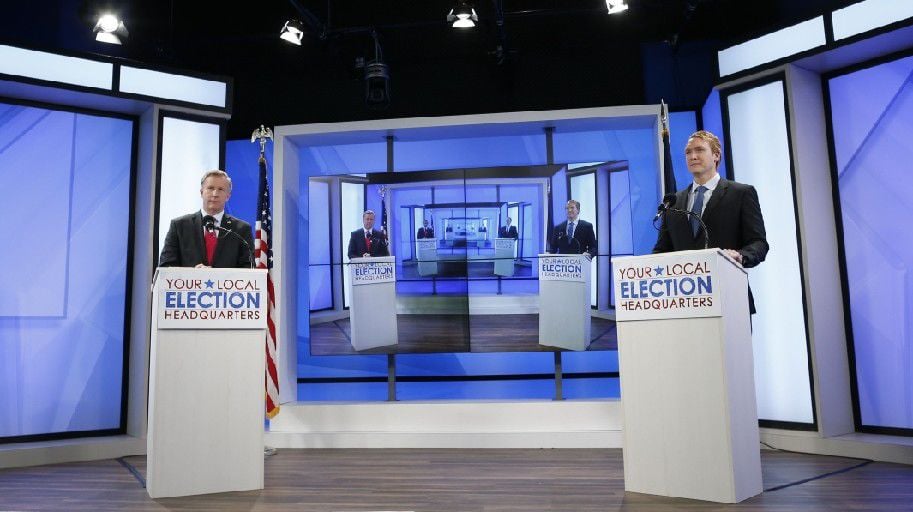 Democratic congressional candidate Nate McMurray said Friday that he's not ready to concede to Republican State Sen. Chris Jacobs in Tuesday's special congressional election – and that Jacobs will have a fight on his hands in November even if he wins the Tuesday contest where tens of thousands of votes remain to be counted.
Jacobs built a massive lead on Election Day, finishing nearly 40 percentage points ahead of McMurray.
That prompted the Associated Press, The New York Times and other media outlets to declare Jacobs the victor and for Jacobs to claim victory himself.
Even so, McMurray said Jacobs' election night declaration of victory was premature, given that so many people voted by mail because of the Covid-19 pandemic.
"More than 50% of the votes have not been counted," he said at a news conference at his Hamburg campaign headquarters. "So it is not just premature, you would be irresponsible to declare victory, as Mr. Jacobs has done. It would be equally irresponsible for me to claim defeat or to submit, which I will not do until the votes are counted."
New York's 27th Congressional District includes territory in eight counties, and boards of elections there will begin counting the absentee ballots July 1. They hope to finish by July 7, and McMurray holds out hope that the huge number of absentee ballots will allow him to overcome Jacobs' big lead.
"I've learned that that you do not submit until you count every single vote," said McMurray, who conceded to then-Rep. Chris Collins on election night in 2018 only to change his mind and call for a recount a few hours later.
McMurray faces a massive challenge, though, in hoping to overcome Jacobs' 31,452-vote lead. 
Complete absentee ballot figures are not yet available. But updated figures from Erie, Niagara, Livingston and Ontario counties Friday showed 63,885 absentee ballots outstanding.
Combining that figure with earlier numbers from Orleans, Wyoming and Genesee counties, the total of uncounted absentee ballots in the congressional race stands at at least 73,343. That doesn't include the small portion of the district in Monroe County, which has not made public its number of absentee ballots.
A rough estimate, then, shows that McMurray would have to win around 72% of the absentee votes to win.
McMurray made clear, though, that no matter the final count in the special election, he plans an aggressive campaign against Jacobs in the fall.
Standing before a sign that said "America or Trump," McMurray stressed how much help Jacobs got in the special election from President Trump, who won the conservative 27th District by 24 points in 2016.
"Mr. Trump and his family were heavily involved in this," he said. "They did town halls, multiple town halls. They did robo calls endlessly."
In doing so, McMurray said, Trump and his allies lied, saying he had raised taxes when he had not and that he was in favor of open borders when he is not.
Noting Trump's falling popularity, though, McMurray predicted Jacobs would try to move away from the president and toward the center before the fall election.
"He stood with President Trump at the height of a pandemic," he said of Jacobs. "He stood with President Trump as President Trump openly advocated for the Confederate flag. He is not a moderate."
McMurray said he plans to hammer that point home in the fall campaign for a full two-year term.
"If you tie yourself to Trump, you will sink with Trump," he said.
Get local news delivered to your inbox!
Subscribe to our Daily Headlines newsletter.