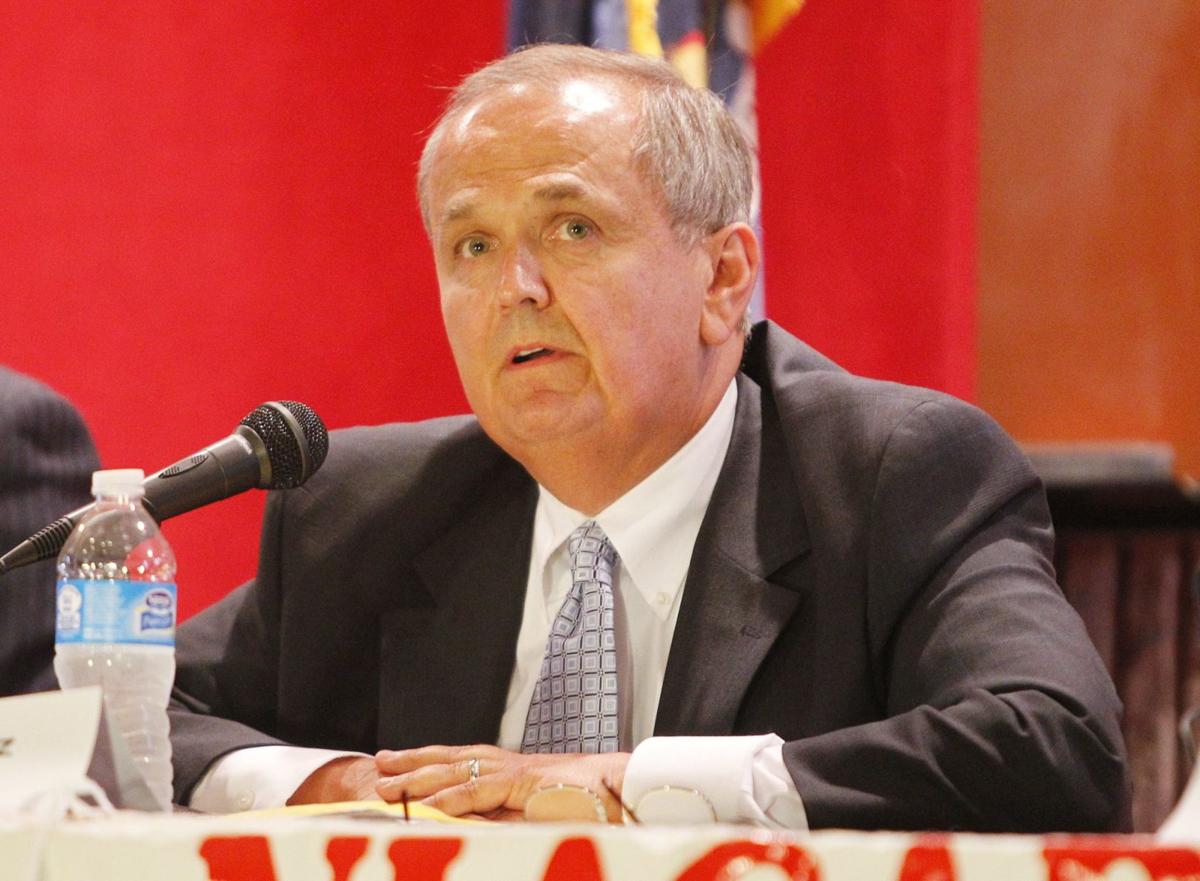 George D. Maziarz's once powerful and tightly knit political machine is breaking down in front of an Albany County grand jury.
One by one, key members of the Maziarz inner circle traipsed into an Albany grand jury room on Thursday to tell a panel convened by Attorney General Eric T. Schneiderman what they know about the former state senator who once reigned over Niagara County Republican politics.
In return, they received immunity from prosecution.
Charges could be brought as early as this month, according to legal sources close to the case.
The Buffalo News has learned of grand jury appearances by several key Maziarz associates in a probe of the former senator, his campaign funds, and the Niagara County Republican Committee. They make up a who's who of Niagara County Republican politics.
The former close friends and associates are now revealing innermost political and financial secrets before a grand jury. They include:
• Former County Legislator Glenn S. Aronow. Investigators are attempting to determine if he received payments as a subcontractor.
• Timothy P. Synor, whose Synor Marketing Co. played a significant role in producing campaign materials for the 2012 election now under scrutiny.
• Jack Cookfair, a Syracuse political consultant with Western New York roots who also was involved in the 2012 campaign.
• Meghan Ortt, the wife of State Sen. Robert G. Ortt. A source close to the Ortts confirmed that the senator has hired criminal defense attorney Stephen R. Coffey of Albany to represent him.
• Michael J. Norris of Lockport, a former Niagara County Republican chairman who was elected to the Assembly in November.
At least one other Maziarz associate is believed to have testified on Thursday.
Schneiderman's inquiry centers around money flowing into and out of the Maziarz and Niagara County Republican campaign coffers in 2012 and 2013, according to several sources close to the situation. The attorney general's investigators are attempting to determine if money appearing in campaign finance reports as payments to election contractors was then illegally or secretly funneled to subcontractors.
Under some circumstances, such transactions could prove illegal, legal sources say.
Besides Maziarz, the probe now targets Henry F. Wojtaszek, another former Niagara County GOP chairman who is president of Western Regional Off Track Betting. Wojtaszek was offered a plea deal to testify before the grand jury, with no decision yet made on the attorney general's offer, according to a source familiar with the situation.
The source said Wojtaszek contends he had nothing to do with the 2012 and 2013 campaign finance reports under scrutiny because he left the party chairmanship in 2009.
But one attorney familiar with such cases said that a prosecutor can try to prove that any of the probe's targets knew a filing was false and directed it to be filed.
"That's why Norris is key, because Norris was chairman," the legal observer said.
The spectre of key lieutenants accepting deals to detail the inner workings of the Maziarz operation has not gone unnoticed.
"This fundamentally changes everything," said one Republican insider familiar with the situation. "When the machine boss changes, people don't know where to take directions from."
Maziarz was viewed as top dog of the Niagara County GOP throughout his 19 years in the Senate and previously as Niagara County clerk. Maziarz also reigned as a power in the Republican Senate.
Wojtaszek, meanwhile, was viewed as his chief lieutenant. One knowledgeable outsider called him the organization's "enforcer." The same outsider referred to Maziarz as the "king," Norris as the "patsy," and Kevin Schuler (indicted last year on bid rigging charges in the Buffalo Billion scandal) as the "thinker."
Potential payments to Aronow appear as a central factor in the case, with those watching the situation noting that nobody in the organization would be thrilled over his name appearing on finance reports as a paid campaign staffer.
That stems from a Lancaster woman's accusation that Aronow made unwelcome and crude comments beginning in 2007 when both worked in the State Senate Majority Office. The state paid $90,000 to the administrative assistant to settle the case in 2012.
Now Schneiderman and his Public Integrity Bureau are trying to determine if laws were broken in how campaign funds may have been funneled.
"Mr. Aronow was subpoenaed to testify before the grand jury," Cheryl Meyers-Buth, Aronow's attorney, said in a statement. "I've been representing him for over a year and while nobody has accused him of committing any crime, he has been considered a potential witness. He has not and will not be charged in connection with the attorney general's investigation."
Meyers-Buth declined to discuss Aronow's testimony before the grand jury.
Two current office holders ‑ Norris and Ortt ‑ are also involved in the probe.
Norris acknowledged his appearance before the grand jury to The News last week, as well as his late 2014 subpoena bringing him before a Manhattan grand jury convened by U.S. Attorney Preet Bharara.
Ortt, however, did not return a phone call to discuss his hiring of a criminal defense attorney. A public relations representative, Andrea Bozek of Mercury Public Affairs, instead issued a statement addressing the testimony of Ortt's wife's ‑ a design consultant ‑ to the grand jury.
"Meghan answered every question Democrat Attorney General Eric Schneiderman's office had. Her testimony in the George Maziarz investigation lasted approximately 20 minutes," Bozek said. "Senator Ortt has not yet been asked to offer testimony in the grand jury investigation of George Maziarz. In addition to the disclosures he and his wife have already made, Rob looks forward to cooperating in any way he can."
Attention also focuses on Wojtaszek and his new role as a target in Schneiderman's investigation. The former chairman faces a decision on accepting the misdemeanor plea offer, but may be ready to face a felony charge by arguing he had nothing to do with filing the campaign finance reports under scrutiny.
Wojtaszek's attorney, Patrick J. Brown, would not comment on the case. Attorney Herbert L. Greenman acknowledged he represents Timothy P. Synor, but would not comment.
George V.C. Muscato also represents both Ortts along with Michele G. Bergevin, and would say only that neither the senator nor his wife has any knowledge of how 2012 campaign funds were spent. He said it was appropriate that the couple would retain an attorney in the face of the attorney general's investigation.
"Any time there is an inquiry by agencies, it is always prudent to consult with an attorney," he said.
Norris' attorney, Joel L. Daniels, said only that his client is not a target.
Cookfair's attorney is Thomas J. Cerio of Syracuse, and he would not comment other than to say he understands his client is not a target of the investigation.
Joseph M. LaTona is Maziarz's attorney, and he declined comment, as did the Attorney General's Office.
The former senator's campaign spending first surfaced in May 2014 when City and State magazine reported that documents accumulated by Gov. Andrew M. Cuomo's now-defunct Moreland Commission to Investigate Public Corruption showed Maziarz led the state in unspecified campaign expenditures.
The campaign fund recorded $140,000 in unitemized expenditures between 2008 and 2013, according to City and State, and Moreland Commission documents indicated the money paid for everything from wine to a clown rental.
The Buffalo News: Good Morning, Buffalo
The smart way to start your day. We sift through all the news to give you a concise, informative look at the top headlines and must-read stories every weekday.