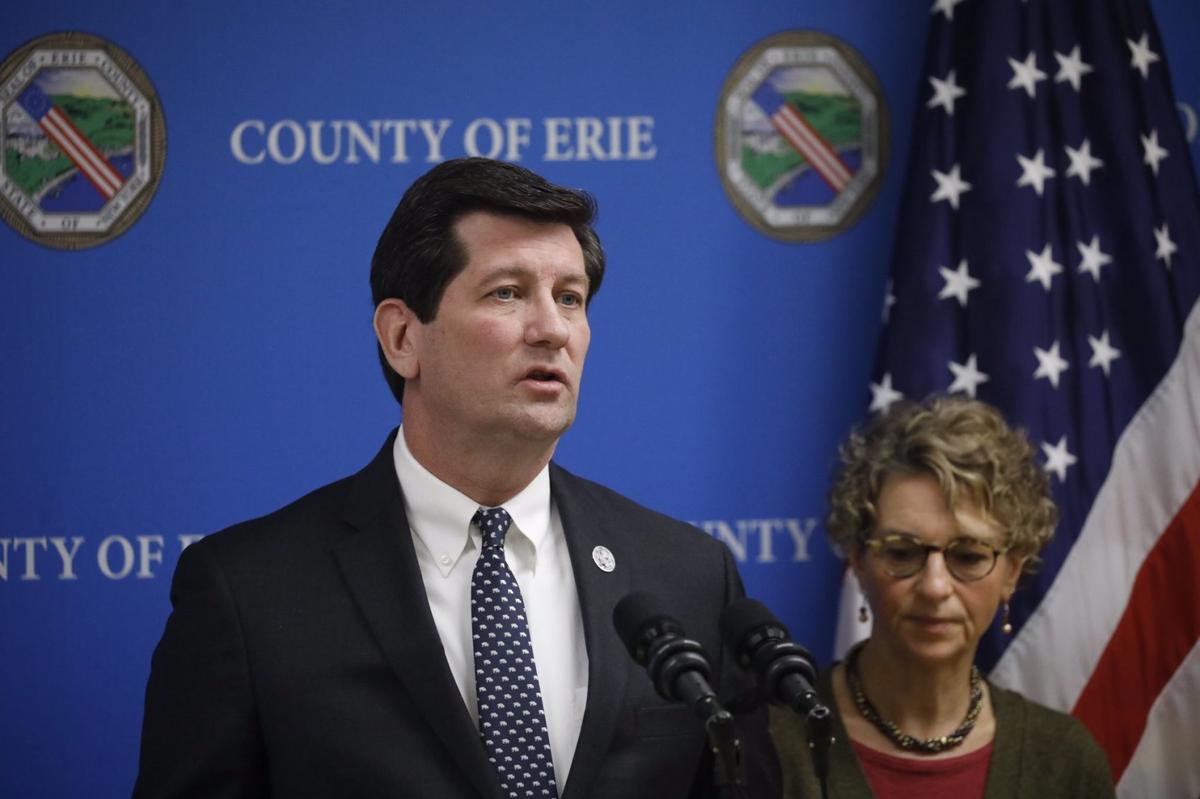 Covid-19 hospitalizations in Erie County have fallen in recent days after reaching a peak last week.
But County Executive Mark Poloncarz said Monday that he believes it's unlikely Erie County will meet Gov. Andrew Cuomo's benchmarks for reopening on May 15, when the governor's "pause" order is set to expire.
"I do not believe that Erie County ... will open up on May 15, but if we continue a downward trend in the hospitalization data, as well as the contraction rate, I think there's a good shot we could by the end of the month," Poloncarz said.
Hospitalizations fell from from a high of 258 last week to 240, according to the most recent figures released Monday by Poloncarz.
Intensive care unit cases have also fallen gradually over the past four days. The 98 ICU cases for Covid-19 were the lowest since April 1.
Poloncarz also reported 25 additional Covid-19 related deaths Monday evening, which includes unreported county deaths from over the weekend. That brings the death total to 308.
While hospital admissions exceeded discharges as of Saturday, both admissions and discharges were down considerably compared with the prior two-week period.
Despite the positive news, Poloncarz cautioned that residents shouldn't get too hopeful that Erie County will get the same green light that rural upstate counties are likely to receive when it comes to reopening the economy.
"I've always felt that if the governor was going to open up anything on May 15, it was going to be areas like the North Country and the Adirondacks, maybe parts of the Southern Tier, the Mohawk Valley, where they've had much less of an outbreak," he said.
Of seven key indicators that Cuomo said he would use as the factors for deciding whether a region was prepared to reopen, Erie County and the Western New York region have met three so far. The county does not yet meet the requirements for declining Covid-19 hospitalizations over 14 days, unlike the Southern Tier, Central New York and other regions.
And similar to every other upstate community, Erie County does not meet the diagnostic testing capacity of 30 Covid-19 tests per 1,000 residents. Only downstate New York meets that criteria.
"We've now performed the highest amount of tests in any county in upstate New York," Poloncarz said.
He referenced the long fight to get more testing available in Erie County after seeing the bulk of tests go downstate. But even though Erie County has significantly ramped up the availability of tests, he said, it's too early to know whether the county will be able to meet the state's testing goals.
He added that he's more optimistic about testing availability continuing to grow, based on his conversations with Lt. Gov. Kathy Hochul and the governor's staff.
"I think we're going to be getting a lot more testing done very soon, including by New York State, in this region," Poloncarz said. "But to say that the testing indicator will be met by May 15, that would be just a pure guess."
Erie County's percentage of positive Covid-19 cases continues to fall as the availability of testing improves in Erie County, said Health Commissioner Dr. Gale Burstein.
As of the end of last week, the percentage of positive cases among all people tested fell to 15.9%. When far fewer tests were available to residents the week ending April 4, the percent of positive cases reached 28.6%.
Based on preliminary antibody testing, more than 90% of Erie County residents have not been exposed to the new coronavirus.
Poloncarz also said he couldn't speculate on whether the high numbers of hospitalizations from last week might have stemmed from Easter gatherings, but he looked forward to getting more information from the state soon about the background of those who have been hospitalized for Covid-19, which may provide more answers going forward.
Both he and Burstein also cautioned residents not to plan in-person visits for Mother's Day this Sunday but to send cards and plan phone calls and virtual meetings instead.
"Let your mom know that you love her," Poloncarz said. "But also let her know, 'I'm not going to potentially expose you to a virus that could kill you.' "