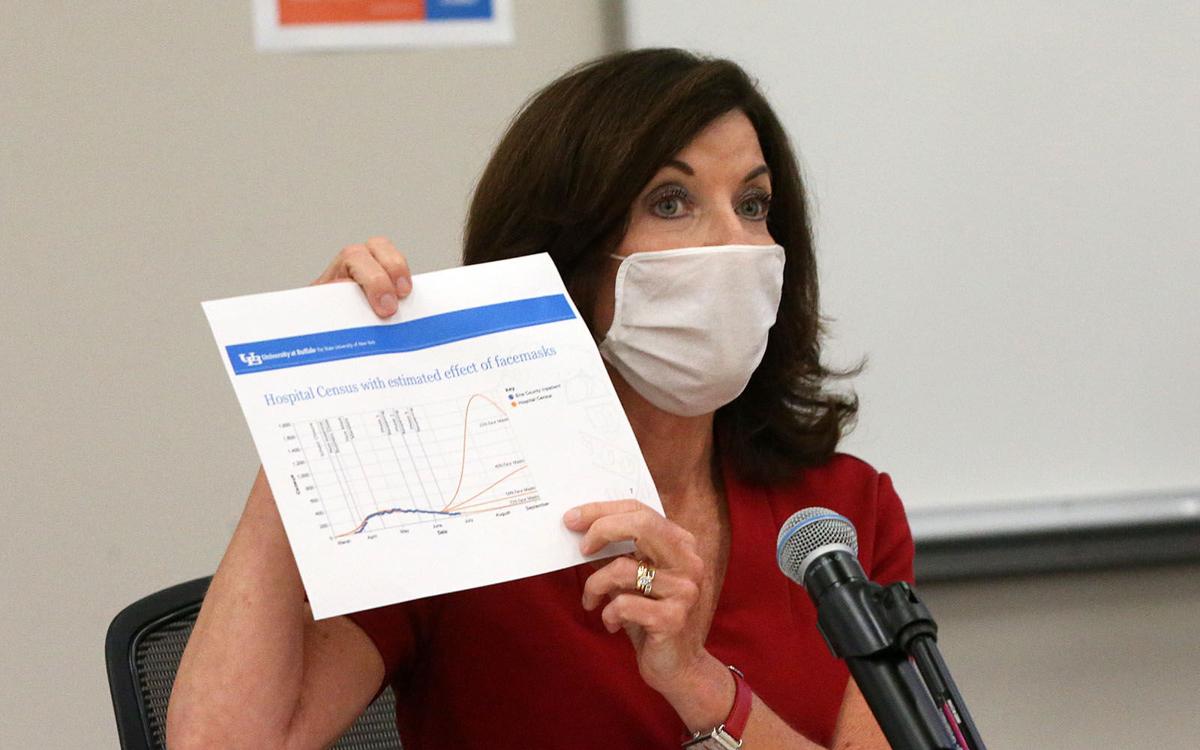 People will have to wear masks in all indoor public places in New York State unless the venue puts in place a vaccine requirement, Gov. Kathy Hochul announced Friday.
The new state mandate appears to be more restrictive than a similar mask requirement imposed in Erie County last month, at least when it comes to restaurants, bars and certain work settings.
Hochul said the new rule was a response to the state's rolling seven-day Covid-19 case rate, as well as rising hospitalizations. The new order extends to both patrons and workers at public establishments and takes effect Monday. 
"I have two priorities: protect the health of New Yorkers and protect the health of our economy," she said during an appearance in New York City. 
Some elected officials and business leaders welcomed the statewide mandate as a badly needed public-health measure. Supporters of Hochul's decision included Erie County Executive Mark C. Poloncarz, who was alone in this region in putting in place a county-level mask requirement last month.
Billed as a discussion of stimulus funding and infrastructure priorities, the session turned into something else, as county executives from other areas joined Poloncarz in addressing more questions about the pandemic.
"The Covid-19 virus does not respect county or other municipal boundaries," he said in a statement. "In order to respond to the growing regional and statewide threat, unified action is needed."
But other officials, including many Republicans, blasted the mask mandate as an example of government overreach. Most acknowledged the severity of the Covid-19 outbreak, but said business owners and the public should have the ability to make their own decisions when it comes to mask wearing.
"It's disappointing that we're back to a cookie-cutter approach," Chautauqua County Executive Paul M. Wendel Jr. said.
The Governor's Office on Friday left unanswered many questions about the mandate's enforcement, which Hochul said would be left to county health departments.
The state mask rule is set to run through the holiday season until Jan. 15, when officials will re-evaluate the policy – and when further restrictions could be imposed if the numbers don't improve.
Some Erie County legislators believe there is a better path to getting people to wear masks than having a county executive using his executive powers to force the issue.
Since Thanksgiving, the statewide, seven-day average case rate has increased by 43%, and hospitalizations have increased by 29%.
Covid-19 metrics are even worse in the five-county Western New York region, according to state health data. For example, on average, 10.5% of Covid-19 tests in the region came back positive over the week ending Wednesday, more than double the statewide average of 4.8%. 
Hochul said the percentage of New Yorkers fully vaccinated continues to increase, but not quickly enough to curb the spread of the virus, particularly among communities with low vaccination coverage.
"This is a crisis of the unvaccinated," she said.
The order affects all indoor places in New York – except private residences. The governor said she believed the majority of county leaders will enforce the new mask mandate and that compliance, while it won't be 100 percent, will be widespread come Monday.
Amid worsening Covid-19 case numbers, Erie County Executive Mark Poloncarz on Tuesday defended his mask mandate, suggested a vaccination mandate for restaurants may not be necessary and noted a few positive developments.
"It's not that big a deal," Hochul said of requiring people to mask up indoors.
Businesses and venues do have the option to require all patrons to be fully vaccinated and, in that case, would not have to enforce mask wearing.
Violators could be fined up to $1,000, but the penalty would apply to the venue operator and not the individual caught unmasked or unvaccinated.
However, the state's masking rule goes further than the county's rule when it comes to restaurants and bars. Erie County allowed restaurant and bar patrons to take off their masks as soon as they are seated, while the state Health Department told The Buffalo News that restaurant and bar customers must remain masked unless "actively" eating or drinking.
As another Christmas with Covid-19 approaches, churches are forced to adjust – again.
And the state mask rule applies to any venue that is not a private residence. Erie County's rule, on the other hand, required masks for indoor public spaces but only "strongly recommended" them for non-public work settings, an apparent reference to a building such as an office where access is limited to employees, vendors and their guests.
Heather Briccetti, president and CEO of the Business Council of New York State, said her influential group backs "necessary measures" to help stop the Covid-19 spread.
"Our hope is people respect the state's directive and employees of businesses by not putting them in the difficult position of having to enforce the mandate through confrontation," she said in a statement.
Melissa Autilio Fleischut, president and CEO of the New York State Restaurant Association, which represents 56,000 restaurants, bars and clubs across the state, said her members, in general, "appreciate that the governor has applied this to all business and is not singling out the hospitality industry."
An upstate business group, Upstate United, said it supported the more limited approach taken by Hochul.
It comes down to several factors, including the Delta variant, the weather, not enough people being vaccinated and the waning efficacy of vaccines for those who did get the shot, according to Dr. Thomas Russo and Dr. Peter Winkelstein.
"The last thing struggling businesses need or want is another shutdown,'' said Justin Wilcox, executive director of the group.
As with anything involving the pandemic, some people will accept the mandate and others will oppose it, said Erik Fix, president of the Genesee County Chamber of Commerce, with business owners and employees left to enforce the rule on the ground.
"This is one more stressful thing for our local businesses to have to deal with," Fix said.
Grand Island Supervisor John Whitney said he preferred a statewide approach to one where neighboring counties could impose different policies. He said he heard complaints from business owners on the island that customers who didn't want to wear masks were shopping over the bridge in Niagara County, instead.
"It levels the playing field," Whitney said Friday.
Covid-19 deaths spiked across the region last week in a now-predictable pattern, following a monthlong surge in cases and hospitalizations.
But critics of the new policy raised concerns about how it would be enforced, how well people would comply and how much of a difference it will make in limiting the spread of the virus.
Niagara County Legislature Chairwoman Becky Wydysh said while her county believes people should wear masks indoors, a mandate is not the best approach. And enforcement of a mask mandate is not the best use of county resources, she said.
Wydysh also said Niagara County would continue to focus its resources on vaccinations, contact tracing, testing and working to keep kids in school. She said the county is seeking more testing resources from the state "because we believe identifying and isolating those who test positive is the greatest need right now to reduce the spread."
Wendel, who also declined to follow Erie County's lead on a mask mandate, said Chautauqua County's Health Department and Sheriff's Office do not have the time or personnel to police mask wearing in public spaces and it would be far more helpful for the state to set up a vaccine clinic than to impose a mask mandate.
State Sen. George Borrello, a Sunset Bay Republican who is also a restaurant owner, said the edict will create more "polarization" around Covid-19, and he worried about front-line staffers who will end up having to enforce a mandate that he said is "unrealistic and unfair."
Cathy Piciulo, president and CEO of the Ken-Ton Chamber of Commerce, said her members are concerned the state felt a need to intervene when they already were adjusting to the county's mask rule.
"We have no voice when it is the state making those decisions for everyone," she said in an email. 
After about a month, state officials will assess the effectiveness of the mask mandate – and the need for further restrictions.
Hochul said she hopes to avoid draconian measures, such as the capacity limits on businesses or the shutdowns of industry sectors seen in 2020.
"I don't want to go back ever again to that place where people couldn't go to their jobs safely, where people couldn't congregate, where people couldn't go to their schools," she said.