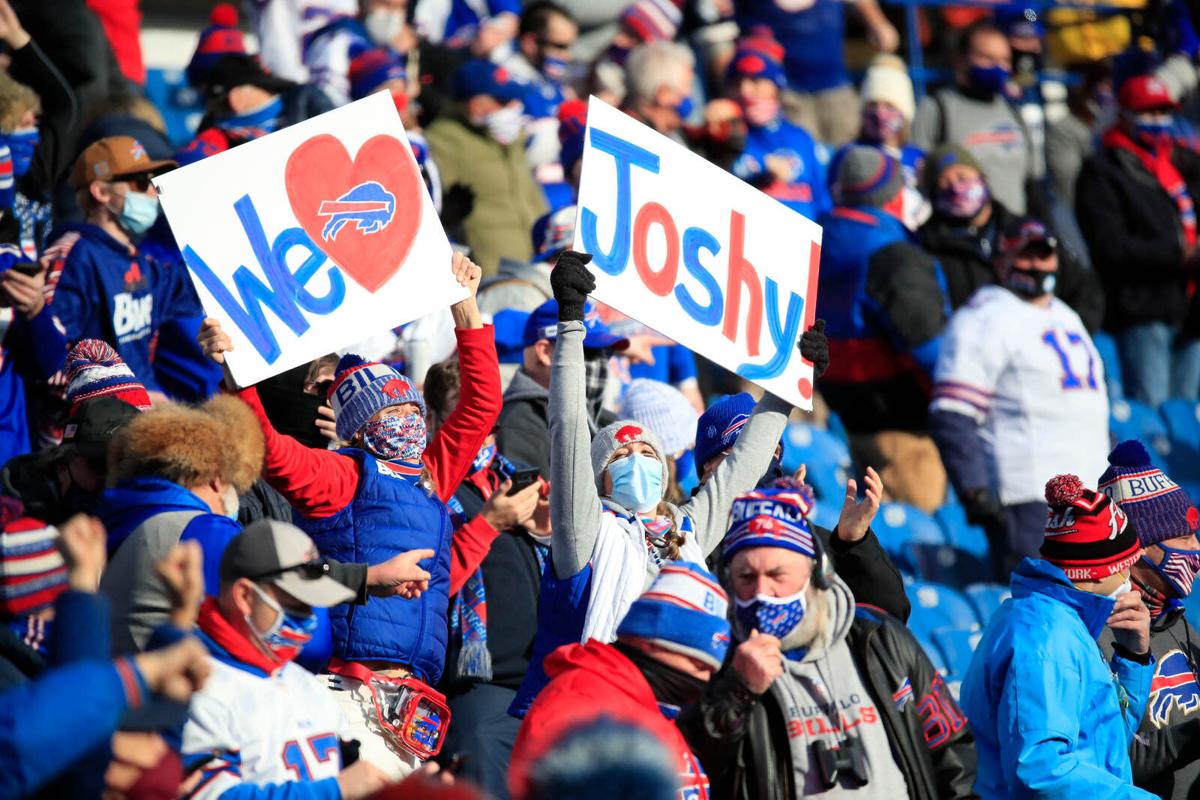 When Jason Poch left his Hamburg home Saturday for the Buffalo Bills-Indianapolis Colts playoff game at Bills Stadium, he suggested what seemed an unlikely scenario to his 7-year-old son.
"I said to Ethan: 'Hey, there's only going to be 6,700 fans there, maybe you'll see me on TV,' " Poch said Sunday.
Oh yeah, he made it to TV, all right – during the game, later on ESPN's SportsCenter and all over Twitter, too.
Poch's tearful reaction to the batting down of the Colts' Philip Rivers' Hail Mary pass that sealed a 27-24 Bills playoff victory – the team's first since 1995 –seemed to symbolize the explosion of emotion felt by the Bills' long suffering fans.
"I've been a season ticket holder for 20 years – going to all the games with my dad, my aunts and uncles and my late grandfather. I even visited my grandpa's grave on Friday to tell him I was going to this one," Poch told The Buffalo News. "So when it was over, I was overcome with emotion. It just hit me."
The image of Poch's crinkled face shown on SportsCenter and posted on Twitter by his cousin elicited all kinds of reaction from legions of Bills fans around the country.
"I cried b4 & after the came and idc who knows it," tweeted one fan.
"This man is all of us," said another.
Indeed, people from all over have been reaching out to the 40-year-old project manager for a Buffalo software company and father of three. He said people tell him he is a "symbol" for so many haunted by dreaded terms such as "the Ronnie Harmon drop," "wide right" or "home run throwback" – all reminders of heart-breaking post-season losses.
Now he's gearing up for what he hopes will be more playoff wins and a solid team for years to come.
"I think they've got a really good shot at this," he said. "They've got a great coach, a great quarterback and a great defensive core. We'll see how far it all takes them."
Poch is just one of so many Bills fans anticipating another round of playoff games, unaccustomed as they are in recent years after the early 1990s run of four straight Super Bowls. The path ahead follows Saturday's first game of the year in which Covid-19 restrictions were at least partially relaxed in Bills Stadium, allowing less than 10% of normal attendance.
And it appears that officials from Erie County and the Buffalo Bills are still evaluating the Saturday "experiment" that allowed approximately 6,700 socially distanced, mask-wearing fans into the stadium. Scott Zylka, spokesman for the Erie County Sheriff's Office, said post commanders working Saturday's playoff contest would not submit their reports until Monday. A Bills security official, meanwhile, did not return a call seeking information on the success of the Saturday restrictions and whether there were any problems.
Peter Anderson, spokesman for Erie County Executive Mark C. Poloncarz, said via email that 10 fans were ejected from Saturday's game, though he did not know why. He did not return phone calls seeking information on the ejections or whether restrictions may be loosened or tightened for next weekend's second round of NFL playoffs at Bills Stadium.
But Poch, for one, is looking forward to what lies ahead. He said the SportsCenter exposure and Twitter attention only underscores the importance of the team to Western New York's collective psyche. He's also becoming accustomed to the sudden notoriety.
"So I guess I've become a 'meme,' " he said of his teary face, before referencing a Buffalo culinary controversy. "And on top of that, my wife posted: 'This is what happens when you have ranch dressing with your chicken wings.' "