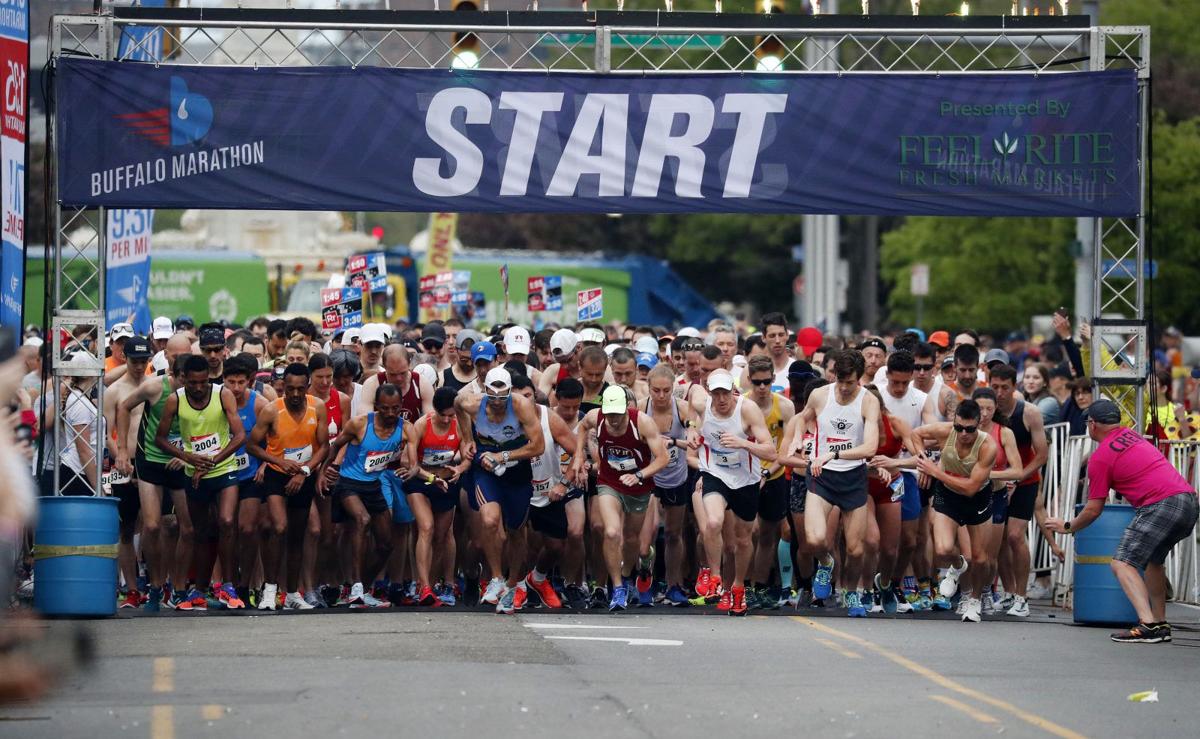 The Buffalo Marathon weekend is nine weeks away.
The celebration of health, wellness and community is one of the biggest mass gatherings of people in Western New York and the biggest road race in the area.
While right now, all Buffalo Marathon events are on as scheduled, there's a lot of wait-and-see in the running world as covid-19 has shutdown mass gatherings across the globe.
The Shamrock Run in South Buffalo on March 6 was among the public exposure locations after a positive test, according to the Erie County Department of Health.
"I hate to sound cliché, but it really is that we're hoping for the best and planning for the worst as we remain in contact with the Department of Health for guidance," Buffalo Marathon race director Greg Weber said. "We are a not-for-profit focusing on doing good for the community with a mission to promote health and wellness. At the same time we are promoting the region and city across the country about how great Buffalo is."
Scroll through the running calendar at BuffaloRunners.com and in large, red type "CANCELLED" is across nearly every race in Western New York through the end of April as the state has banned nonessential gatherings of people. That means there will be no Bunny Hop 5K in East Aurora and the entire Flatliner Series held in Chestnut Ridge Park is a no-go.
Among the cancellations: the Run Forest Run 5K in Williamsville (April 25); the Tortoise and the Hare in Orchard Park (April 25); the Envirun in Niagara Falls (April 25); the Mathletes Cindy and Bill Frank Memorial 5K Run/Walk in West Seneca (April 25); the WNY Maple Saps Run in Franklinville (April 26); and the Niagara Power 5K Run/Walk in Lewiston (April 26).
One of the few April races that remains scheduled is the 1891 Run in Fredonia that benefits programs and operations at the 1891 Fredonia Opera House.
"As of right now, the 1891 Run is still on," Opera House Executive Director Rick A. Davis said. " Depending on how long this crisis goes, though, we may be forced to move it to a later date."
Some races are getting creative, like the 17th Annual Putting Hunger on the Run 5K that benefits Friends of the Night People. The race, scheduled for Apri 18 at Beaver Island State Park, has been canceled, but the organizers are encouraging people to register and run their Virtual 5K. The $25 registration fee becomes a donation to the organization and participants can go out on the day of the race and run their own 5K. Runners are encouraged to wear a costume and take a picture, with the winner of an online poll to receive a special award at next year's race.
"The need of our guests and neighbors has not stopped," organizers said. "Friends of the Night People will continue to serve as many people as we can during these trying times."
Laps for Limbs, a one-hour run at Buffalo State scheduled for April 26, has been canceled but organizers are hoping to add a virtual option. Proceeds from the event go to benefit amputee children and veterans.
The Buffalo Marathon, meanwhile, is waiting to see what the next few weeks bring. The weekend includes the marathon, half marathon and Kaleida Heart to Heart Relay on May 24 and the Buffalo Marathon 5K, Diaper Dash, Kids Race and Ruffalo Stampede on May 23. As with most, if not all, races, registrations are nonrefundable.
As covid-19 has caused the cancellation or postponement of races, many have offered deferments. The Grand Island Half Marathon, which was scheduled for May 2 before it was canceled, sent out an email announcing that runners who had registered for 2020 were automatically transferred to the 2021 race.
Weber said that the Buffalo Marathon normally charges $35 to defer a runner's registration. That fee has been waived and about 100 people have taken advantage of the deferral option.
Deferring helps races stay afloat for the following year because the race organization already has expenses that must be paid. For example, the Buffalo Marathon had to order its race-day swag in February. There are other expenses that need to be paid in advance. Think of a major race like a wedding – the organizers need to pay vendors well before the actual day of the event.
The other major event on the Buffalo running (and social running) calendar, the JP Morgan Corporate Challenge which was scheduled for June 18, has been postponed.
All Corporate Challenge events through July 2 have been postponed, which affects Buffalo, Johannesburg (March 26), Chicago (May 21), New York City (May 27-28), Rochester (June 2), Frankfurt (June 17), Boston (June 25) and London (July 1-2).
"It's our intent to find replacement dates in the late summer and/or fall for all of these events, including Buffalo," said race series spokesman Alan Tieuli. "We're not ready to announce a target date for Buffalo in the current environment. A lot of puzzle pieces will need to fall into place as we will need to integrate the postponed events into our existing fall schedule."
The fall schedule includes Syracuse (Sept. 10), San Francisco (Sept. 15), Philadelphia (Oct. 1), Dallas (October 21), Sydney (Oct. 28), Buenos Aires (Nov. 5), Shanghai (TBD) and Singapore (Nov. 26).
And therein lies another problem for races that postpone rather than cancel for 2020 – finding a new date.
Two of the world's major marathons – Boston and London – have already rescheduled. Boston moved from April 20 to Sept. 14 and London from April 26 to Oct. 4.
The Toronto Marathon, scheduled for May 3, has been canceled, as has the Mudcat Marathon in Dunville, Ont., that was scheduled for May 9.
In addition, the Barcelona Marathon was postponed from March 15 to Oct. 25, the Paris Marathon from April 5 to Oct. 18 and the Flying Pig Marathon in Cincinnati from May 3 to Oct. 11. Those are major examples, but reshuffling the race calendar for 2020 isn't as easy as finding a new date. There is likely to be impact down the line for previously scheduled fall distance races, which locally include the Mighty Niagara Half Marathon (Sept. 19) and regionally the Wineglass Marathon (Oct. 6) and the Scotiabank Toronto Waterfront Marathon (Oct. 18).
Weber said the Buffalo Marathon is working on contingency plans and constantly evaluating its drop-dead date to make a decision on this year's event.
"When you look at the race calendar, races are born and created with some thought on that race calendar," Weber said. "For all the races that just push to the fall, now you've impacted all the fall races."