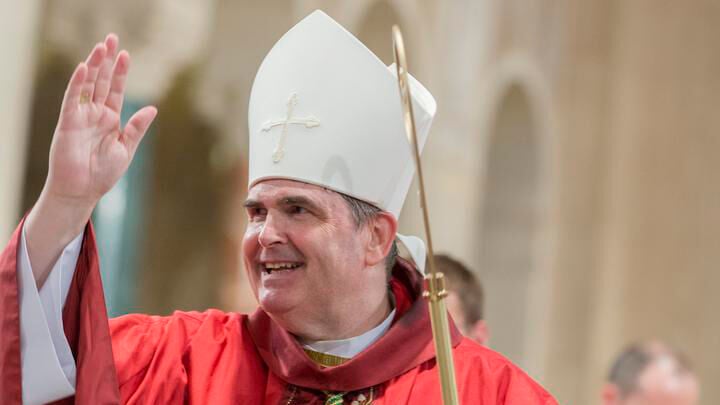 The Washington, D.C., archdiocese where new Buffalo Diocese Bishop Michael W. Fisher served as a priest for three decades has been embroiled in a scandal of its own involving a cover-up of sexual misconduct by former Cardinal Theodore E. McCarrick that reached all the way to the Vatican and Pope John Paul II.
Fisher, named last week as the 15th Buffalo bishop, has not been implicated in the McCarrick cover-up.
A 461-page Vatican report on the subject released last month doesn't mention Fisher, whose rise into the administrative ranks of the church was launched by McCarrick, the archbishop of Washington from 2001 to 2006.
McCarrick appointed Fisher in 2005 to his first chancery post, vicar general to the apostolates. Before that, Fisher had spent 25 years as a parish priest.
"I think he saw me as a hard-working pastor. That's how he always referred to me if we would be at a function: 'Here's one of our hardest-working pastors,'" said Fisher. "I think that was the reputation I had and that he wanted me to bring to my work and ministry."
But Fisher said he didn't work closely with McCarrick. The cardinal often was traveling, said Fisher, who found himself dealing more directly with Auxiliary Bishop Kevin Farrell, second-in-command of the Washington archdiocese.
"I worked pretty closely mostly with him that year, and my work primarily was directed to schools, education. I was working very closely with the superintendent, as well as the director of religious education for the archdiocese," said Fisher.
Farrell moved on to become bishop of Dallas from 2007 to 2016 and is currently a cardinal at the Vatican. Pope Francis in 2019 appointed Farrell as camerlengo, a top Vatican post with duties that include managing the Holy See during the time between a pope's death and the election of a new pope.
McCarrick had been one of the most powerful Catholic leaders in the country. He was removed from the priesthood in 2019 after multiple sexual misconduct accusations became public. Some of the abuse allegations dated back decades, setting off an international firestorm over how McCarrick was able to advance into the upper echelons of church hierarchy.
The Vatican report found that Pope John Paul II had ignored warnings about McCarrick before appointing him as archbishop of Washington. Numerous other church officials knew of sexual harassment or misconduct allegations involving McCarrick, the report also found.
McCarrick's successor, Cardinal Donald W. Wuerl, is mentioned many times in the Vatican report.
Wuerl was forced to acknowledge in 2019 that he had known about sexual misconduct allegations against McCarrick as far back as 2004, even though he maintained in public statements for months that he was unaware of any complaints about McCarrick.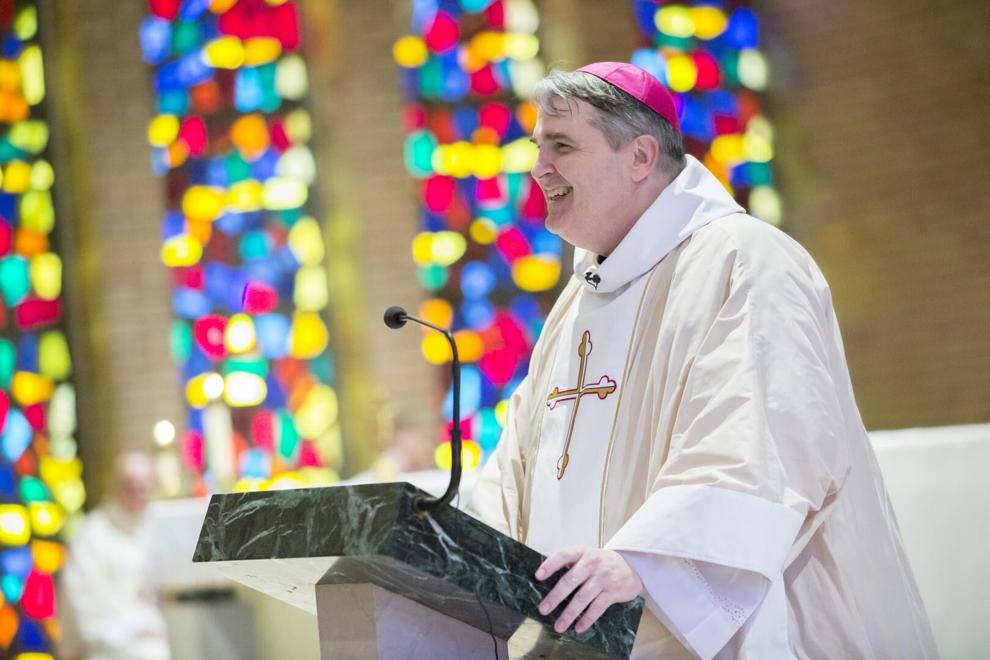 Fisher, 62, spent several years working under Wuerl, but he said doesn't know what Wuerl knew about McCarrick's past and "egregious conduct."
"I learned of his conduct when it began to be reported by the news media and, like everyone else, was appalled," Fisher said. "After his retirement, I believe former Cardinal McCarrick continued to travel extensively. Any conversations about former Cardinal McCarrick's role in the archdiocese or broader activities would have been between him and Cardinal Wuerl and certainly not anything I would have been privy to."
Wuerl assigned Fisher in 2006 as vicar for clergy and secretary for ministerial leadership, another high-ranking post in the chancery.
"I was given this sort of umbrella of care of our priests and religious," said Fisher. "it's kind of a dual role there. You represent the archbishop to the priests, but you also represent the priests to him. You bring their needs and their concerns to him."
There's little public track record to show how Fisher dealt with complaints of priest misconduct in the Archdiocese of Washington. In 2018, Wuerl released the names of 33 clergy who had worked in the archdiocese and were credibly accused of sexual abuse with minors. Two of those cases involved reports that came into the archdiocese after 2005, during Fisher's time as a chancery official. One involved a deacon who was arrested in 2007 and convicted in 2008. The other was an order priest who was arrested and convicted in 2018. 
Fisher acknowledged that his work included "dealing with priests that may have crossed boundaries," although "I can't get into specific examples."
Very few of those instances involved children, he said. Any cases of alleged misconduct are examined by a team of people, not just him, he added.
"The majority of our issues are boundary issues with adults. Where we get into trouble is when we sort of take that on and deal with it alone. We need to follow our procedures, know what our policies are and work to make sure there are a number of voices being collaborated with who can weigh in on, 'How do we approach this situation?'" he said.
A case of alleged sex abuse of a minor would end up on his desk only after it was first reported to law enforcement, he said.
"We can't mess around with that," he said. "This is for the protection of our children, and that cannot be tolerated, that kind of action."
The McCarrick scandal, albeit at a much higher level of the church, is similar to one that unfolded in the Buffalo Diocese over the past few years, when it was revealed that bishops here shielded priests accused of child sex abuse from public accountability for their alleged crimes.
Olean parishioner Jennifer Kane said she is concerned that Fisher comes to Western New York with roots in a scandal-ridden diocese, much the same as Bishop Richard J. Malone, who was an auxiliary bishop in the Archdiocese of Boston during a clergy abuse scandal and later assigned to the Buffalo Diocese.
"It's documented as being a cesspool . . . That's the background he (Fisher) comes from," said Kane, who runs a website Lay D.O.B. in which she advocates for lay Catholics to have a greater say in church decision making. "And he's going into a situation in which there was a shocking lack of church officials reporting and investigating accusations."
The Buffalo scandal ultimately led to Malone's resignation in 2019 and a report last month from the Attorney General's Office revealing that other Buffalo chancery officials had roles in covering up decades of clergy sex abuse allegations.
Kane said she was willing to give Fisher the benefit of the doubt that he might be a reformer along the lines of the new Diocese of Wheeling-Charleston Bishop Mark E. Brennan, who has pushed for his predecessor, Bishop Michael J. Bransfield, accused of financial and sexual misconduct, to pay back nearly $800,000 in diocese funds spent on luxurious living and apologize to victims.
Kane also wants to see Fisher remove chancery officials who were complicit in concealing abuse.  
"Accountability is essential. If we don't have faith in the integrity of the people in the system, hello, we're not going to have faith in the system," said Kane.
Fisher said he knows very little about Western New York and has never visited the area. He had hoped to travel to Buffalo by now, but the pandemic has made it extremely difficult, he said. He plans to arrive by Jan. 10, in advance of a Jan. 15 installation and will likely live in the rectory of St. Joseph Cathedral, at least in the short term and probably permanently, he said.
He acknowledged he faces "overwhelming issues" when he arrives, but he said he has confidence he won't be confronting them alone.
"There are people ready to assist, who want to see the church succeed and move forward with the education of our children, the care of our people. That's where I have to keep the perspective of it all," he said.
One priority will be to try and help survivors of abuse heal, including meeting with them face to face, if that helps, he said.
After being named an auxiliary bishop in 2018, Fisher attended a program in Rome known colloquially among prelates as "baby bishop school."
"One of the speakers there said, 'Brother, your ministry will never be the same as it's been in the past. Working with survivors and victims is going to be an essential part of your ministry for the rest of your life.' I said, 'Hallelujah. Amen,'" he said.