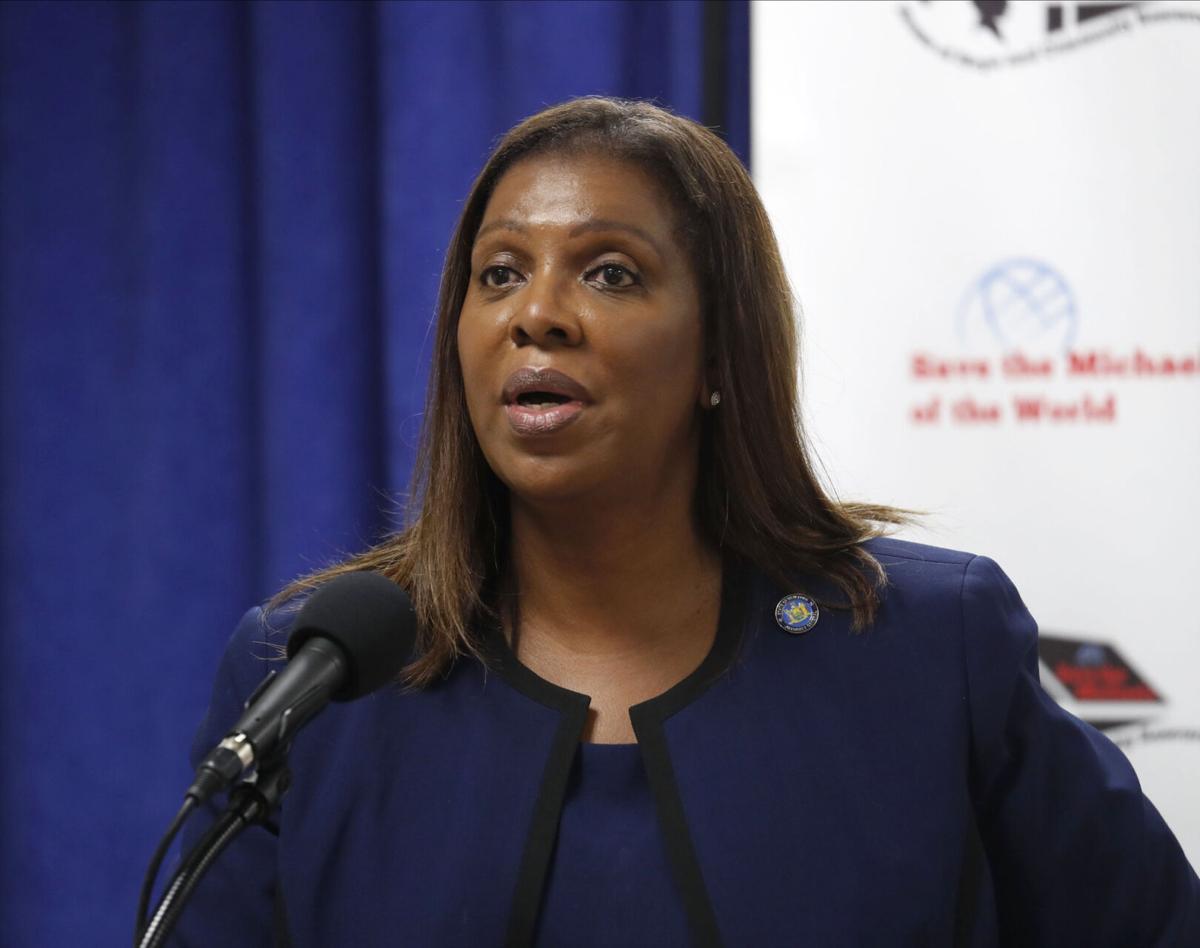 ALBANY – Attorney General Letitia James on Friday formally announced her bid to become New York governor, setting up a powerful showdown between the state's top lawyer from Brooklyn and Gov. Kathy Hochul of Buffalo.
"Today, I am announcing my campaign to be your next governor," James said in a 1 minute and 23 second video her campaign released Friday on her Twitter account.
"I thought everybody in Brooklyn is running. That's what it feels like," Gov. Kathy Hochul said.
The announcement comes a day after criminal charges were filed in Albany City Court by the local sheriff's office against former Gov. Andrew M. Cuomo, who resigned in August following an explosive investigation overseen by James that alleged the ex-governor sexually harassed or assaulted numerous women.
In highlighting her job as state attorney general, James specifically pointed to her work going after people who sexually harassed women – "no matter how powerful the offenders."
Cuomo's spokesman and lawyer accused James, as recently as Friday, of running a politically motivated investigation to position herself to run for governor.
A criminal complaint has been filed against former Gov. Andrew M. Cuomo over allegations that he groped a state employee at the Executive Mansion in Albany, a state courts spokesperson said Thursday.
Hochul in recent days has declined to respond with any specifics about the looming challenge from James. She said this morning that she is a veteran of many political campaigns and is confident of her 2020 election bid.
James for weeks has been seeking to gather support behind the scenes in Democratic Party insider circles, including county party chairs and union leaders who play pivotal roles in the party's internal affairs.
James, as well as Hochul, have also stepped up their fundraising activities, especially in New York City – the geographic heart of political money raising events for Democrats seeking statewide office.
Since Cuomo's political troubles began in earnest earlier this year – resulting in calls for him to resign and an impeachment inquiry – James has been quietly maneuvering to run for governor.
In recent polls, Hochul has been leading the field of potential challengers, including James, as well as New York City Mayor Bill de Blasio and New York City Public Advocate Jumaane Williams. Others interested include Long Island U.S. Rep. Tom Suozzi.
Since taking office Aug. 24, 62% of all or part of Hochul's days as governor have been spent in New York City.
"It means Hochul has to raise more money and put together a coalition that goes from Western New York to New York City," said veteran Democratic political consultant Hank Sheinkopf. "Tish James has a rough road, but so does Hochul."
The announcement pits Hochul, the first woman governor of New York, against James, who would become the first Black female governor in the nation's history.
James would join Cuomo and former governor Eliot Spitzer as among those who have sought to go from the state's top lawyer to its chief executive in Albany.
For James, the timing of her announcement is noteworthy. She has been the recipient of spirited attacks by Cuomo loyalists over what they say was her political hit job against the former governor. James said the criminal complaint Albany County Sheriff Craig Apple filed Thursday in Albany was a vindication of her August report that forced Cuomo to resign from office.
Richard Azzopardi, a Cuomo spokesman, said there was a "toxic" connection between the criminal complaint brought by the Albany sheriff and James.
"Tish James used her office to attack the governor for her own political benefit and she violated the law in the process," the Cuomo advisor said in a statement before James made her 2022 campaign official in the afternoon.
An explosive report accusing Gov. Andrew M. Cuomo of repeatedly sexually harassing female government employees has left the three-term governor seemingly facing a choice between resignation or impeachment.
Sheinkopf, shortly after the James announcement Friday afternoon, questioned whether her role in the Cuomo report gives her an advantage.
"Does being the Cuomo killer get Tish James the advantage she thinks it does?" Sheinkopf asked.
In her brief video, which included childhood images and appearances at rallies in New York City, James said she has guided her career on a simple principle: "stand up to the powerful on behalf of the vulnerable, to be a force for change."
James said her attorney general credits include suing drug companies over the opioid crisis, pressing for more transparency in nursing homes and suing the former Trump administration 76 times over various matters.
"But who's counting?" she said of those Trump legal actions.
James, 63, was elected attorney general in 2018 – with Cuomo's support – following stints as the New York City Public Advocate, member of the City Council, staffer in the New York Assembly and public defender. She has her law degree from Howard University. She has long-held support within more liberal wings of the party, as well as the Working Families Party, a small but influential party in Democratic Party workings.
The announcement by James on Friday was hardly a surprise. She has performed all the statewide campaign related duties since Cuomo departed and Hochul became governor: touring the state and giving away public money to local communities, hosting a big fundraiser for herself in New York City and even getting involved in the strike by staffers at Buffalo's Mercy Hospital, which she slapped with a cease and desist order to try to prevent hiring of replacement workers.
Hochul on Friday morning was again in New York City – where she has spent part or all of 62 percent of her days since becoming governor. After an event to sign a bill to reduce noise pollution, Hochul noted she's been a public servant for 27 years and the 2022 race will be the 13th time she has campaigned for elected office.
"I'm used to running and I'm going to run hard," she told reporters.
In the months ahead, Hochul and James will use their respective statewide offices to make news, appeal to voters and try to build up name recognition among rank-and-file Democrats. The first major challenge: who wins the support of Democratic Party insiders when they hold their gubernatorial nomination convention next February? Then, in June, comes the Democratic Party primary in advance of the November general elections.
The Democratic winner will face one of several candidates vying now for the Republican Party nomination.