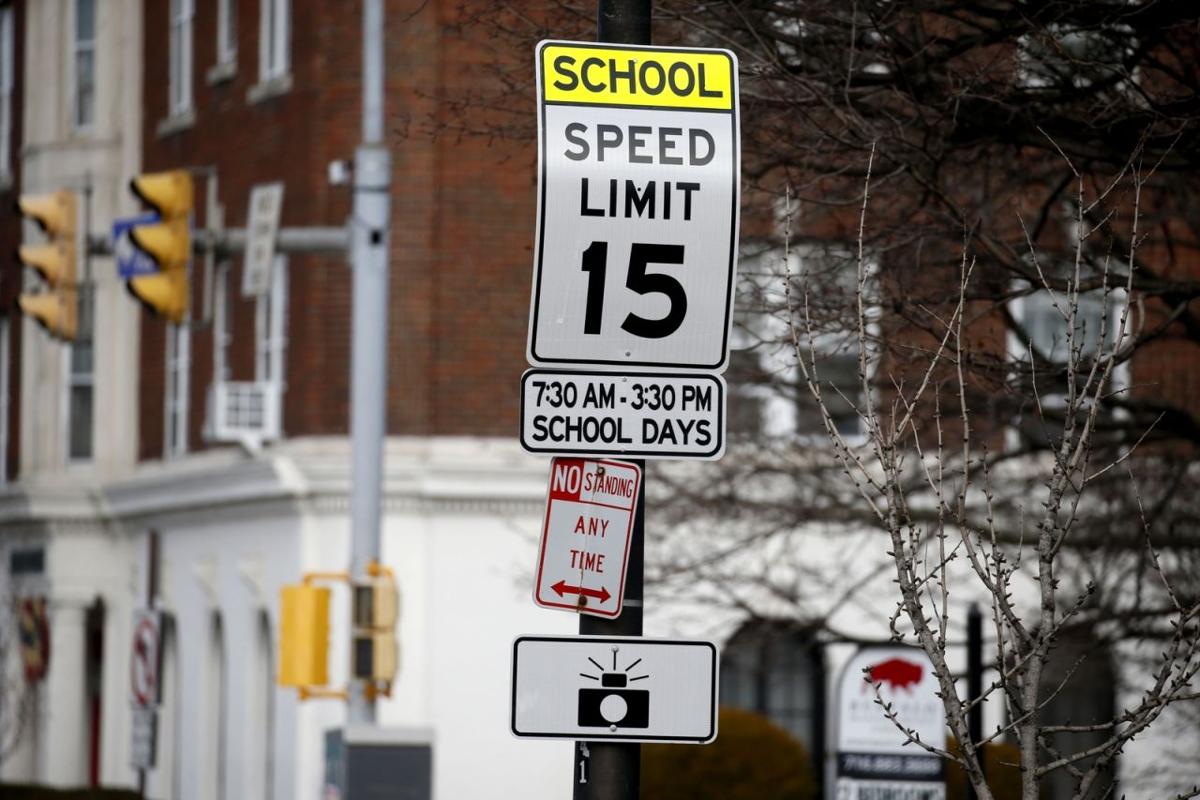 The lawyer leading an effort to remove safety cameras from school zones in Buffalo now seeks their immediate deactivation and the city's return of more than $1.3 million in collected fines following the recent Common Council vote to end the program.
If the city fails to voluntarily honor his request, attorney Corey J. Hogan says, he will continue litigation aimed at refunds for those "wrongfully ticketed under the School Zone Safety Program."
University Council Member Rasheed N.C. Wyatt says Mayor Byron W. Brown did not sign or veto an ordinance to repeal to use of the cameras.
In a Friday letter to Corporation Counsel Timothy A. Ball, Hogan noted that an ordinance amendment introduced by University Councilmember Rasheed N.C. Wyatt received no veto from Mayor Byron W. Brown and will result in the program's termination on Aug. 31. Hogan on Feb. 21 filed suit against the city on behalf of "aggrieved" clients, labeling the camera program a "cash grab" that resulted in more than 26,000 speeding tickets.
He also contended that the cameras were primarily located in minority neighborhoods that took advantage of motorists least able to afford the $50 fines.
"We are, therefore, extremely pleased that the Common Council agreed with our position that the speed cameras were inappropriate and took the important and necessary step of ending the School Zone Safety Program," he wrote.
"We don't care about where the money comes from," University Council Member Rasheed N.C. Wyatt said. "We can still prioritize child safety, and it doesn't have to attach a dollar figure to it."
But now Hogan seeks to put a new twist on his litigation. He says the program also amounted to a "cash grab" for Sensys Gatso, a Swedish company hired for its implementation. He called it a "revenue-maximizing enterprise relying on the euphemism of 'school safety' in order to pitch a profit-driven business model that could not be less concerned with actual school safety."
As result, Hogan says waiting for an Aug. 31 end of the school zone safety cameras "makes no legal or logical sense" and requests return of fines.
"Should we fail to hear from you," he wrote, "we will move forward with an Amended Complaint which, among other things, will rightfully name Sensys Gatso as a defendant, and requesting the return of funds to all those wrongfully ticketed."
Michael J. DeGeorge, city spokesman, said neither the mayor nor corporation counsel would comment because of the potential for litigation. Brown also did not offer comment when he failed to address the April Council vote ending the program.
In a mayoral race that so far lacks a big-name opponent, any real controversies and only hin…
Still, Brown steadfastly defended the program since its inception, especially after his Democratic primary challenger – India B. Walton – catapulted the issue into the mayoral contest. Despite widespread complaints and the avalanche of $50 fines, Brown said the city implemented the idea in the first place because of escalating reports of speeding near schools.
"People wanted something done," he said in April, noting that some of the Council members seeking ultimate repeal voted for the original authorization.
"Now we see significant compliance," he said. "It's happening. We're making our children and other members of the community safer. And this program, from the very beginning, has been about safety."
But following the latest Council action, Walton also called the program a "money grab" that could accomplish the same results with new signage, speed bumps and other measures. 
Council President Darius G. Pridgen said the Council's action was appropriate, and the Council is awaiting Brown's action.
"Hats off to the six members of the Common Council brave enough to go toe to toe with the mayor," Walton said following the Council's April move to end the program, accusing Brown of wearing "blinders" in the face of widespread disapproval. "My advice to the current mayor is to be accountable and realize he made a mistake."
The School Zone Safety Program set a 15 mph speed limit around 20 public, private and charter schools. Drivers captured on camera traveling at least 26 mph received citations mailed to the car's registered owner. The city received $36 of each $50 citation. Sensys Gatso, which also issued the citations, received $14.
The Council approved the contract in 2019.