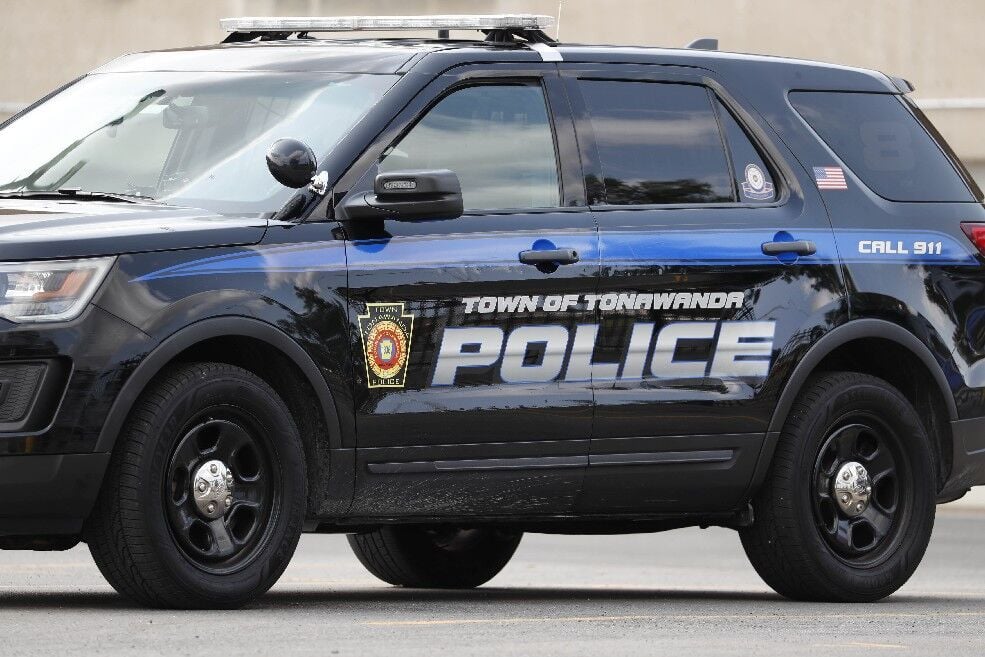 Town of Tonawanda police brass have singled out Officer Michael G. Lewandowski for punishment – including four suspensions since 2017 and a looming threat of termination – even as they overlook similar conduct by other town officers, his lawyer told The Buffalo News.
Police officials have chided Lewandowski for, among other reasons, his failure to meet the department's traffic-ticket quota and his choice of language in written reports, attorney Emily Trott said. She has filed a state employment discrimination claim on behalf of Lewandowski, who she described as a dedicated officer on the wrong side of police politics.
"He's being targeted and harassed for doing his job very well," Trott said in an interview. 
Trott's comments came after The Buffalo News, citing disciplinary records and sources familiar with the matter, reported on Lewandowski's history of violations of police regulations.
Lewandowski has served previous suspensions for forcibly removing spectators from Town Court, pressuring a state trooper to fix a ticket issued to a relative and pursuing a suspect in violation of department policy.
He is now suspended again and facing the loss of his badge for his response to a neighbor dispute, with Trott vowing to sue the department if Lewandowski is fired.
"Officer Lewandowski's written record of repeated infractions and poor evaluations are (on their face) evidence of unsatisfactory performance," Tonawanda Police Capt. David R. Price wrote in December after the most recent incident. Price wrote Lewandowski has received nine letters of counsel and four more-serious reports of violation since 2011.
Lewandowski, 38, is a Marine combat veteran who has received a number of department decorations.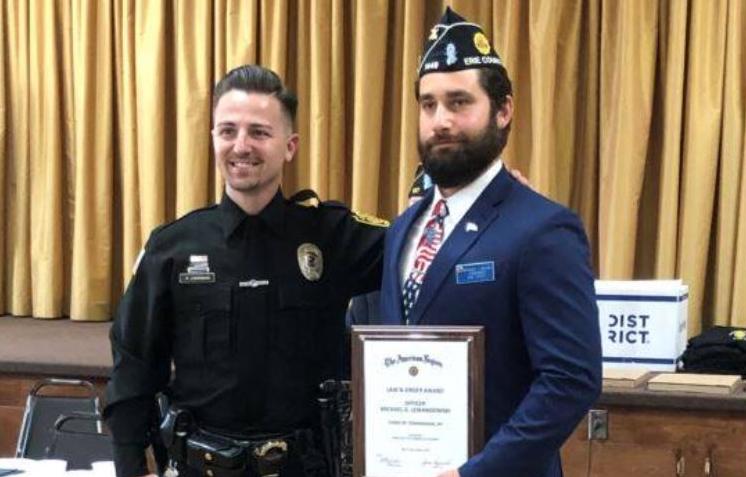 However, in 2017, Lewandowski was suspended without pay for five days after he "aggressively" removed a man and woman from Tonawanda Town Court, according to records provided to The News by the town.
A courtroom video of the incident, obtained by WKBW-TV through its own Freedom of Information Law request, shows Lewandowski approach the pair as they're sitting along the main aisle. There is no audio to reveal what was said, but Lewandowski soon begins pulling them out of the courtroom with the help of another officer.
He pushes the woman backward through the doors at the rear of the courtroom and, as is shown on a camera recording in the hallway, throws a couple of punches at the man, although it's not clear the blows connected. When the woman tries to intercede, Lewandowski shoves her head back against the concrete block wall. Lewandowski and the other officer then wrestle the man to the ground.
As part of his discipline, Lewandowski was required to undergo training in how to avoid bias and act professionally in dealing with the public. Trott said her client acted appropriately in the encounter.
In 2019, Lewandowski was suspended for eight days without pay for urging a trooper to fix a ticket issued to Lewandowski's aunt and, after the trooper refused, texting him with a pledge to let other officers in the area know the trooper is too much of a stickler to extend professional courtesies, the records show.
Additional documents obtained by The News on Friday, including portions of annual evaluations, paint a mixed picture of his performance in the eyes of his superiors.
Police officials laud Lewandowski for, among things, being a top producer of arrests; proactively generating information that has led to investigations of sex offenders and drug and gang activity; rarely taking a sick day; once using Google Maps to track down a robbery suspect; and keeping his cool when dealing with belligerent members of the public.
However, administrators have cited him for failing to write enough traffic tickets; not giving enough advance notice when he needed time off for Navy Reserve duty; showing up a minute or two late to a briefing; and, at other times, failing to maintain his composure when dealing with people who are drunk or acting disrespectfully.
Trott said department brass have counseled Lewandowski for policy violations, such as cursing, when others have avoided discipline for doing the same thing.
In one document provided to The News, Lewandowski typed "detail completed" on a form related to prisoner care.
In a profane note written on the report and left in Lewandowski's mailbox at work, an unidentified member of the department promised that if Lewandowski ever wrote anything besides "prisoner fed" on such a form the official will "slaughter all your pets, set your car on fire and distribute buckets of bed bugs in your house."
The two most recent incidents took place in 2020.
In July, Lewandowski was on patrol when he spotted a vehicle he knew was owned by someone wanted on a weapons-related arrest warrant, Trott said. Lewandowski sought and received permission from his lieutenant to pursue the vehicle, his lawyer said, before eventually ending the chase. The vehicle was later found in Buffalo and the officer, acting on a tip, arrested the suspect the next day, Trott said.
However, Lewandowski, another officer and the lieutenant were disciplined for the pursuit, with Lewandowski suspended without pay for 12 days, Trott said.
Then, on Nov. 28, Lewandowski responded to a neighbor dispute over a possible stolen package on West Girard Boulevard in the town, according to Trott and disciplinary reports obtained by The News.
Lewandowski, his attorney said, only raised his voice once during the encounter, when a neighbor he had told to stay on the other side of the street began shouting and cursing as he approached Lewandowski from behind. That neighbor also claimed to be a Buffalo police officer, Trott said, something Lewandowski attempted to verify at the scene. No arrests were made.
However, three reports of violation, or blue slips, written on Dec. 10 by Price, the police captain, accuse Lewandowski of filing a report on the incident that doesn't match what is shown on body camera footage. The disciplinary reports contend Lewandowski started yelling and pointing his finger at the neighbor, who wasn't aggressively approaching the officer.
Trott said the town's selective release of disciplinary records for the courtroom and state trooper incidents are an attempt to sway public opinion against her client.
"This was an intentional hatchet job to make him unemployable and hated," she said.
The Town Board voted on Jan. 11 to authorize Capt. Joseph Fennell, recently promoted to assistant police chief, to hold a disciplinary hearing on Lewandowski. On Monday, following the hearing, board members voted to authorize Fennell or Supervisor Joseph Emminger to take disciplinary action up to and including termination of the officer, who is suspended without pay.
Police Chief James Stauffiger has recused himself because he is Lewandowski's uncle. He said he can't comment on a personnel matter but, speaking generally, town police provide training and impose discipline when merited.
Emminger told The News the Town Board wasn't aware of the courtroom incident prior to the neighbor dispute. He added, if board members had seen the video of the encounter at the time the five-day suspension was issued by the department's former chief, they would have "reacted differently than the action that was taken."
The town supervisor added officials are responding as required to public records requests and Lewandowski has received numerous chances to improve his on-the-job behavior.
"What Officer Lewandowski calls harassment, we call discipline," Emminger said. "If he will not hold himself accountable, the town will."