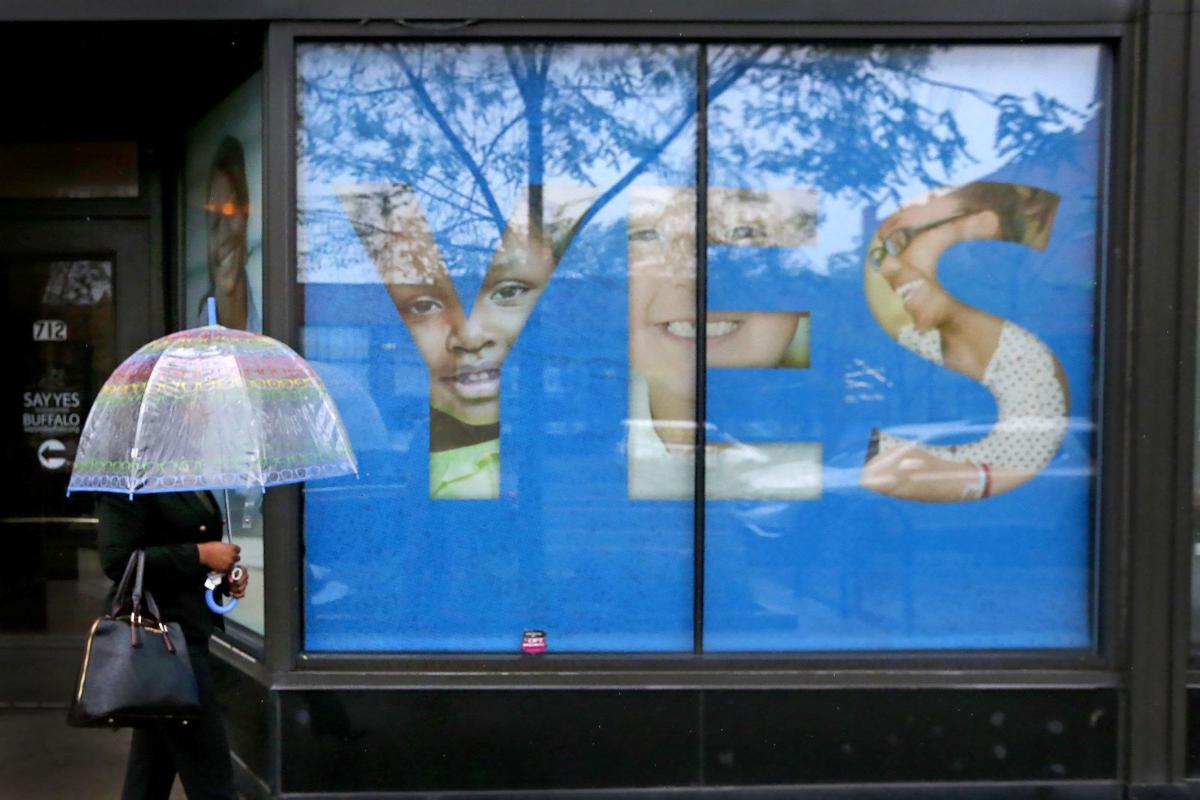 A Buffalo pastor and his wife who received federal stimulus money to provide children a place to attend school remotely each charged $200 an hour for their consulting services on top of the tens of thousands of dollars they collected in personal wages.
In all, Larry Darnell Donalson and Linda Billops Donalson, the founders of Community Cares Program, received $238,000 in consulting fees and wages from August to December 2020, according to a State Supreme Court lawsuit.
An audit turned up other issues with the program's spending, according to the lawsuit. In all, Erie County government and Say Yes Buffalo want Community Cares to return $322,348 to Erie County. That includes nearly $172,000 in personal compensation to the Donalsons. Community Cares claimed $871,835 in total expenses. 
"It's a lot of money over a short amount of time," said Say Yes Executive Director David Rust.
The couple attributed the spending to setting up eight virtual learning centers in Buffalo, which served 276 students. 
Attorney Kevin Burke, who represents Community Cares, said all the claims meet federal Cares Act funding requirements and reflect the unique expertise, concept development and hard work of the Community Cares founders. 
"I was actually shocked when this complaint got filed," Burke said.
Of $160 million in Cares Act money sent to Erie County, more than $7 million went to provide virtual learning centers for children needing a supervised location to attend their classes remotely while their parents worked. To open these centers, the county contracted with Say Yes Buffalo, which worked with 32 community partners to open 50 virtual learning centers. Among the community partners was Community Cares, run by Larry Donalson, the pastor of Greater Works Christian Fellowship in the Masten Park neighborhood, and his wife, Linda Donalson. According to the suit, each of them billed the county $70,552 in consulting fees, a $200 hourly rate, which the county Department of Social Services considers excessive, according to the lawsuit.
The county also said the consulting fees and many of the other expenses were claimed prior to the program's contract with Say Yes, making them invalid.
The consulting fees were on top of additional billed wages of $51,200 for Larry Donalson and $45,900 for Linda Donalson over a span of fewer than four months, Rust said.
Community Cares indicated that the money was spent on vendors, equipment, software, supplies, payroll costs, marketing and delivery needs, but while it provided some backup documentation and explanations, the county considers the information insufficient or beyond the boundaries of eligible Cares Act expenses.
Ultimately, Erie County disallowed 42% of the expenses claimed by Community Cares. Of $871,835 in expenses, the county disallowed $362,343. The county provided some money up front, and some was later paid based on the claims. Based on how much the county sent to the organization, Erie County wants $322,348 returned: $66,748 for expenses for which no documentation was submitted and $255,600 for expenses deemed outside the scope of its agreement with Say Yes, according to the lawsuit.
"There was a strict set of rules for how the money could be spent," Rust said.
Burke said the leaders of the community organization are being unfairly targeted. Larry Donalson brought the concept of virtual learning centers to Erie County Executive Mark Poloncarz and worked directly with the county to get the learning centers off the ground after an Aug. 3, 2020, meeting with the county.
"They're the straw that stirred this drink," Burke said.
Say Yes didn't take over project management until mid-September, revising and re-issuing contracts multiple times, even as late as December, discounting work done by Community Cares before Say Yes got involved, he said. He added that Community Cares has cooperated with all requests for documentation and stayed in touch with correspondence as late as June – and with phone calls – to try and resolve matters. 
He said the Donalsons have unique connections to underserved communities and worked hard to reach out to families and market the eight virtual learning centers. He said they applied their many years of experience in childcare and early childhood development to get the learning centers set up and they deserved the higher compensation.
He defended the $30,600 in disallowed compensation for Linda Donalson, who was paid $90 an hour for her assistant director responsibilities. Another assistant director was paid $30 an hour. Linda Donalson had a broader scope of operational responsibilities and a master's degree in business administration, unlike the other assistant director, he said. 
"There is no 'market rate' for the extraordinary service provided by these uniquely qualified individuals during last fall's once-in-a-lifetime child education crisis," Burke told The Buffalo News.
The Donalsons and Community Cares are being unfairly punished for being proactive and stepping forward to make sure children could get educated amid a pandemic when the rules were always changing, he said.
"This was a fire drill," Burke said, "and the Donalsons rose to the occasion."
Rust, the executive director of Say Yes, said the county's Department of Social Services and his organization devoted months auditing Community Cares and requesting additional information. Not only was documentation provided slowly and incompletely, but Community Cares fell out of touch with with Say Yes in recent months, he said, further frustrating efforts to resolve the disputed funding.
Say Yes Buffalo is now in a bind.
If Community Cares doesn't pay back the money, Say Yes is on the hook for the $322,347 from its own funds, and the organization is not in a position to pay that, Rust said.
"The complaints are our last recourse, but we were left no choice," Rust said. "We've never sued anyone in the course of our history."
Rust said Community Cares is not the only organization that raised the idea of virtual learning centers. A coalition of other afterschool program providers also raised the idea and deserves equal credit, he said.
Rust also noted that among the 32 community partners that provided virtual learning services, almost all fully complied with documentation requirements. Community Cares is the only organization Say Yes has had this level of difficulty receiving information from and the only organization to have been disallowed so much money.
Erie County Deputy Budget Director Benjamin Swanekamp said county administrators audited every group that received Cares Act money last year and have been pleased, overall, with the tracking and documentation provided by organizations, local governments and school districts that received a cut of the stimulus aid.
"We really have no problems with Say Yes," Swanekamp said. "We're actually thrilled with their work."
Just two organizations Say Yes contracted with to run virtual learning centers have had trouble justifying their spending. One, the Grow With Us Child Care Center in Buffalo, is still in the process of providing documentation, and the amount in question totals only $16,509.
The county wrote strong language into all of its federal aid spending agreements with subcontractors for the allocation of stimulus funds, Swanekamp said.
"We made sure, for all these programs, to include language to protect the county," he said.
Both Rust and Burke said they hope it is not too late to resolve this claim dispute amicably. The Donalsons are open to negotiation and compromise regarding some of their compensation claims, Burke said.