ALBANY – Kathy Hochul faces a number of hurdles from the minute she is sworn in as governor at 12:01 a.m. Tuesday.
Few, if any, will be more consequential than how her new administration will proceed in the battle to control rising Covid-19 cases, hospitalizations and deaths.
While she has not yet laid out her Covid-fighting policies, the ideas from health experts, lawmakers, business groups, government watchdogs and various stakeholders are many as Hochul decides what existing policies to jettison or amend and which to continue.
The lieutenant governor inherits the responsibility for the state's Covid response from the disgraced and outgoing governor, Andrew Cuomo, whose national name recognition soared last year courtesy of his daily Covid press briefings.
So far, given Hochul's reputation and comments about how she intends to govern, it would appear the new governor will be different, in substance and style.
Hochul brings county government experience
Hochul has indicated she will act decisively, but only after consulting with health experts, including local health commissioners and an array of stakeholders.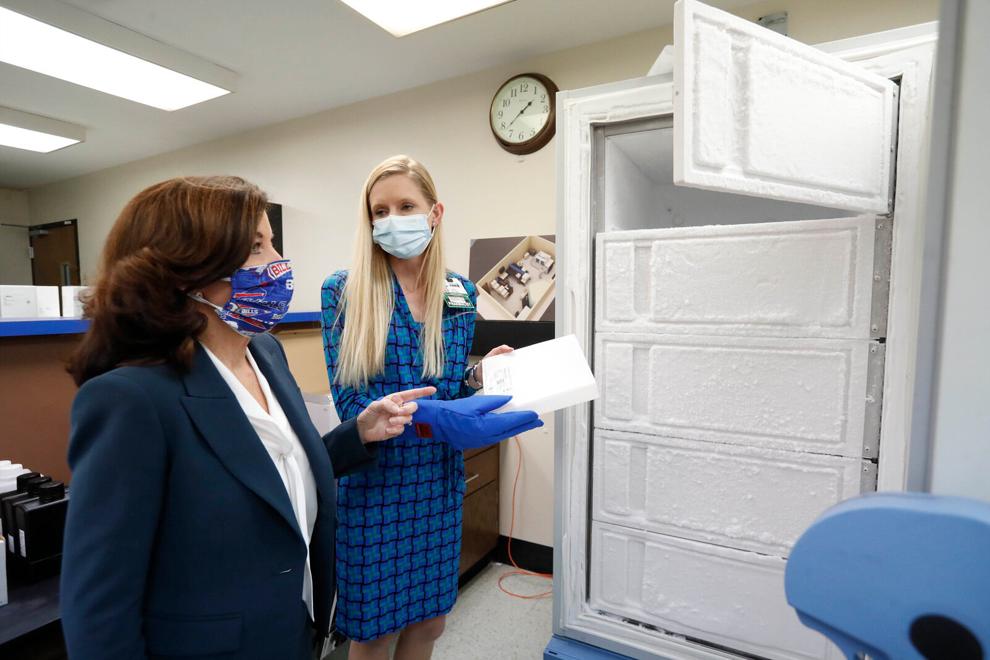 By contrast, Cuomo last year employed a top-down approach to managing Covid, reducing the role of local health commissioners whose agencies had pandemic response plans already in place for years. Cuomo made sweeping decisions based on advice from a small circle of advisers, and then would announce them at news conferences with no notices to affected sectors of the economy.
"Where we see the most opportunity with the incoming governor is that she understands local government," said Sarah Ravenhall, executive director of the New York Association of County Health Officials, a group composed of county health commissioners and others across the state.
Ravenhall noted Hochul's earlier work in town and county governments.
Stephen Acquario, executive director of the New York State Association of Counties, said local government had almost no relationship with State Health Commissioner Howard Zucker during the pandemic's early and middle phases. He said that has to change under Hochul.
"We need to move as one unit. There was just the central command under Governor Cuomo," he added.
Cuomo's emergency declaration in March 2020 ended the ability of local health departments to act on their own to deal with hyperlocal outbreaks or enact their own social distancing orders. That gubernatorial power ended in June when Cuomo began deferring decisions to localities and others that he once had cut out of decision-making efforts. While the historic powers Cuomo created for himself with the OK from lawmakers ended, the state Health Department still has broad authority to act.
Calls for a less political state Health Department
Critics say the state health agency became a political appendage of Cuomo.
"I think the lieutenant governor will seek out our opinions and use that information in shaping policies, as opposed to the way Commissioner Zucker issued directives with little consultation," Acquario said. "If he stays on, and it's my belief he is going to stay, Zucker needs to change his leadership as well. I don't think he did a good job."
William Hammond, senior fellow for health policy at the Empire Center, a watchdog group, said the commissioner was directly involved "in some of the most dysfunctional parts of Cuomo's pandemic response – hiding data, stonewalling the Legislature, skewing statistics and, perhaps worst of all, falsifying his own department's report on Covid in nursing homes."
The Empire Center, in dozens of instances, tried to pry public information out of Zucker's agency, but was rebuffed, delayed or dismissed. Its biggest victory, though, was a court win that led to the Cuomo administration having to produce the actual number of nursing home residents who died last year from Covid.
Hammond said Zucker's credibility is "permanently damaged" and he should go.
A number of nonpolitical public health policy experts quit the agency last year in frustration over policies and incidents like Cuomo using the agency to push friends and family members to the front of the line for Covid tests.
Assemblyman Richard Gottfried, a Manhattan Democrat and chair of the Assembly health committee that has an oversight role of the department, bemoaned the exodus of Health Department staffers who became disillusioned under Cuomo. He said Hochul needs to have a different approach.
"She should restore professionalism and diminish the politicizing of policies around data collection and disclosure. The fudging and hiding of Covid-related death statistics should never have happened and must never happen again," Gottfried said of nursing home resident deaths, as well as a difference between overall Covid deaths reported by the state and the federal government's tally of nearly 54,000 deaths in New York.
Mask mandates remain divisive
Hochul faces sharp disagreements across the state about the role of the state Health Department in back-to-school mandates and guidance for such things as Covid tests and wearing masks.
Cuomo, distracted by his various scandals, in recent weeks did a 180-degree turn from his past approach, having his health agency reverse plans to issue statewide guidelines for school reopenings. Hochul last week said she is almost certain to have the health agency impose statewide mask-wearing mandates for everyone in school buildings.
"As I have said for months, public health decisions on sensitive issues like masking children in schools should be made at the local level and guided by medical science, not political science," said State Senate Minority Leader Rob Ortt, a North Tonawanda Republican.
Others noted that school leaders are not public health experts and should not be making Covid response efforts on their own. Gottfried said the state health commissioner "needs to give science-based and practical guidance to local school officials on Covid-related policies immediately, before school opens."
Call for 'transparency and timeliness'
Businesses, too, are closely watching Hochul's Covid response. Frank Kerbein, director of the Center for Human Resources at the Business Council of New York State, said New York companies are now operating under federal health and workplace safety recommendations.
"These recommendations allow businesses some flexibility in determining which, if any, of the Covid protocols they would like to put in place for their workers. Hopefully, any future Covid mandates will allow employers this continued flexibility," he said.
For their part, counties want to see a restoration of an order that had allowed emergency medical technicians to administer Covid tests and vaccines. "We need that done right away," Acquario said. "We are in a massive prevention and testing mode. This is an ongoing effort that has always been led by the counties regardless of what the state was saying."
Ravenhall said that means a "rebuilding of trust" related to Covid data maintained by the state, some of which is now not shared or difficult to obtain. She called for a restoration of "transparency and timeliness" in how that Covid data is shared by the state.
Hammond said "it's shameful" how little information the state posts about Covid – compared with what it collects – and even puts little of the data into spreadsheet formats needed for stakeholders to analyze the data. He noted there is no public tracking of Covid variants and little about breakthrough infections.
Questions remain as new governor confronts pandemic
At a time when governments and private sectors are mandating more workers be vaccinated, Hochul must weigh the opening of more vaccination sites. Cuomo closed down the biggest state-run sites.
Big testing sites have also shuttered, and now more people are being told to get tested, especially if they won't get vaccinated. It can cost more than $100 for a test, a barrier for some people who previously had more free testing sites available.
Some stakeholders – like Erie County Executive Mark Poloncarz and the Healthcare Association of New York State – declined Buffalo News requests to say what Hochul might change or keep in Cuomo's Covid policies. Others, like a big trade group representing nursing homes, didn't respond.
Ravenhall said local health officials are "really keyed into the health equity components of vaccines, making sure there is access to vaccines in those communities disproportionately impacted" by Covid.
Hochul inherits a Covid crisis with worsening infection numbers as residents look to another fall and winter indoor season with the pandemic still on the scene. There are many unanswered questions about how she will act, including:
• How will she try to boost vaccination rates? In all, 58.5% of all New Yorkers are fully vaccinated. Will she take measures to convince vaccine-reluctant residents to get inoculated or help expand efforts to more directly reach unvaccinated people in their neighborhoods? How will she handle the rollout of a booster dose to avoid the logistical problems thousands of New Yorkers faced last spring trying to get the vaccine?
• As Delta variant cases and hospitalizations increase, how will she make it easier for New Yorkers to get tests with quicker turnaround times?
• Will Hochul put public health experts front and center to explain Covid decisions or take the Cuomo approach of being in the spotlight?
• Will she rely more on public health experts at her own health department and county health commissioners?
• Does she believe, as Cuomo recently said, that businesses in New York should bring employees back to workplaces right after Labor Day?
Hammond said Hochul should appoint an independent investigative panel to look at New York's Covid response efforts to better learn about the shortcomings as a guide, at the very least, for future pandemic responses.
"Hochul should make clear that her administration is going to level with the public," he said.