ALBANY – At a moment of pandemic worries, economic challenges and political divisiveness, Kathy Hochul, at 12:01 a.m. Tuesday, made history by becoming the first female governor of New York. She was sworn in during a brief, private ceremony overseen by the state's chief judge, Janet DiFiore.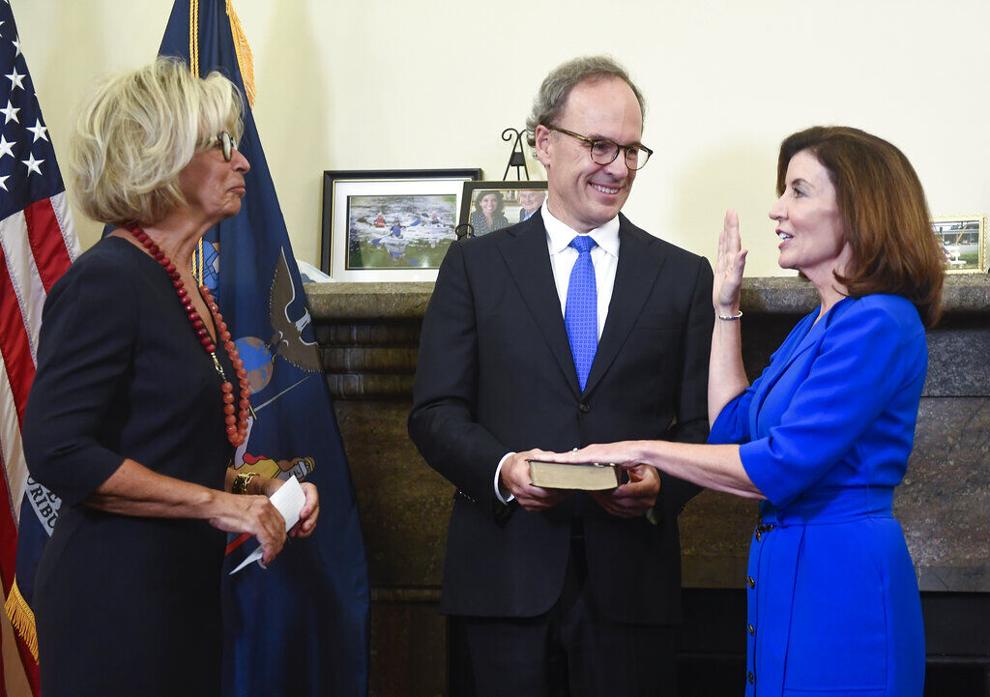 Hochul, the lieutenant governor and a Democrat from Buffalo, ascends to the chief executive role following the departure of Gov. Andrew M. Cuomo, whose dream of a fourth term as governor was upended by mounting scandal – both known and potentially still to come.
Instead, Cuomo, once considered a potential presidential candidate, witnessed the end of his reign as governor with 495 days left in his third term.
Hochul was already preparing to start confronting some of the problems she inherited – from how to contain rising Covid-19 rates and slowing vaccination levels, a still-shaky economy in many sectors of the state, and a looming housing crisis for renters if an eviction moratorium is not maintained.
Hochul on Monday even found herself dealing with the weather, as the remnants of Hurricane Henri threatened a number of areas in the eastern and downstate areas with flooding.
The nuts-and-bolts business of a transitioning gubernatorial administration also continued Monday, with Hochul unveiling two new members of her inner team.
Karen Persichilli Keogh will be secretary to the governor, making her the highest ranking, non-elected individual in state government. She comes most directly from head of global philanthropy at JPMorgan Chase & Co., and is a former senior staffer to then-U.S. Sen. Hillary Clinton. She also has done work for U.S. Sen. Kirsten Gillibrand and ex-New York City Mayor Michael Bloomberg.
The appointment was raising eyebrows among those paid to influence Albany: the new secretary's husband is Mike Kehoe, a partner at Albany lobbying powerhouse Bolton-St. Johns. That firm, which represents a who's who of clients in Albany, has had family ties during the Cuomo administration: the father of Melissa DeRosa, the outgoing secretary under Cuomo, is a partner at the Albany-based firm, as well.
Elizabeth Fine was tapped by Hochul to be her counsel, a job that oversees everything from negotiations with the Legislature on legal aspects of policy and fiscal matters to all-things-legal related to the governor's executive chamber operations. Fine is executive vice president and general counsel at Empire State Development, the state's chief economic development agency, and she is a former general counsel of the New York City Council and then-counsel to U.S. Attorney General Janet Reno.
Sometime this week, Hochul is expected to pick a New York City resident as her lieutenant governor. There is no legal geographical requirement for the Buffalo Democrat to fulfill in tapping a No. 2. Rather, her choice is a bow to the population center of not only the state of New York but the Democratic Party, whose members she is already trying to woo to run for a full term in 2022.
While Hochul plans for her future, Monday brought an unceremonious and lonely end for Cuomo, who dominated a massive state government since 2011 through the purse-strings powers of his office, as well as healthy doses of intimidation and political retribution against those who tried to stand up to him.
The Cuomo administration had to spend part of Monday trying to beat back an Albany Times Union story that reported Cuomo left his dog – Captain – behind at the executive mansion after he began staying temporarily at his sister's house in Westchester County. Cuomo officials insisted the governor's dog was not being shopped around for a new home, and that Cuomo needed short-term dog-sitting help while he stayed downstate temporarily to deal with the hurricane and then head off for a post-resignation vacation.
The resignation of a governor midterm is not a distant memory: Gov. Eliot Spitzer, himself caught up in scandal, resigned in March 2008. He was replaced by then Lt. Gov. David Paterson, who himself had his own scandals and controversies to the extent that he did not seek a full term in 2010, permitting Cuomo to secure the Democratic nomination for governor that year.
Hochul has vowed a more inclusive style of governing, and one not with the kill-or-be-killed mantra of Cuomo. After a scheduled private swearing-in as Monday turned to Tuesday, Hochul was planning to meet with legislative leaders at the Capitol later in the day and give a 3 p.m. video speech from the Capitol's historic Red Room.
Hochul has plenty to do, all while she attempts to try to clear the Democratic field of potential primary opponents she could face in 2022.
Before a new legislative session starts in January, she must:
• Assemble a $200 billion state budget.
• Focus on what Covid response changes she wants to bring to New York.
• Devise ways the state can help to try to rebuild the economy.
• Put together a team of people to run a complex state government of state agencies and authorities in charge of everything from law enforcement and running the sprawling prison system to environmental protection, banking oversight, a new system to regulate mobile sports betting and a new system to regulate the cultivation, sales and use of marijuana.
Hochul has 471 separate pieces of legislation to consider before year's end regarding bills passed by lawmakers from January through June this year and not yet sent to the governor's office for consideration. They run the gamut, including local taxation matters, an effort to help consumers better choose a quality nursing home, environmental safeguards, a change in the state's official recognition of the start of the Vietnam War for various veterans benefits and a new effort to promote the sport of cricket.
In what he dubbed his "farewell address," Cuomo at noon Monday – hours before his formal exit as governor – offered a mix of defiance and resignation at his fate.
Once again, he lashed out at the recent investigation by Attorney General Letitia James, and the "ensuing media frenzy," over allegations that he sexually harassed multiple women, including a female trooper on his protective detail.
"I am a fighter and my instinct is to fight this, because it is unfair and unjust in mind," he said of the allegations against him, but said his remaining in office would create governmental paralysis at a key moment in time.
The 63-year-old governor offered an olive branch to Hochul, who never gained entry to Cuomo's exclusive and tiny circle of advisers.
"Kathy Hochul will become governor, and I believe she will step up to the challenge. We all wish her success," Cuomo said.
Cuomo leaves in humiliation, following the sexual harassment allegations and certain impeachment by state lawmakers over those claims, as well as ongoing investigations into his use of state resources to write a book on his response to the Covid-19 pandemic – which led to a $5.1 million book deal – the undercounting of Covid deaths last year among New York nursing home residents, and claims that he pushed to the head of the line family and friends to get priority Covid tests.
Cuomo, a former state attorney general and son of the late liberal icon Mario Cuomo, who served three terms as New York governor, was first elected governor in 2010. His reign has included major policy victories and no shortage of scandals, including the most recent ones and the corruption case related to the Buffalo Billion development initiative.
Cuomo used his 16-minute speech to tout his accomplishments, from marriage equality rights to crackdown on certain gun sales and possession. But he also took some parting shots, especially at the most liberal side of the Democratic Party for embracing policies like defunding police agencies to huge tax ideas that, he said, harm the economy and force businesses to leave the state.
In the end, Cuomo sought to portray a more humble, far less brash image of himself than he did on Jan. 1, 2011, when he first became governor. The weight of his dramatic fall from the mountain of New York State government politics was clear on his face during the prepared remarks.
"Thank you for the honor of serving as governor of New York," Cuomo said.
Hours later, in one of his last acts as governor, Cuomo issued commutations and pardons for six people; he made eligible for parole David Gilbert, a former Weather Underground member convicted in the 1981 Brink's armored car robbery in Rockland County that left dead a security guard and two Nyack police officers.