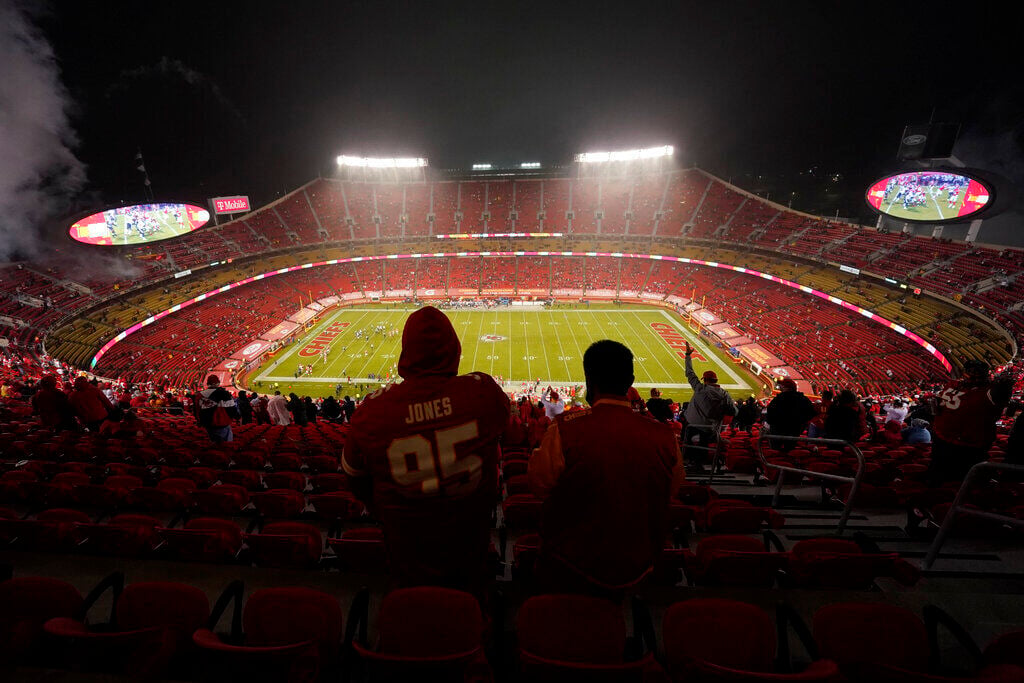 Ken Jaslow had a really good feeling about the Buffalo Bills.
So on Dec. 31 – before the final game of the regular season and before the team even knew its first playoff foe – he paid $4,000 for six tickets to Sunday's AFC championship game in Kansas City. The Chiefs would host as long as they stayed alive in the playoffs, but their opponent was not determined yet.
"Completely rolled the dice for it," said Jaslow, a Bills season ticket holder from downstate who also attended Saturday's divisional playoff game at Bills Stadium.
His gamble paid off, and Jaslow is now part of the herd of fans going to Kansas City for the biggest game the Bills have played in more than 25 years.
They'll encounter a different set of Covid-19 regulations than they faced for the two playoff games held in Orchard Park earlier this month. The Chiefs are letting in more than twice as many fans as the Bills were allowed at their home games, and the team isn't requiring a pregame test for the virus. But the most notable change is sure to resonate with Bills fans: tailgating is allowed outside Arrowhead Stadium.
The Bills are hosting a home playoff game Saturday for the first time in 24 years and the Bills Mafia, local businesses and the team can't wait.
Fans headed to Missouri for the game should swing by Al's Bar and Grill, in suburban Parkville, a tavern owned by former Clarence resident Al Burns that serves "authentic" Buffalo-style wings and hosts an official Bills Backers club with Labatt Blue and Genny Light on game days – if they can get in.
"We're going to be overwhelmed here," Burns said Thursday.
The Bills are one win away from playing in the Super Bowl for the first time in 27 years and a lot of fans want to be there for Sunday's game against the Chiefs, even if it means high ticket prices, long drives or the hassle of flying.
Local and team officials have a different set of health and safety regulations for fans attending the Chiefs game than those put in place by the Bills, Erie County and the state for the nearly 6,800 fans allowed at home playoff games against the Indianapolis Colts and the Ravens this month.
Fans weren't allowed for any regular season games at Bills Stadium, but Chiefs representative Luke Shanno said Arrowhead Stadium was filled to 22% of capacity in the open-air seating bowl all season. For last week's game against the Cleveland Browns, the total was 16,730, including some seating in suites.
While New York conducted a public health experiment that required proof of a negative Covid-19 test for all fans at the two Bills home playoff games, pregame testing for the virus isn't required at Arrowhead.
But the team divides the stadium into zones and requires fans to stay in the zone that includes their seats throughout the game after entering through a designated gate. And the team is allowing tailgating in the stadium lots, but asks fans to party only with the other members of their ticket group.
Given the restricted ticket inventory, prices are sky high for the AFC championship game. A single ticket on the secondary market was going for an average of $1,071 on Thursday after topping $1,300 earlier in the week, according to TicketIQ.
Jaslow paid about $4,000 for six tickets in the lower bowl in the hope that his Bills would play the Chiefs for the right to go to the Super Bowl.
He became a fan after attending UB for two years in the late 1980s, and stayed with them even after moving to Rockland County.
A season ticket holder since 2009, Jaslow has traveled this country and to London to watch the team and has bonded with members of his "second family" in Buffalo.
He resold four of the tickets to the Chiefs game to friends and he and his 13-year-old son will drive 18 hours to meet them in Kansas City.
Jaslow said they're bringing all the provisions to tailgate, including a tent, Bills banners and some Big Ditch Brewing Company "Make Me Wanna Stout" beers.
Mike Robertson didn't want to drive 14 hours from eastern Pennsylvania, so he's flying out.
Robertson belongs to the Lehigh Valley Bills Backers, whose members include Andre Reed's mother. The Bills' Hall of Fame wide receiver from the 1980s and '90s is from the area and that connection led Robertson to follow the team.
Robertson randomly connected with someone on Twitter who was selling an extra ticket to Sunday's game. He paid $760 for the ticket and is staying at an Airbnb within walking distance of the stadium.
Friends who know Robertson is going are prodding him to take part in a Bills tailgating tradition to bring the team some pregame good luck.
"It's like they need me to go through a table," he said.
"This is the most pumped the city has been in 25 years," one fan said.
Robertson said he's well aware of the reputation Arrowhead Stadium has as an intimidating venue for the road team, but he believes Bills fans will show up in good numbers.
"I think in that sea of red there'll be plenty of blue," he said, referring to the main colors for each team.
Jeremiah Sirles, who played for several NFL teams over a six-year career cut prematurely short by injury, worked through the Bills to get a ticket. 
Sirles played for the Bills in the 2018 season, starting five games at guard, but the team cut him the following summer after an injury.
Despite that, Sirles thinks highly of the Bills and still has friends on the team, so he's headed to Kansas City from his Lincoln, Neb., home to cheer them on Sunday.
He's played on the visiting team at Arrowhead and said: "It's a loud, hostile environment, to say the least."
Over at Al's Bar and Grill, Burns expects a full house – or as much as he's allowed under his county's Covid-19 regulations.
Burns opened the tavern in 2010 – Thursday was his 11th anniversary – after moving to Kansas City for work and getting the itch to run a restaurant.
He said he thought there would be demand for real Buffalo-style wings because there's a surprising number of Western New Yorkers living out there and "I couldn't find a good wing in Kansas City."
Burns said he's had to make only one accommodation for the local palate: "People in the Midwest put ranch on everything."
The bar hosts a group of up to 40 Bills fan regulars during typical seasons.
His restaurant is limited to 50% capacity inside, but he's putting up a tent outside for the game. But Burns isn't the only one figuring Bills fans will gravitate to Al's Bar and Grill on Sunday.
"I've already been warned by the county health department," Burns said with a laugh. "Specifically. They called us Tuesday."