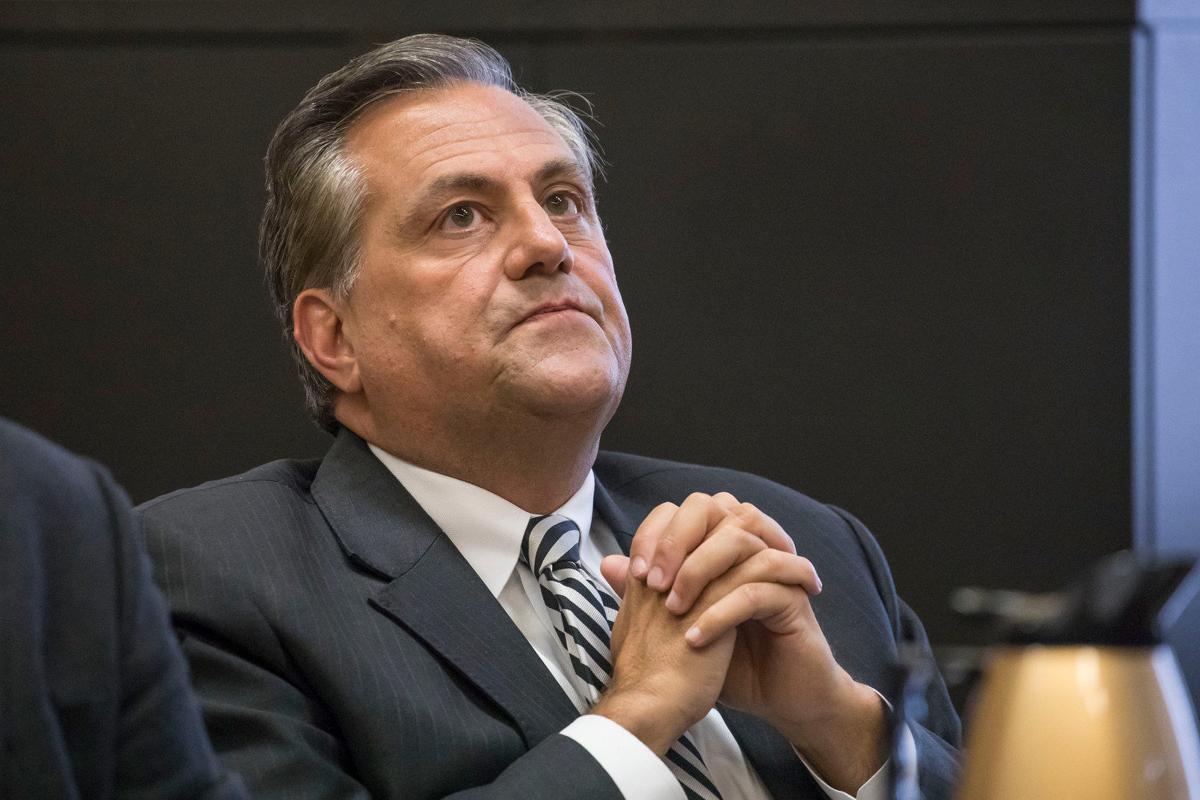 Defense attorneys for G. Steven Pigeon won an important pretrial ruling Friday in a political corruption case against the former Erie County Democratic Party leader.
State Supreme Court Judge Donald F. Cerio Jr. decided to suppress email evidence that helped the State Attorney General's Office obtain an indictment against Pigeon last year on corruption charges. The corruption charges, which Pigeon has denied, involved Pigeon's alleged bribery of a former state judge, John A. Michalek.
The evidence must be suppressed, Cerio ruled, because state investigators waited more than 10 days to execute court-ordered warrants that allowed them to search computers at Pigeon's home and office.
"They had to execute both of these search warrants within 10 days of the date when the judge issued them," said Pigeon's attorney, Paul J. Cambria. "They did not. We are taking a close look at this ruling, and a close look at all the affected emails. I believe that the bulk of the state's case was based on these emails. I believe this ruling is going to have a major impact on this case, going forward."
Prosecutors are weighing an appeal.
"We respectfully disagree with the court's decision regarding this technical issue and will soon determine how to best move this important prosecution forward," said Amy Spitalnick, a spokeswoman for the State Attorney General's Office. "We appreciate the court stating that our office has proceeded in good faith at all times on this matter."
The claim of a "technical" problem with the search warrants, Schneiderman's office appears to be suggesting, could be the basis for an appeal. "As the judge points out, the issue is with when the information was received from Google,'' the attorney general's spokeswoman added.
Cambria took umbrage at the state spokeswoman's statement.
"It's not a technical issue. It's the law," Cambria said.
State officials did not say whether they will appeal Cerio's ruling.
The communications that led to the state indictment last year were emails between Pigeon and Michalek. The email evidence prompted Michalek to resign from his $193,000-a-year job, plead guilty to felony bribery charges and agree to become a state witness against Pigeon.
After Michalek testified before a grand jury, Pigeon last June was indicted on nine felony counts of bribery, rewarding official misconduct and grand larceny by extortion. Michalek pleaded guilty to receiving bribes and offering a false instrument for filing in court.
According to court papers, Pigeon helped two relatives of Michalek get government jobs, and Michalek provided political favors to Pigeon, including the assignment of a lucrative court case to an attorney friend of Pigeon's.
In their court papers, state prosecutors frequently quoted a series of emails between Pigeon and Michalek.
Both men face possible prison terms – up to seven years for Michalek and up to 15 for Pigeon.
Pigeon has steadfastly denied the bribery allegations, and he plans to contest those allegations at a trial scheduled for September, Cambria said.
"He vehemently denies these allegations and looks forward to his day in court," Cambria said when the state charges were filed last summer.
"As to what effect this new ruling will have on the trial and the trial date, I don't know," Cambria said on Friday. When asked whether Cerio's ruling will cause the state case against Pigeon to be dismissed, Cambria said, "I just don't know yet. We're certainly going to be looking into that."
When asked what Pigeon's response was to the judge's decision, Cambria said:
"Obviously, he was pleased. He's a lawyer and he understands our arguments and always thought that our arguments were valid."
Pigeon also faces three charges of violating state election laws, which were filed in April. In those charges, he was accused of illegally funding races for the Erie County Legislature and town supervisor. It is not know whether Cerio's ruling will have an effect on those charges.
Pigeon also faces federal charges that were filed against him in May of this year, when the U.S. Attorney's Office accused him of conspiring to solicit a $25,000 contribution to the election campaign of Gov. Andrew M. Cuomo from a Montreal-based internet gambling company for whom his Papi Holdings LLC earned $388,000 in lobbying fees from 2010 to 2015.
When Pigeon was charged in the federal case, authorities said that case also was based, at least in part, on emails seized from Pigeon's Buffalo waterfront condo in 2015. Cambria said his office will also try to determine whether the Cerio ruling impacts the federal case.
Cuomo's office has denied any knowledge of any improprieties with the donation.
Cerio's ruling on Friday continues a difficult week for State Attorney General Eric T. Schneiderman. On Tuesday, a judge tossed out three felony corruption counts against Sen. Robert Ortt, a North Tonawanda Republican, in a case brought just three months ago by Schneiderman.
"Maybe these judges are starting to take a closer look at these state corruption cases," said Cambria, who remarked about the Ortt decision.
Get local news delivered to your inbox!
Subscribe to our Daily Headlines newsletter.