Prosecutors Friday pressed for a scheduling order in the federal case against Tops mass shooter Payton Gendron, but a public defender called the prosecution's suggested timetable "entirely unrealistic," and the judge adjourned proceedings for three months.
Assistant U.S. Attorney Joseph M. Tripi told U.S. Magistrate Judge H. Kenneth Schroeder Jr. that the U.S. Department of Justice has not yet made a decision on whether to seek the death penalty against Gendron.
The district judge did not set a trial date, and he scheduled his next status update with prosecutors and defense lawyers for June 8.
Justice Department officials in Washington, D.C., will make that decision after input from the local U.S. Attorney's Office and Gendron's defense lawyers.
Tripi said setting deadlines for making and responding to pre-trial motions "would potentially help move the process along" in making the capital punishment decision.
Tripi also cited the "dignity" that should be afforded the victims' family members by setting deadlines in the case they are closely following.
The raw emotions of the May 14 massacre at the Tops supermarket on Jefferson Avenue spilled out into a packed courtroom on Wednesday, Feb. 15,…
Schroeder, who is handling pretrial motions and hearings in the criminal case, said a scheduling order "doesn't hold the government's feet to the fire" for when to decide whether to seek the death penalty. 
How the case proceeds and whether there will even be a federal trial will come down to the Justice Department decision on whether to seek the death penalty.
"Everything will hinge on what the attorney general decides," Schroeder said.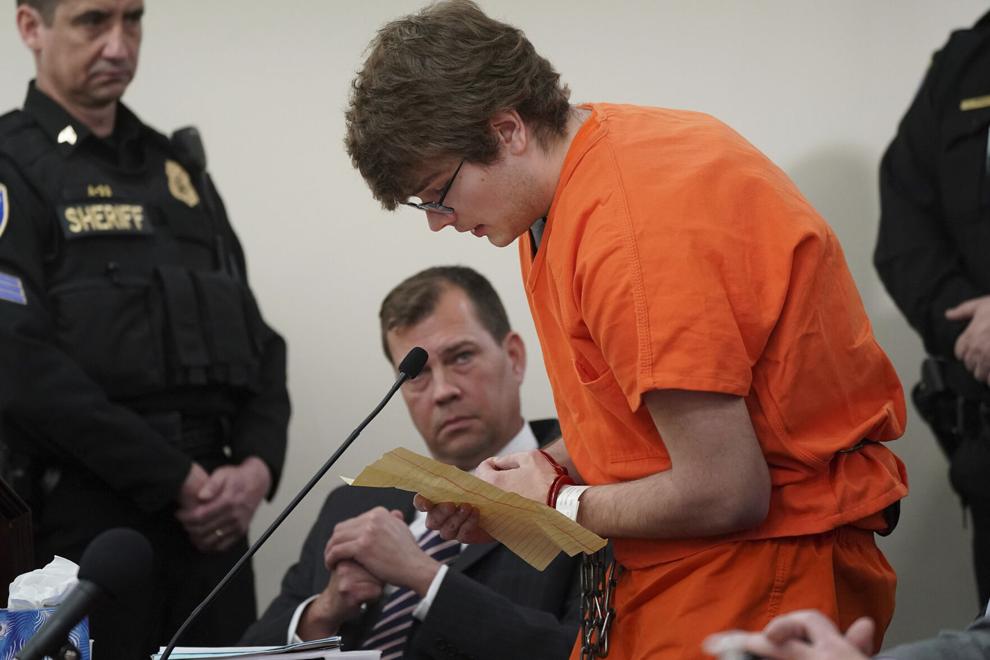 As for setting a schedule, Schroeder said he is trying to balance the defense team's request for more time to review the voluminous materials it has received from the prosecution with setting a timely pace for the case.
"I'm not going to tell anybody how to defend or prosecute, but I do have to try to keep this thing moving," he said at Friday's status conference, adding "I don't want to be coming back every 90 days for the next six months."
Attorneys for both sides will return for Schroeder's next status conference on June 15, a week after the one set by U.S. District Judge Lawrence Vilardo, who will preside at Gendron's federal trial, if there is one.
Gendron's public defenders say they need more time to go through four terabytes of data, documents and bodycam and surveillance video collected by prosecutors in their investigation of the May 2022 racist attack at the Tops Markets on Jefferson Avenue that killed 10 people and wounded three others.
Tripi said the prosecution has turned over to the defense all of the materials collected during the investigation, and he said the four terabytes include a lot of store surveillance video that is not relevant because it doesn't show Gendron at all.
Assistant Federal Public Defender Sonya Zoghlin said the defense team still has to review all of the material.
"We don't have the luxury to say, 'that's probably not relevant,' " just because the government says so, Zoghlin told the judge. "We have to look at all of it."
Families of victims and survivors of the mass shooting at Tops on Jefferson Avenue tell the court about their loved ones, and how the hate crime May 14 affected their lives. 
It is the defense team's obligation to decide what's relevant, she said.
Gendron was sentenced last month in a state court to life in prison after pleading guilty to 10 counts of first-degree murder and three counts of second-degree attempted murder, amid other charges. His public defenders in federal court, unlike his defense team in state court, have to treat his current prosecution as a capital punishment case, unless and until the Justice Department decides otherwise. So, the materials the defense team will comb through will potentially be used to mitigate his punishment, Zoghlin said.
That is why it is important that the defense team has sufficient time to review the "massive volume" of materials turned over by the prosecution, she said, adding that the timeline suggested by prosecutors is "entirely unrealistic."
Gendron did not attend Friday's status conference.
Tripi suggested a schedule that included an Oct. 6 deadline for pretrial motions from the defense and Nov. 6 for the government to respond.
"We think those are reasonable," Tripi said. 
Tripi noted that Gendron was indicted on July 14.
"I'm not aware of any case that has gone 239 days without a scheduling order being entered," he said. "Enough time has passed to set some type of scheduling order.