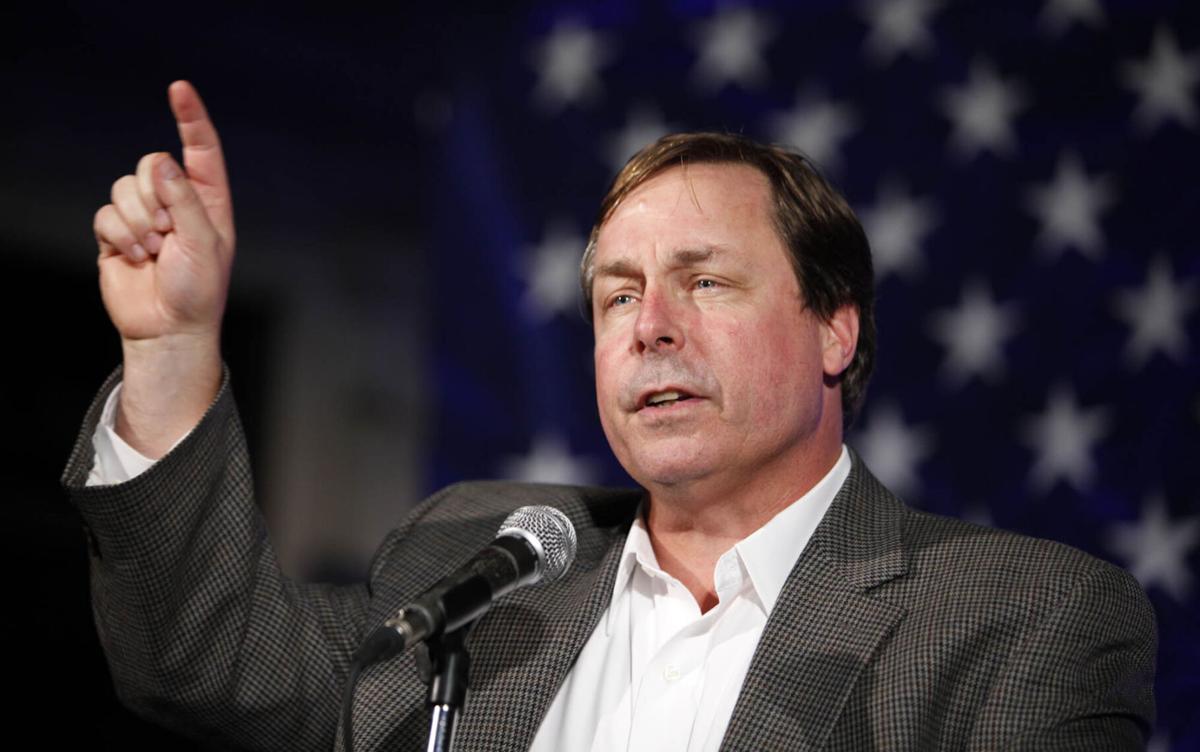 Lisa M. Cater's efforts to sue former economic development official Sam Hoyt and the state agency he once locally headed over claims of sexual harassment have failed, for now.
Though Cater says she will begin appeal efforts next week, the case she filed in 2017 against the former assemblyman and Empire State Development Corp. ended in Manhattan federal court as a result of two rulings by U.S. District Judge Robert W. Sweet released Tuesday.
Barring an appeal, the rulings mark the end of a tawdry tale in which Cater claimed Hoyt sexually harassed her, groped her during an encounter in LaSalle Park, and even sent nude photos of himself during a consensual relationship that she said she tried to end.
The latest rulings also marked a series of setbacks for Cater as she sought to hold Hoyt and the state accountable following revelations by The Buffalo News outlining the former economic development official's departure from state government. She remains especially critical of the Joint Commission on Public Ethics, the state ethics panel to which she originally reported her concerns and which ruled against her.
"Everybody covers for everybody else in this state," she said, adding the entire situation has left her dependent on disability payments and unemployable.
"I am not letting this go," she said.
Hoyt acknowledges he paid Cater $50,000 in exchange for her silence about the incidents, though he has always maintained the payment resulted from Cater's original demand for $350,000. He also has denied Cater's claims about his actions following the end of their relationship.
He declined to comment about the latest rulings late Tuesday. But his attorney, Carrie H. Cohen of the Morrison and Foerster firm in New York, said the matter should now be ended.
"Now that the court has dismissed the complaint with prejudice and after a thorough and complete investigation, JCOPE found the plaintiff's allegations to be without merit and based in part on fabricated evidence," she said, "Mr. Hoyt can finally put this matter behind him."
Indeed, the $50,000 payment Hoyt made to Cater in 2017 stands at the core of much of Sweet's ruling.
"By executing those documents, plaintiff waived 'all claims and potential claims of any kind' against Hoyt," Sweet ruled, "including claims for 'discrimination,' 'harassment or retaliation,' 'battery,' 'assault,' and any claim 'arising out of any state or federal discrimination law.' "
Though Cater's lawyers maintained she agreed not to pursue further legal action in exchange for the $50,000 payment, they said the pact was voided because of "duress" and "involuntariness." But Sweet said in his ruling that the payment accomplished its original intent.
"Plaintiff does not deny that she retained the entire benefit of her bargain," the judge said, "a decision that amounts to plaintiff's ratification of the settlement agreement."
The latest ruling follows another issued by Sweet last June that dismissed related claims against Gov. Andrew M. Cuomo in his capacity as head of the state government supervising Hoyt.
Cater told The News in October, 2017 that Hoyt helped her find a job with the state Department of Motor Vehicles, as well as an apartment. Hoyt, who is married, had said through his attorney that he regretted "a short-term, consensual relationship" with Cater and denied all allegations of harassment or threats.
He resigned from his $157,000 state job in October of 2017, with state officials indicating he aimed to pursue new opportunities in the private sector. But The News then reported Cater's claims as well as the $50,000 payment she received, and state officials never answered questions surrounding the details of Hoyt's departure from his state job.
Hoyt is now an Albany lobbyist.
Sweet's rulings also ended – barring an appeal – Cater's case against ESDC, the state agency for which Hoyt worked. The judge said that in order to execute a successful claim against a government entity, plaintiffs must allege that "through its deliberate conduct, the municipality was the 'moving force' behind the alleged injury," and found no such cause.
"The ... complaint does not allege facts to support a plausible claim that an ESD 'policy' for handling employment or harassment-related complaints caused plaintiff's alleged injuries," the judge ruled.
Sweet also dismissed Cater's claims that state officials worked to cover up Hoyt's alleged transgressions.
"Plaintiff offers only conclusory assertions that an unlawful conspiracy existed and alleges nothing to suggest ESD was part of any such conspiracy," he said. "These broad and conclusory allegations of conspiracy – supported only by her claim her complaints were ignored – comprise precisely the sort of ... claim courts have dismissed as implausible."
The judge issued several other rulings that dismiss all of Cater's claims.
Cuomo spokesman Richard Azzopardi offered no comment on the rulings late Tuesday.