Picture this: A nine-story building with 200 apartments, squeezed into the vacant land in the middle of a circular highway off-ramp.
That's what developer Douglas Jemal has in mind for downtown Buffalo, revealing Wednesday that he plans a $42 million project to bring 200 apartments and 500 parking spaces to a city-owned parking lot completely surrounded by elevated highways.
The proposed development, enveloped on all sides by the ramp from the Skyway to the Niagara Thruway and to Church Street, would make it one of the oddest sites for a major new construction project.
But Jemal sees it as a way to bring more housing to downtown Buffalo and provide more parking to the new project's tenants and for workers in the Seneca One tower next door that Jemal is revamping.
"There's a big demand for more housing downtown, just like I said there would be," Jemal said in an interview.
Known as the Skyway Loop Lot, the city block is currently accessible to cars on the ground that now enter from Pearl Street – underneath the rusty highway bridges and between the support pillars – before parking in the middle of a virtual fishbowl.
That would be eliminated, however, as Jemal's Douglas Development Corp. now intends to build a nine-story structure on the site at 61 Terrace, across the street from Pearl Street Brewery, bringing more housing options to an area of downtown that hasn't seen that much.
In doing so, he will add to the development that he is currently undertaking in an area where he is already spending $150 million to bring the formerly vacant Seneca One tower complex back to life.
He's also tackling yet another site that no one had seriously considered for development.
"I remember being in meetings with developers who looked at Seneca One," said Common Council President Darius Pridgen. "I've never been in a meeting with anyone who looked at this parking lot. I don't think anybody would have looked at this plot of land and said we could develop."
But that's exactly what attracts Jemal, who even referred to it as a doughnut that "really would become a croissant."
"You look at this site, and this is prototypical Douglas Development," said Paul Millstein, Jemal's executive vice president, at a press conference that Jemal did not attend. "It's a mess. It's a rusty bridge. It's a surface parking lot. It's challenges and who would want to do anything with that?"
Yet, he added, "that's where Douglas shines. We see an underutilized property. We see a surface lot that is literally blighting downtown. And we've got to fix that."
Millstein called it "a great corner," citing its proximity to Seneca One, and noting that it's "an important gap of property between downtown and the canal" that needs to be connected.
And it's an opportunity to build critical mass, he added. Half of the apartments at Seneca One are already leased.
"The demand is there. And it'll continue to grow, but only if we have the product and the cool spaces for people to come," Millstein said. "So we look at this and say, leave the highway alone. It's fine. We're going to build a really neat project inside the doughnut."
Yet Millstein said "this project, on paper, makes no sense financially." Getting bank loans to finance it "is a challenge," he said.
Even so, Jemal sees the long-term potential, Milstein said.
"That's why most people don't do these things. They're hard. This would take a lot of equity and capital investment from Douglas personally to make it happen," Millstein said. "So he will put the money up to go forward, even when it doesn't makes sense on paper."
The proposed 300,000-square-foot building would include five levels of parking below four floors of apartments, with a blend of studio, one-, two- and even some three-bedroom apartments, and largely unobstructed views on all sides.
"It happens to have great views once you get above the circle," Jemal said.
As with the 115 apartments that just opened three weeks ago at Seneca One, Jemal is targeting the workers at the growing technology hub in that building – the city's tallest – as well as others who desire to live downtown, near Canalside. The units will rent for about $1,000 to as much as $2,500 per month, depending on the size, and Millstein said those rates are viable.
"There's plenty of income in Buffalo," Millstein said. "If you build a quality apartment, the income is here. The jobs are here. They're glad to pay."
The building would also include an undetermined amount of affordable housing, under a commitment that Jemal is making to the city as part of the designated developer status expected to be granted by a city agency on Thursday. That's also part of Jemal's renovation of the former Buffalo Police headquarters into apartments.
"This project's upside-down. And Douglas, without any subsidy, is saying that affordability will be a component," said Brendan Mehaffy, executive director of the city's Office of Strategic Planning. "For so many others, it's about what can the city do to fill that gap."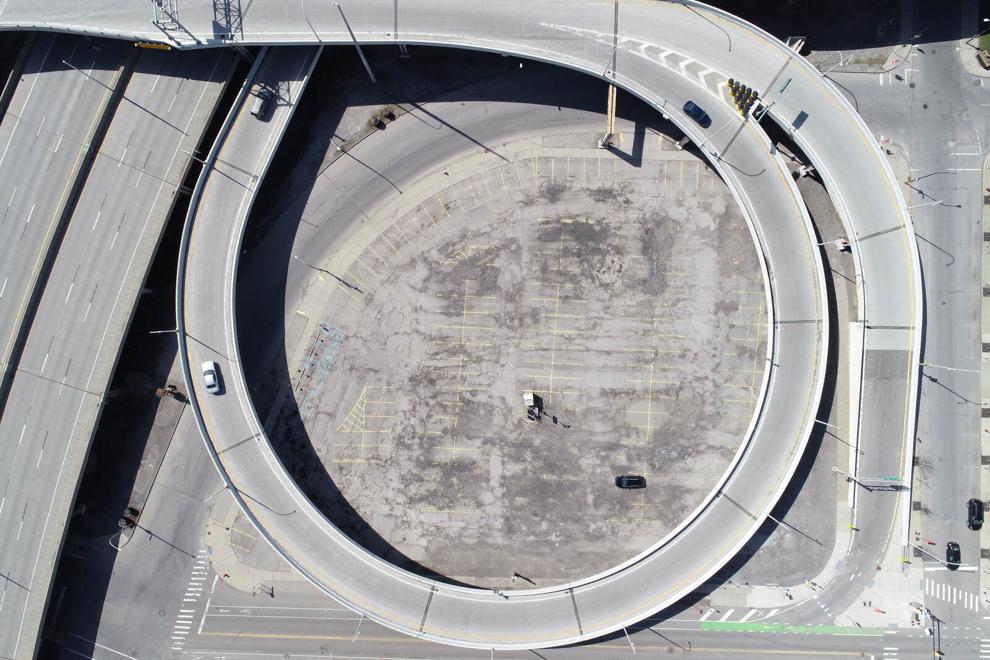 The elevated highway would not be affected by the construction project. But since the apartments would start on the sixth floor, they would be well above the road, and Douglas Development officials said they plan to install triple-pane glass in the windows to minimize any outside sound.
And the appearance of the bridges is part of what makes the project unique.
"We embrace it. We don't try to cover it up. We don't try to hide it," Millstein said. "We actually think the industrial vibe is cool."
He said the developer would try to "clean it up a bit," and would install new streetscape and "retail opportunities" underneath the Skyway, such as "pop-up" stores.
"This has character," Millstein said. "You may see blight. You may see ugly. We see cool."
As for the potential removal of the Skyway, "they'll just have to do it quietly so they don't interrupt our residents," Millstein said. "Other than that, have a good time. We're unaffected."
The parking would be available to the residents of the building and those working at or visiting Seneca One, but would also include a public component to account for the roughly 150 spaces that will be lost from the current surface parking lot.
The 0.87-acre property is currently owned by the Buffalo Urban Renewal Agency, which is expected on Thursday to name Jemal as designated developer. Jemal said he will purchase the lot for a price to be set by an independent appraisal, likely over $1 million, and hopes to begin construction by March 2021, with completion after 18 months.
Meanwhile, Jemal said he continues to progress with his other projects as well – at Seneca One, the Police Apartments and the Statler, where he expects to spend "millions" of dollars to continue restoring the facade and storefronts, "bringing it back to its original glory of what it looked like in 1923."
"I'm cleaning up 60, 70 years of neglect," he said. "I'm marching forward. I didn't come to play games in Buffalo."