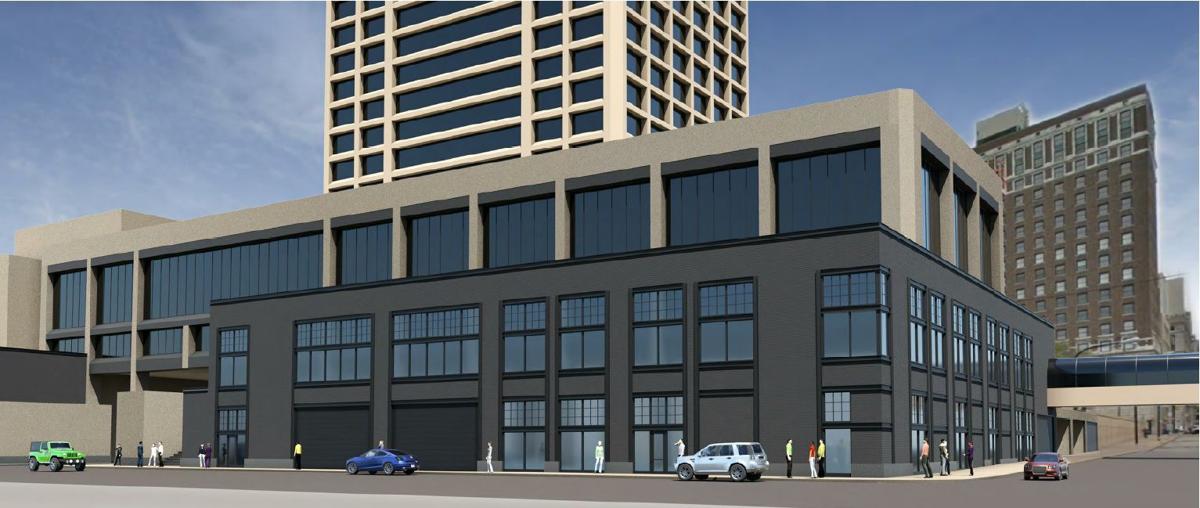 Washington developer Douglas Jemal can move ahead with his latest facade renovation and addition at One Seneca Tower, after the Buffalo Planning Board approved his proposal Monday night.
Jemal's Douglas Development Corp. is adding a one-story building on the southeastern corner of the plaza, creating another 20,144 square feet of commercial office space, while extending his new facade design of dark gray brick and glass along Exchange Street and around the corner onto Washington Street.
The $1 million addition will tie into the first-floor basement level and South Annex Building, and will also extend down to the sidewalks of Exchange and Washington, bringing new doors and openings to soften the solid beige concrete walls that now greet pedestrians. The current overhead doors and mechanical louvers also will be replaced with finishes that will match the gray brick facade, though the interior of the single-bay loading docks and garages will not be changed.
And it will enclose the walkway connecting the tower complex to the footbridge across Washington to the parking ramp, so that parking customers can avoid bad weather while walking into the tower.
"This has been a dreary, blank, unsafe, unappealing stretch of the city for a long time," said Cynthia Schwartz, vice chairwoman of the Planning Board. "This will be a big improvement."
This is the fourth phase of Jemal's $120 million redevelopment of the lower levels of the tower and plaza, and follows approvals of a major set of additions in December that unveiled the new look, and then approval of an addition in May in the southwest corner of the plaza at Pearl Street and Upper Terrace.
Get local news delivered to your inbox!
Subscribe to our Daily Headlines newsletter.