It was the self-tied repp bow tie that stopped me as I channel surfed.
It was an article of dress I'm somewhat familiar with, even if it was an unfamiliar feature on the clothing of cable news blabbers of this century's aughts. What it means to say to the world is "I know how to tie a bow tie," a decidedly exclusive skill in the modern world and one almost always found among upper class or prep school types in maturity.
I've been watching TV news yammerers since John Cameron Swayze in the primordial '50s. That was the decade where such dress belonged.
So I said to myself "someone is going to a lot of trouble to identify himself." The neck that was thus festooned belonged to Tucker Carlson. When he opened his mouth to speak, he had the sound of a monied education. Look up his biography online and you discover that his wealthy father's second wife was an heiress in the family that had owned Swanson frozen foods. Carlson himself was briefly a student at a boarding school in Switzerland.
People who tie their own bow ties often are proclaiming their exclusive social origins to the world. So rare is such a self-proclamation in the world of cable TV news that it stopped me in my tracks. I decided to stop channel-surfing for a minute and listen to the voice that came with the tie.
It was the MSNBC network. The fellow was talking to a hair-raisingly articulate woman named Rachel Maddow.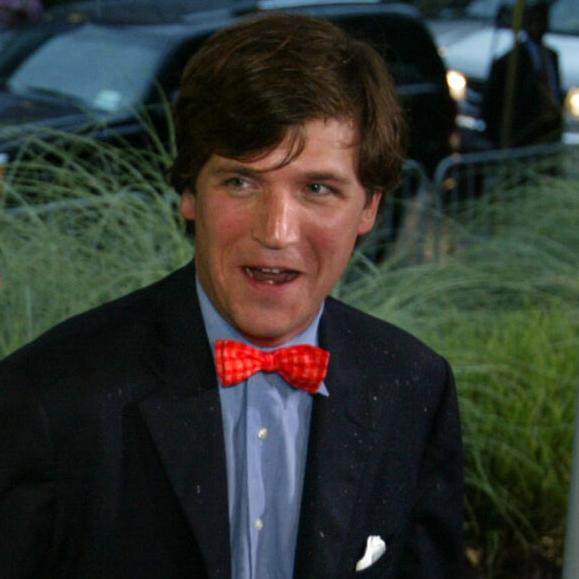 It was Carlson's TV show, which means, that's right,  Carlson more or less discovered Maddow for TV purposes.
Maddow is the seemingly best-informed and eloquent liberal voice in all of television.
Carlson, as he has weirdly evolved over the past two decades of television, has become a symbol for the most inflammatory rightist political commentary on Fox News where his 8 p.m. daily show can be found.
He doesn't seem to wear bow ties anymore. Repp ties? Sure. But not self-tied bow ties. The ties he wears could be worn by anyone, not just by people with an unusual life skill in the 21st century.
(At this point, a reader might ask: "OK, smart aleck, how do you dress?" No, I do not know how to tie a bow tie. But then, ever since covering the Woodstock festival in 1969 – where I arrived wearing a suit and a tie – I've avoided ties as much as humanly possible. If you need to characterize my mode of dress, make it half-'50s preppie and half '60s rebel.)
All manner of extreme right stands are now associated with Carlson that would have been highly unlikely back when he was on MSNBC as a representative of monied education.
Even if we assume that back in the aughts Carlson was a conservative – by no means an easy assumption given what he said – he would be, at the time, flavored like a William F. Buckley Jr. conservative. That is, in the manner of not the life of a wealthy, ex-Yale conservative that strenuously did all he could to dissociate himself from extremists like the John Birch Society and its ilk.
What is important to remember about Buckley is that, notwithstanding his stands in those thuggish TV debates he had with Gore Vidal wherein he famously promised to sock Vidal in the nose, he was renowned as the founder and editor of the National Review for employing the talents of those of the liberal persuasion. Prominently. One of them, for instance, was John Leonard, who later became the indefatigably brilliant editor of the New York Times Book Review in what were probably its best years. On Buckley's TV show "Firing Line," he employed liberal commentator Jeff Greenfield as an interviewer for the simple reason that Greenfield had the interrogative skills of a dynamite lawyer and the polemic skills of the smartest pol on the block.
In other words, Buckley liked smart, talented people – really, really smart talented people.
So did Carlson, once upon a time back when Bush II was prez. And Maddow was revealed to us all.
The Carlson we've got now was:
• Revealed by the Dominion Voting System $1.6 billion suit against Fox News to be a staunch disbeliever in Donald Trump's 2020 victory as well as someone who would text a friend about Trump, in January 2021, that "I hate him passionately."
• Well-known to have helped promulgate the far right's roundly despised "replacement theory" on the air. Recently, his show obtained a megaton of raw footage from the Jan. 6 riot in the Capitol from the current speaker of the House which he used in selective form to prove that it wasn't really a seditious riot but rather a calm, well-comported sightseeing tour of a national landmark.
That, of course, is a little like showing footage of soldiers on Iwo Jima trying to scarf some combat rations as American tourists being introduced to the sights of the South Pacific so that Ezio Pinza could sing about them later.
How did a relatively independent operator like Carlson turn into a highly rated fount of extremism?
The answer, I think, came to us long ago with that self-tied bow tie. He was, at the time, trying to wear the identity he hoped to establish.
He was advertising his background to those who might hear his dog whistle.
In this century's aughts, that meant bringing the intellectual heft of Maddow to MSNBC the way Buckley employed Leonard and Greenfield.
In 2023, that means being the most extremist troublemaker at Fox News, proclaiming the virtues of Trump's "stolen" election theories and provoking the most extreme reactions among some of Fox's viewers.
It seems to me, he is now crystal clear as a type that has been known since broadcasting was in its cradle: a naked, ratings-seeking opportunist.
Go back to Budd Schulberg's "What Makes Sammy Run?" And Elia Kazan's movie "A Face in the Crowd."
One heck of a familiar story, that one.