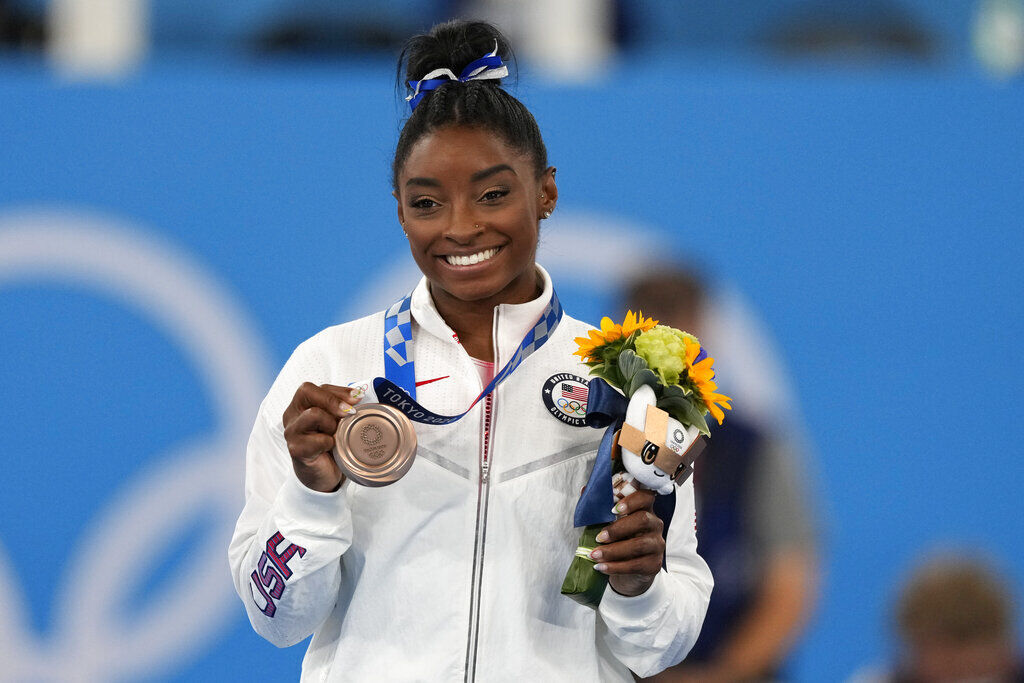 "The twisties" is what Simone Biles called them.
It was, she said, the term other female gymnasts use. It's their term for what happens when a gymnast loses all track of where she is when she's in mid-air.
Tiny female gymnasts have always been the biggest of all Olympic stories and for good reasons, whether they're Olga Korbut or Mary Lou Retton or Kerri Strugg or Nadia Comaneci.
Most perform as teens. It's tempting for adults to condescend to them as Tinker Bells.
Which they most definitely are not. Yes, many begin when they are tiny and barely out of their teens. (Biles is 24 now but she's 4-feet-8-inches tall and just barely scales 100 pounds.) But so prodigious is their strength, agility, work ethic and skill that they fly through the air before "sticking it" in their landings.
A gymnast with "the twisties" can do grievous bodily damage landing badly. Death is a possibility. This doesn't happen in other sports when players have trouble concentrating. A golfer with "the yips" gets top heavy scores and embarrassment. A baseball player in a slump can't get a hit and might be pushed into the humiliating part of the batting order, but that's it.
I once heard a virtuoso violinist with the Buffalo Philharmonic Orchestra lose himself completely while performing a Paganini violin concerto. It was excruciating to witness. There is an embarrassment that lies way beyond embarrassment and this was it. Applause at the end was still substantial.
It turned out he was having grievous mental and physical problems at the time. He died not long after, tragically young. He never came close to fulfilling what was once immense promise.
A gymnast with "the twisties" can do herself terrible harm. Imagine those flights if they ended with a landing on your head. So the young gymnast in 2021 after one traumatic performance mustered all of her moral and spiritual strength and said "no." She wasn't going to perform. To blazes with the Olympics. She had won a lot of gold in her life and couldn't really win any greater plaudits. She would stand on the side and cheer on her teammates. She would give them all the advice she could. There was a good chance they would listen to an athlete who'll be known as her sport's greatest of all time for a very long time - a.k.a The GOAT. (Modestly, she has a tattoo of a goat.)
So that's how Biles spent the Tokyo Olympics in which everyone assumed beforehand she would star above all others.
She performed in one event – the balance beam – where she won a bronze medal Tuesday. That's baby stuff for a fabled medal collector like Biles.
But what she accomplished was much bigger.
She recalibrated the Olympics themselves and, by implication, all sports, in the minds of many spectators.
I saw it as something even bigger. She exemplified the final triumph of television's programming genius Roone Arledge, who understood years ago that mere sports coverage was pitifully brief without TV coverage that also went "up close and personal."
It isn't just the scores and the visual spectacles that matter. It's the narratives.
When your teenage daughter comes home from her soccer game, she can tell you who won and what the score was in seconds. Everything after that is narrative. That's what you want to hear: how the goalie triumphed with amazing gymnastic saves or the center of the team's first line who suffered terrible chagrin when she whiffed a kick just a few yards away from the goal.
Arledge knew: There are 8 million stories in sporting events. It was the media's job to tell them all after the scores and clips.
Biles is THE athlete of the 2021 Olympics. Her story was indeed told "up close and personal."
The trouble is, the story isn't pretty. It IS a story of triumph but it's not a simple one by any means. You have to have the grace and depth to perceive her triumph. You have to understand that even the greatest athlete – and according to her sport, she's all of that – comes to a point where life and limb give way to the narrative of your full self. The beloved metrics and spectacles of the networks take a back seat to narrative.
The Biles narrative is full of ugliness caused by others. She was a spokesperson of the victims of Dr. Larry Nassar, the team doctor who was able to tell teen gymnasts that the sexual abuse he routinely performed was "physical treatment" that would put them in top performing physical condition. The number of young women he was allowed to defile in that way was staggering and he is now serving a life sentence that couldn't possibly be more richly deserved.
But there's more there, too. Biles' excellence in her sport has reportedly been so superior to that of others that her sport's overseers have always been uneasy about it. She is so good at what she does that she is routinely denied credit for it. If she performs in ways that other gymnasts can't begin to duplicate, she is denied the extra credit she ought to gain. Her sport's overseers refuse to adjust the degree of difficulty to reflect the huge differences.
Think of the NBA when Wilt Chamberlain came up. It's as if he were told that 7-feet-1-inches is too tall for an NBA player, only players the size of 6-feet-10-inch (and white) George Mikan would be permitted.
The whole background story of the 2021 Olympics was itself far from pretty whether we're talking about the International Olympic Committee or the broadcasters holding bullyboy sway during a pandemic over everyone in Japan who entertained thoughts of canceling the event.
That tale was told in a great new TV show starring Bob Costas, who's something of a Simone Biles among other TV sportscasters (a GOAT if you will). It's on HBO called "Bob Costas: Back on the Record" and it began last week with an autopsy of past IOC maladies and ended with a powerful interview with gymnast Ally Raisman, another  spokesperson for the women who suffered and reported the indignities of Nassar. After a hidiously long interval, those women finally put an end to them so that he could spend the rest of his life in prison.
This is not a pretty narrative. The ways in which it is important are not easy or enjoyable to explain to immature minds.
Olympic ratings for 2021 reflected all that.
NBC Olympic anchorman Mike Tirico was a fine, perfectly proficient purveyor of scores and spectacular clips and elementary interviews. If all you wanted was a guy to ask some questions of an athlete in the 400 men's hurdles, he's your guy.
But he's not Costas. He's not even on the same continent. He's no Jim McKay either. He sure as blazes didn't have anyone like Arledge in his earpiece screaming instructions on how to transform TV sports coverage for all time.
We learned something crucial about TV sports coverage in 2021.
We'll always care about who wins and loses. But we can look all that up and see it all online.
After that it's all narrative, as it unfolds and is retold.
Narrative just swallowed the 2021 Olympics.
The stories were huge. And powerful.
But they weren't all pretty. And they weren't ever matched by the size of the tellers. The narratives, then, were smaller. And so were the ratings.
Biles, I think, was the great star of the Olympics in the year they may have finally and definitively grown up.