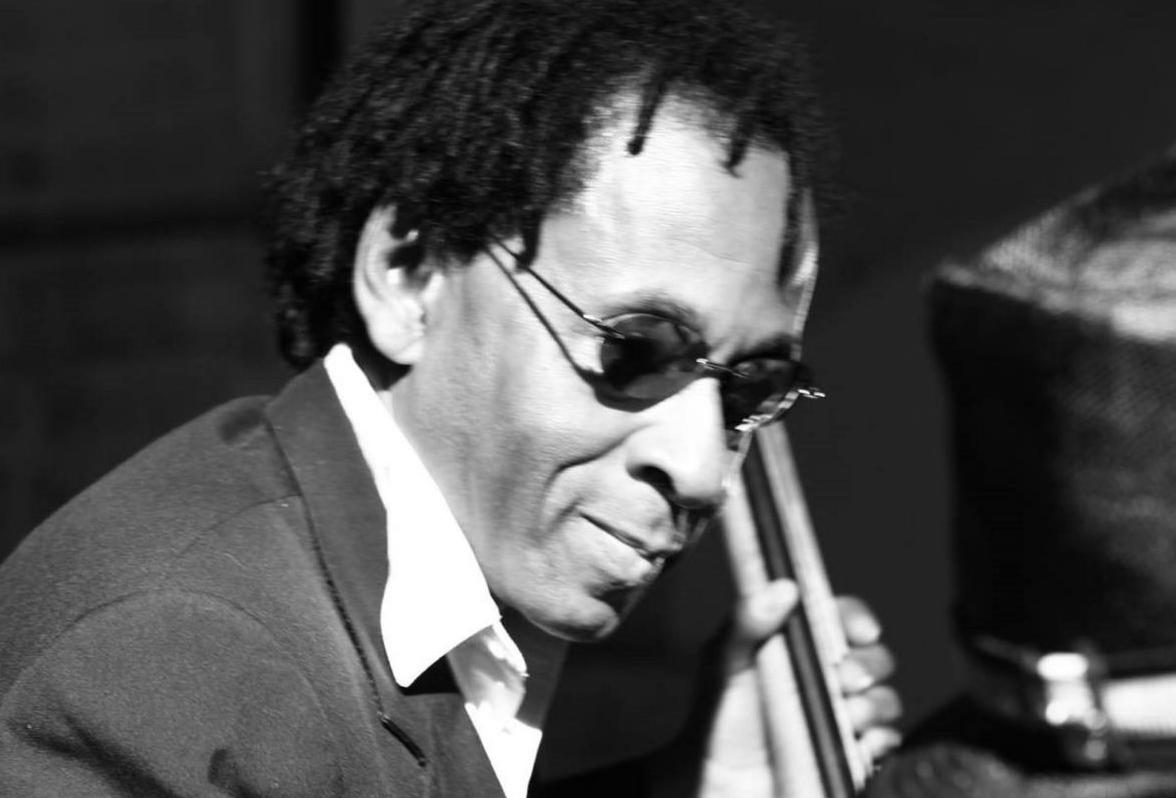 I met Juini Booth in 1970. He was Freddie Hubbard's monster bassist at the time at Bemo Crockett's Revilot Club.
Jazz at the Revilot wasn't yet established enough that anyone announced names of band members from the mic. So after Hubbard's sulfurous set, I walked up to the bassist who'd impressed me so much and asked him what his name was. He gave me some absurd fictitious name that sounded like something from a Preston Sturges movie (where the heroine of one was named "Trudy Kockenlocker.")
I asked if he was putting me on. He denied it. It was another band member who finally told me who he really was.
It didn't surprise me, then, for the next half century to find in almost every news release and communication that his first name was spelled differently: Joony, Joonie, Junni, Junnieh, Jiuni, Juini (where, frankly, I stopped and declared it his name – at least for me – from now on).
You have to understand: He'd not only never met me, he'd never heard of me either. I didn't yet have a long history of reviewing jazz for The Buffalo News. I was just one young guy with a pen, a tie and a yellow pad. We were close in age – I was three years older – but I was, at the time, hardly a fixture in jazz's critical army. So Juini, characteristically, was making sure I knew in general what he thought about the assumed "authority" of white guys with yellow pads over the art of jazz.
I got it. More importantly for our friendship, he quickly understood that I got it. He was Juini Booth ever afterward whenever I'd see him.
As the years went on, his reputation grew, as did our occasion to see one another.
Never by prior arrangement, you understand. That was very un-Juini. Juini never called first. He just suddenly showed up at my office sometimes and wanted to tell me about what gig had brought him back to town. And where he was going next.
He didn't have a record he wanted me to hear. Juini just had an itinerary of the recent past and foreseeable future.
He was no will-of-the-wisp, fly-by-night figure in jazz. He was a near-universally praised jazz bass player for some of music's greatest figures – Chuck Mangione, as a 16-year old, Gary Bartz, Freddie Hubbard, Art Blakey, Pharoah Sanders, McCoy Tyner (his employer in his best-known gig), Sun Ra.
Buffalo is where he was from. And it's where he often lived, immersed in its jazz life. But so, too, were other cities all over the map.
Juini had friends everywhere. And wherever Juini's friends were, was home, more or less.
Juini died over the weekend, just six weeks after breaking his femur in a fall at his home.
It isn't known if, before his fall, Juini knew just how sick he was. He might have. He'd lost weight and walked with a cane since before the fall.
Bravado was not unknown to him. He might very well have chanced it. Among the eccentricities of this deeply eccentric man might have been blind faith in all the powers that had preserved and blessed him thus far.
I like to think that I understood Juini – and that Juini understood that I understood him.
Basic to his personality was a certain kind of familiar jazz passive aggression. That's one of the places all those spellings of his first name came from.
Juini, deep down, had an angry opinion of conventional fame – the kind of thing that young men walking around with yellow pads think they can confer.
Juini knew his infinitely mutable place in the world. He had an "edge" professionally since I first met him. But then that's what made him so exploratory.
If I hadn't seen or heard him do it, I'd never have believed that a jazz bass player could hold an audience's attention for an hourlong solo recital.
But he was also personally likable in an innocent way. If you knew him long enough, he was even lovable. Juini, in life, seemed to count on people always being glad to see him. If so, he was usually right.
After his initial hostile joke at my expense, our relationship grew warmer and more hilarious every time he'd call or come to see me unannounced or chat with me while I was reviewing someone else at a jazz club or concert hall.
If possible, we'd talk for a half or even an hour. We'd also laugh a lot. Juini's stories about jazz life were choice.
But then that's not unusual. Another musician of international reputation from Western New York – Niagara Falls' Bobby Previte – is also a delightful person to know and hang with.
Common to both was that they were precious to a minority audience while being uninteresting to the great majority.
With their own musical lives, they were always open to all sorts of free explorations.
You'll find all sorts of statements by and about Juini online. Among them is this by Juini: "I love jazz. I love what the bass does in it. It's amazing, a vehicle to be free. They call it jazz but it's just a word for freedom."
"I want to perform all the time," he'd say. And when he didn't perform, he wanted to prove his love for jazz and his instrument any way he could.
The son of my friend and colleague Jeff Miers became a professional bass player – the kind of young musician for whom the great jazz/rock virtuoso Stanley Clarke is an idol.
When Clarke came to town to perform, I urged Miers to get to know Juini. I was sure, if he did, his son would get to know Clarke.
Which, of course, is what happened.
You never knew from one minute to the next what this deeply eccentric man would do, either personally or professionally.
Except that it would reflect a secret gentility and sweetness that he didn't even seem to see in himself but that everyone who ever met him could see plain as day.