An Amherst man charged in the attack on a police officer amid the Jan. 6 storming of the Capitol in Washington, D.C., called his conduct "unequivocally an aberration" and that he was "consumed by the mob mentality."
Thomas Sibick, 35, said he holds former President Trump "ultimately responsible" for what happened when thousands of people swarmed around and in the Capitol with some attacking and injuring police officers.
"January 6th was a disgrace to our nation that left a scar Trump is ultimately responsible for, but we are strong and will heal from it," Sibick wrote to a federal judge requesting to be released on bond from a D.C. jail. "While many praise Trump I loathe him."
Trump's "words and actions are nefarious causing pain and harm to the world," he wrote to U.S. District Judge Amy Berman Jackson.
In his letter to the judge, Sibick refers once to the police officer he is charged with intentionally assaulting and robbing. D.C. Police Officer Michael Fanone was dragged down Capitol steps into a mob of rioters, then tased, beaten with flagpoles and stripped of his gear, according to prosecutors. Sibick has admitted to taking Fanone's badge and radio, burying the badge in his backyard and then lying about it, according to earlier court filings.
"I disagree with what occurred that fateful day, especially the trauma suffered by Officer Michael Fanone, it is without question unconscionable," he wrote the judge.
A federal judge in March ordered Sibick held without bond until his trial. He has pleaded not guilty.
Jackson earlier this month denied Sibick's motion to reopen the detention hearing. Defense lawyer Stephen F. Brennwald sought to reopen the hearing after watching a video recording that he said had not been previously shown to any court and that he said "seriously undercuts" the government's case against Sibick. While denying the motion Oct. 1, the judge told Sibick that he could file a motion to review the detention order on other grounds if he chose to do so. Sibick's letter to the judge was filed Oct. 18.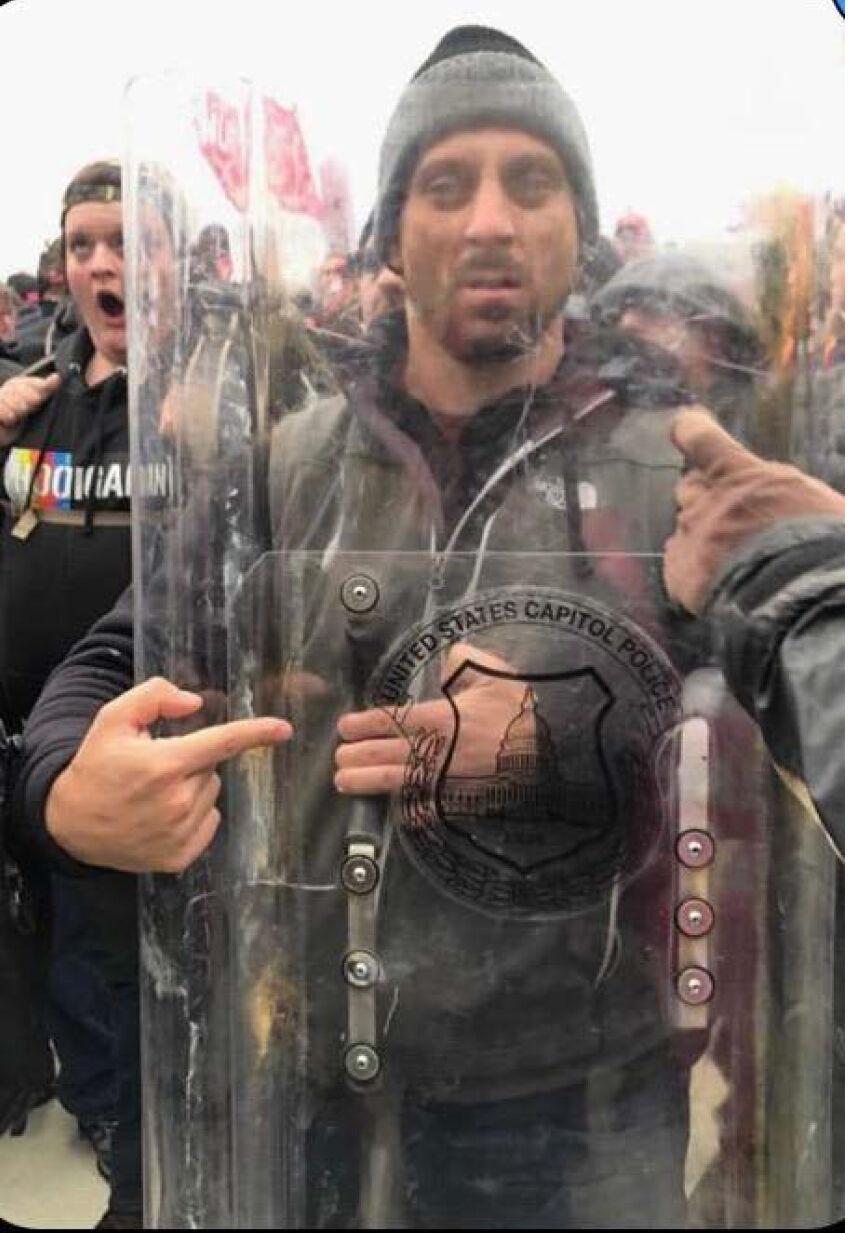 "In an attempt to provide an understanding of who I am I felt compelled to write, because my conduct on January 6th was unequivocally an aberration of the high moral standards I hold myself to," Sibick wrote. "What happened at the United States Capitol that day does not provide an adequate representation of my character.
"Although I strive for excellence I will be the first to admit that I am not perfect," he added. "My life has been full of joyful times, however there has been a fair share of growing pains, none more significant than what I am currently experiencing. The shame, dishonor, and regret endured are without question the worst emotions ever experienced."
Sibick was indicted on 10 counts: obstruction of an official proceeding, and aiding and abetting; civil disorder; assaulting, resisting or impeding certain officers; robbery; entering and remaining in a restricted building or grounds; disorderly and disruptive conduct in a restricted building or grounds; impeding ingress and egress in a restricted building or grounds; engaging in physical violence in a restricted building or grounds; impeding passage through the Capitol grounds or buildings; and act of physical violence in the Capitol grounds or buildings.
In his bid for pretrial release, Sibick filed character letters from a half dozen people who know him along with reports from the jail that refer to him as a "model inmate."
Also, Sibick's father, Eugene M. Sibick, filed a letter with the court assuring the judge that his son, if released, would live at his home under whatever conditions the court imposes. The father said he and his wife, Carol, "guarantee that Thomas will have supervision 24 hours a day, seven days a week. If Thomas were to attempt to leave the premises, I would not hesitate to inform the appropriate authorities immediately."
Assistant U.S. Attorneys Cara A. Gardner and Tara Ravindra oppose reopening the detention hearing, saying in court papers that the character letters, jail information and Sibick's remorse don't outweigh the factors that led to his pretrial detention.
"Indeed, the defendant argues that this one episode in his life should not outweigh the years of demonstrated proof of good character in many settings over the course of many years," the prosecutors said in their court filing. "However, the defendant's actions on January 6 are not an isolated incident of lawlessness – the defendant has six prior convictions, namely, convictions for disorderly conduct, attempted reckless endangerment, and failure to stop or respond to a command of police, as well as two convictions for possession of illegal substances, and a conviction for driving while intoxicated. The arrests for two of those convictions involve fact patterns in which the defendant was accused of failing to obey an order from law enforcement."
What's more, Sibick's "succession of lies to law enforcement following the events of January 6, 2021, weigh heavily in favor of continued detention," according to the prosecutors.
Prosecutors are not impressed by Sibick's proclamation of his good character and promise to remain at his parents' home if the judge releases him.
"The defendant's 'good character' did not prevent him from storming the United States Capitol and robbing Officer M.F.'s police badge and radio from his vest on that day, and the court cannot be assured of the safety of the community were the defendant in home detention," the prosecutors said. "It was in the defendant's own back yard that he buried Officer M.F.'s badge, and from the comfort of his parents' home that he told some of his lies to law enforcement about his actions on Jan. 6."
In his letter to the judge, Sibick said he would never attend another political protest.
"Throughout my incarceration I have had ample time for self-reflection which has enabled me to grow and become more cognizant of my being, ultimately having a profound impact on my core values," he wrote. "I have vowed to never attend another political protest in my life, that was my first and last! In addition, I will never allow myself to be consumed by the mob mentality, it is dangerous and undoubtedly out of character."