More than 6,000 runners are expected to trot through Buffalo's streets Sunday for the races of the Buffalo Marathon. It's the second year of relative normality for the city's annual road race, which was canceled in 2020 due to Covid-19 and was mostly virtual in 2021.
The races – highlighted by a 26.2-mile marathon and a 13.1-mile half-marathon – attract thousands of spectators and supporters, boasts an entire weekend of mini events and celebrates a wide range of fitness levels. While all activities have been sold out for the last month, the marathon shuts down many city streets east of Richmond Avenue and west of Delaware Avenue. 
Lucas McAneney won last Sunday's marathon, though technically he was a couple of feet behind his son who was in a running stroller. 
Marathon must-knows: In terms of the 26.2-mile race, little has changed for 2023. The starting gun will sound for the marathon, half marathon and marathon relay at 6:30 a.m. Sunday from the intersection of Delaware Avenue and West Huron Street, but the starting corral opens an hour earlier at Niagara Square. The race packet encourages parking on city streets east of the starting line.
The marathon course does not deviate from last year, and it's available on buffalomarathon.org. The post-race party begins at 8:15 a.m. at the Buffalo Niagara Convention Center, with beer – including special race-edition brew Mile 27 by Flying Bison – served after 9.
Registered runners should be aware there's no race-day packet pickup this year. Pre-race materials will be available from 9 a.m. to 6 p.m. Saturday on the second floor of the convention center.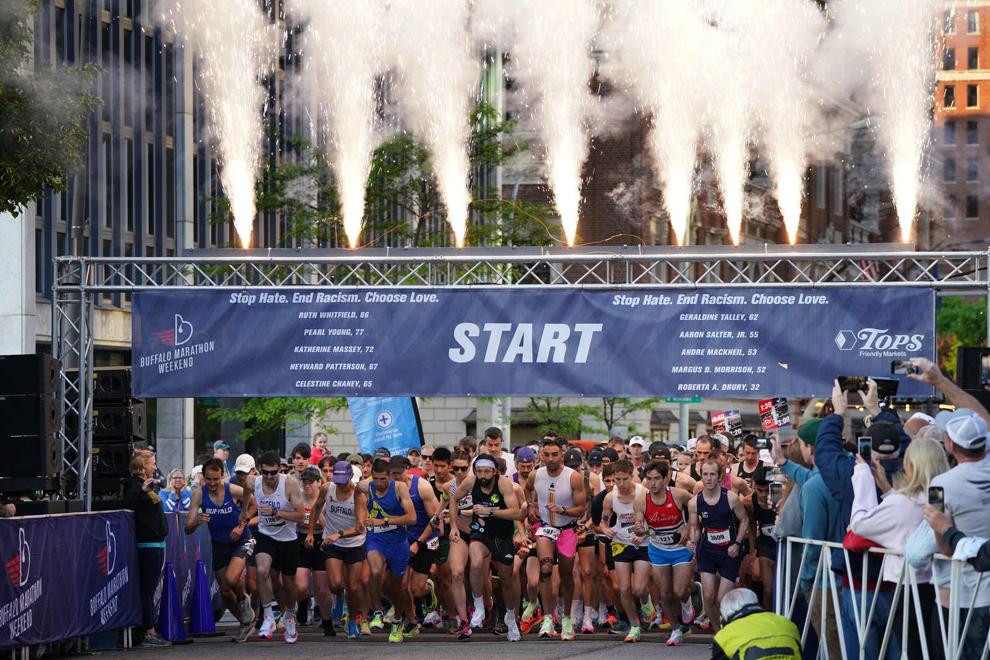 New happy hour on Friday: The marathon gets the party started early, with a free 0.0K Happy Hour from 5 to 10 p.m. Friday on Chippewa Street at Franklin Street. The Strictly Hip, a Buffalo-based Tragically Hip tribute band, will play between 6:30 and 9:45 p.m., followed by a fireworks display.
The Shopper Chopper, a 9-foot-tall shopping cart that led last year's marathon, will do the same again this year and be available for photo-ops. The street festivities will replace the pedal party held on Fridays in previous years.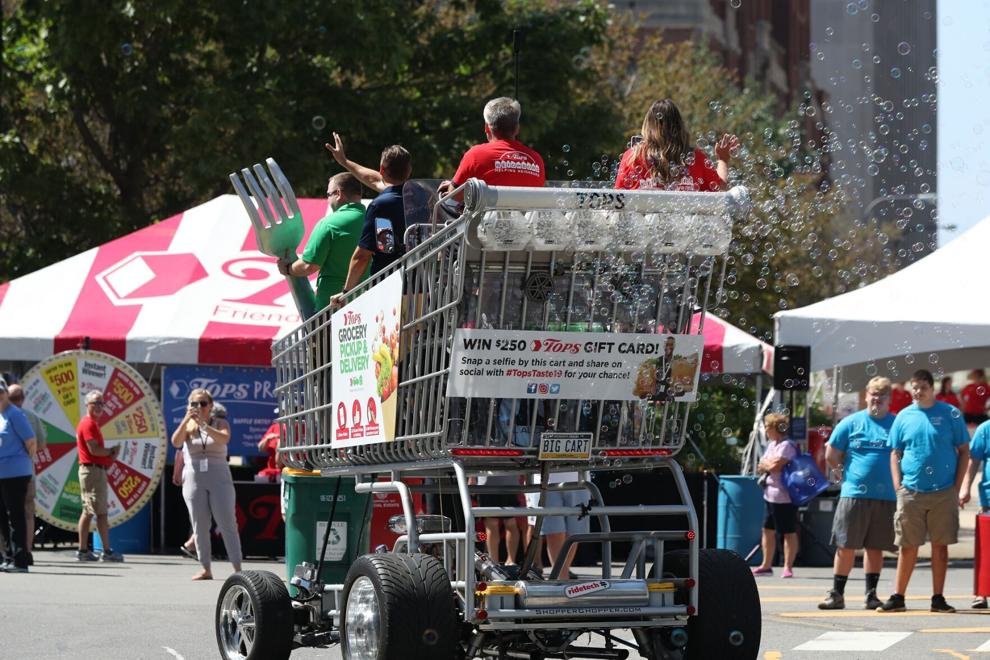 Busy Saturday, too: The Ruffalo Stampede, where two-legged owners and four-legged canines will prance along a 1K route, is a highlight at 12:30 p.m. Saturday. It's not intended to be a race, but good luck telling the dogs that. A Bark Crawl, at Chippewa bars, follows. A new 5K walk will accompany the usual 5K run in the morning. 
Did you know?: Kaleida Health and the Buffalo Marathon partner on a "Heart-to-Heart Fundraiser," in which runners pay a reduced rate to run in the full or half marathon but commit to raising at least $500 that benefits Buffalo General Medical Center and Gates Vascular Institute.
Greg Weber, the marathon's executive director and race director, said these runners have raised more than $100,000 this year. The Heart-to-Heart fundraising in recent years has upgraded the heart monitors in the neonatal intensive care unit in Buffalo General, Weber said.
Race-day weather: National Weather Service Buffalo forecasts sunny skies Sunday, with a high of 79 degrees, but the race-time window is expected to feature more mild temperatures in the high 50s into the lower 60s.