WASHINGTON – The news that the U.S. land border will remain largely closed to Canadians came the way it often does, via Twitter rather than in a human voice – but it prompted angry and anguished cries all across the border.
"I see that life in the U.S. is completely open so I'm a little confused why fully vaccinated Canadians couldn't just cross over if we already can do it by air," said Philippe Warda of Welland, Ont., whose "special lady" lives in Buffalo.
"I heard President Biden was on vacation this past week, spending time with his family," noted Kim Patchett of Port Elgin., Ont., on the shores of Lake Huron nearly 600 miles from her daughter and toddler granddaughter in Philadelphia. "How is it that he is any more deserving to spend time with his family than anybody else?" 
"My husband passed away in 2020 from cancer after being ill for a little over six weeks," said Julia Beukema of Langley, B.C. "I have two married daughters who are living less than an hour away in the USA. They miss being able to see me. We just want to be able to support each other in our grief."
Warda, Patchett and Beukema were among more than three dozen people who reached out to The Buffalo News this week to complain about the border closure, which the U.S. Department of Homeland Security extended for another month, to Sept. 21, on Friday.
Many of those people said the same thing: that they can't understand why the U.S. continues to keep the border closed when Canada opened its doors to vaccinated Americans on Aug. 9.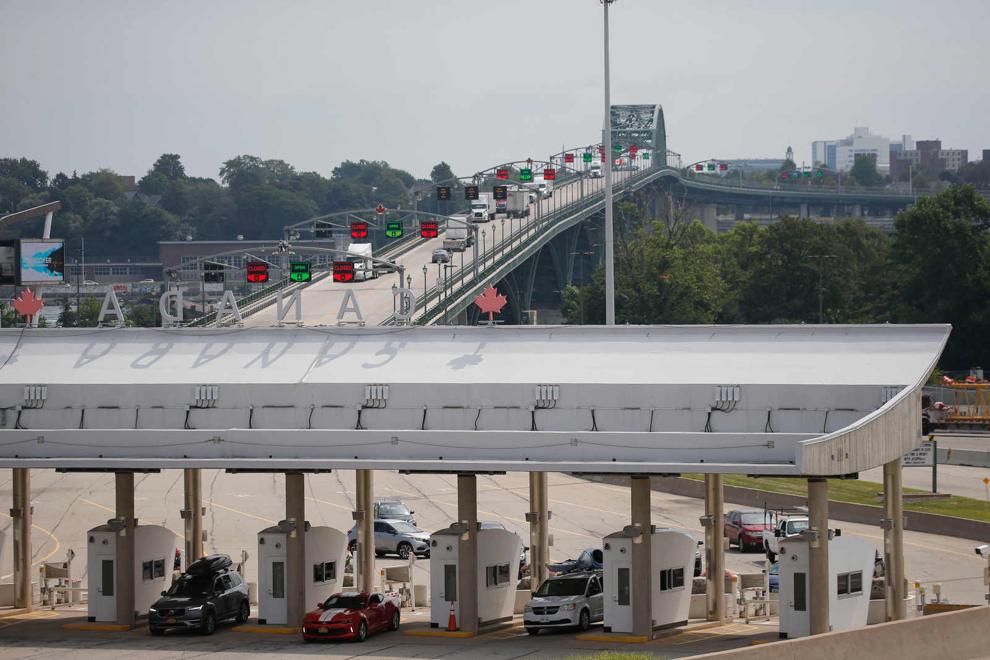 The U.S. Department of Homeland Security, which announced the continued closure, offered little explanation.
"To minimize the spread of #COVID19, including the Delta variant, the United States is extending restrictions on non-essential travel at our land and ferry crossings with Canada and Mexico through September 21, while continuing to ensure the flow of essential trade and travel," the department said on Twitter.
"In coordination with public health and medical experts, DHS continues working closely with its partners across the United States and internationally to determine how to safely and sustainably resume normal travel," the department continued.
That explanation didn't go nearly far enough for people who are separated from their loved ones by the border – including some people in metro Buffalo who long for their Canadian partners to be able to visit.
"No exemptions for family, no compassion at all," said Elizabeth Switzer of North Tonawanda, whose fiancé lives in Hamilton. "I am speechless. This is not the President I thought you'd be @POTUS," she added, directing her tweet to President Biden.
Buffalo-area politicians were equally aghast.
"The failure to make opening the border the priority that it should be is a huge mistake," said Rep. Brian Higgins, a Buffalo Democrat. "There has not been enough attention placed on the value and opportunity that comes with restoring connections between our two nations. It is beyond disappointing; it is hurtful both at a human and economic level."
Rep. Chris Jacobs, an Orchard Park Republican, agreed. 
"Our shared border should have been open months ago," he said.
Jacobs said the extended closure "prolonged the suffering of thousands of families." Many of the Canadians who wrote to The Buffalo News – at the behest of Families Are Essential, a group that's pushing to open the border – made the same point.
Several of those people said that while the Canadian border is now open to Americans, their personal situation means it's better that they go to the U.S. rather than having their loved ones head north.
Warda, 44, works for a bank in Buffalo and commuted there from Welland almost every day for 13 of the past 16 years. Last September, a co-worker introduced him to a woman whom Warda bonded with and now calls his "significant other" even though they've not yet met in person.
The woman, who declined to be interviewed, has a medical condition that prevents her from being vaccinated against Covid-19, thereby making it impossible for her to visit Canada, Warda said. But the U.S. government is preventing the couple from uniting in Buffalo.
"It's just mind-boggling to me," said Warda, 44.
Patchett reacted to the news of the continued closure by spending $1,002 on plane tickets to visit her daughter and her family in September.  Patchett, 58, said she worries that her husband – who's had a heart attack – will be more likely to be exposed to Covid in airports and on a plane than if the couple simply drove all the way to Philadelphia.
But Patchett and her husband feel they have to make the trip. Their granddaughter Isla will turn 3 in September and, thanks to Covid, they missed her last birthday.
Patchett wonders how many other families there are that will miss important family milestones like that, all because they can't spare hundreds of dollars on plane tickets.
"The people that can afford a flight are no more deserving than the people that can't," said Patchett, 58.
The border separates Beukema, 65, from seven of her grandchildren. She said it would be much easier for her to drive south to see the grandkids and her two daughters than it would be for any of her family members to head north, given that some of the grandchildren are too young to be vaccinated.
But the U.S. government still won't allow that, meaning Beukema and her loved ones have been dealing with the death of her husband, the family patriarch, without meeting in the same room. She said many other families are similar situations.