PROVIDENCE, R.I. – A curved pedestrian bridge has emerged as a symbol of the "new" Providence. 
The $21.9 million wooden bridge connects College Hill, home to Brown University's main campus on the east side of the city, to the newly branded Innovation & Design District on the west side.
The Providence River crossing opened last September, and its hardwood deck quickly became popular for those taking walks, snapping photos of the skyline, sitting on benches or playing chess.
It came about only after government officials decided to tear down an existing highway bridge, which for decades separated communities along racial lines, and rerouted vehicles to another new crossing a half-mile south of downtown. 
What happened in Rhode Island's largest city – 37 acres of prime land freed up for development and open space amid a renewed sense of vitality – offers some lessons for Buffalo. As the latest city to remove a downtown highway crossing water, Providence accomplished the kind of thing many in Buffalo want to do: Remove the mile-long, 110-foot-tall Skyway that crosses the Buffalo River. 
"What Providence did was a very bold move, and I think it is paying off. I probably wouldn't have moved here if it wasn't blossoming the way it is now," said Kathleen Gerard, who arrived from New York City more than a year ago. "They make downtown a place where it makes sense to live. It's walkable and things are happening."
Added Sharon Steele, president of the Jewelry District Association: "The Innovation & Design District has been critical in telling the world that we're open for business, and it has put us on the map." 
Supporters of the Buffalo proposal list many of the same goals as those in Providence did: add public recreation space, provide better access to the river, expand the tax base and bring more residences and amenities to downtown.
Providence leaders say that is happening, even if the pace of development is slower than first anticipated.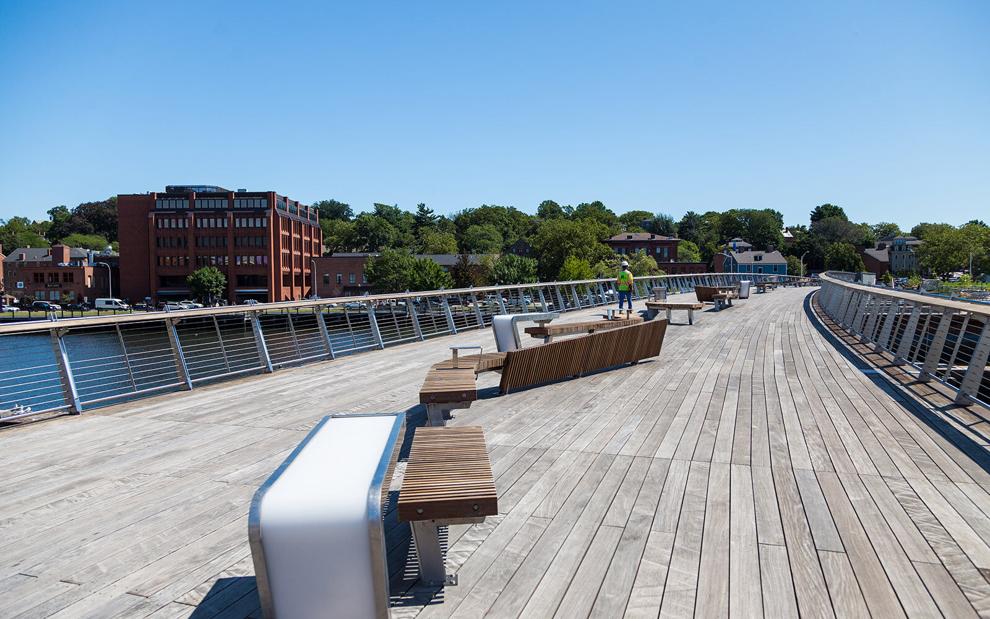 The new projects have also been a catalyst for reviving this New England city's older buildings. 
Meanwhile, the effort in Buffalo recently gained momentum. The New York State Department of Transportation on Aug. 28 announced two proposals to be studied as part of a plan to replace the Skyway, one a boulevard and the other a highway. It's part of a fast-tracked environmental review on pace to be finished in 2021. A report released last week said removing 3.4 miles of highway would free 45 acres for development along Buffalo's Inner Harbor and Outer Harbor.  
But what happened in Providence, like many hope will happen in Buffalo, goes beyond new buildings, freed-up land and new business and recreation opportunities. 
The changes in Providence have been just as important for how residents view their city, said Cliff Wood, executive director of the Providence Foundation, which advocates policies for downtown.
"You have enlivened a part of the city that was heretofore sleepy and on the edge, and you have also knit together areas of the city that intellectually didn't have a relationship before," Wood said. "It has created a different mental geography that you can't overstate."
'Once-in-a-lifetime opportunity'
Buffalo and Providence, with their blue-collar roots, were battered by disappearing manufacturing jobs and steady population losses for decades.
Like Buffalo, the use of state and federal tax credits for historic preservation helped fuel Providence's comeback.
"The city really draws people who seek authenticity, character and livability," said Brett Runyon, director of the Providence Preservation Society.
Both cities put a premium on luring high-tech jobs, startup companies and entrepreneurs. The removal of a 1950s-era highway in 2011, known as the Iway, was a catalyst in Providence. The 1.6-mile stretch crossed the Providence River and wound through the city's Jewelry District, cutting the area off from downtown. An adjacent, nearly 1-mile portion of Interstate-195 was also removed.
"This is an extraordinary, once-in-a-lifetime opportunity for our city," then-Providence Mayor David Cicilline said at the time.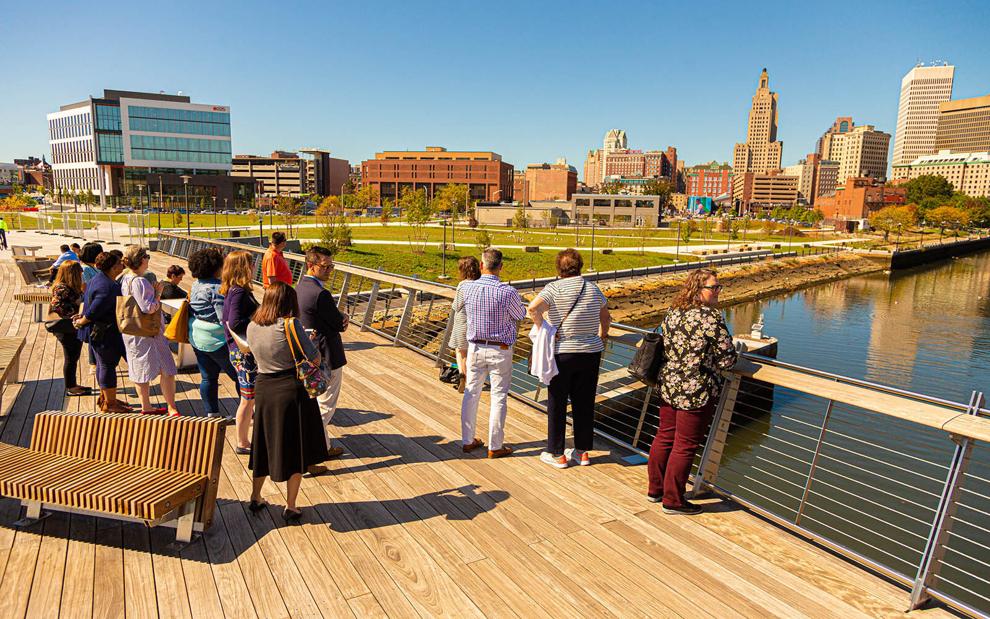 The majority of the parcels that became available are in the Jewelry District.
"People who lived in the Jewelry District used to get in their cars and drive to go a few blocks downtown because going under the bridge was so nasty and scary," Steele said. "Now it's unbelievable. That's what the removal of the highway has done."
The aging bridge was designed for 75,000 vehicles a day, but more than twice that amount used it by the time it was torn down. Closely spaced exits, tight curves and left-hand exits added to the congestion and delays experienced by motorists.
The $610 million removal, headed by the Rhode Island Department of Transportation, led to the opening of a signature arch bridge in 2007.
A reduced travel time of about 20% was another benefit of the new bridge.
Of the 37 acres that became available, 19 were set aside for redevelopment, eight for parkland, and 10 for roads and infrastructure.
Then-Gov. Lincoln Chafee created the I-195 Redevelopment District Commission to market and sell the development parcels and act as a one-stop shop for developers seeking permits and approvals.
"They tried to do something that was pro-economic development to streamline the process," Steele said. "That's their calling card and it's working, even if I don't love all of their decisions."
"When we went through the planning process for the surplus land, the general principle was that the land should be used for development at a size and a scale that was in line with dense mixed use," said Robert Azar, Providence's deputy planning director.
"It should also be at a height and scale that complemented the urban fabric downtown," he said. "One of the main goals was to knit back together areas of the city that were split apart by the introduction of the interstate highway in the 1950s."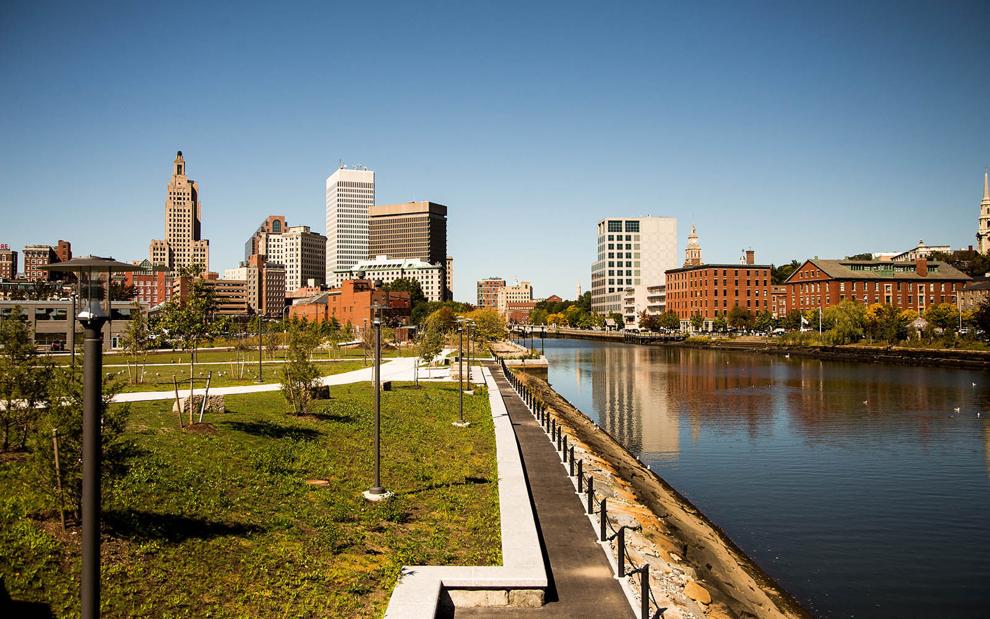 The redevelopment hasn't come without controversy and challenges. The City Council last fall approved an out-of-town developer's plan to build a 46-story building with luxury condominiums, despite fierce public opposition, and now the controversy is expected to be resolved in a state court.
The commission dealt with the economic downturn that began in 2008, as well as Providence's tough economic climate, Steele said.
"It costs as much money to build in Providence as it costs to build in Boston," she said. "It's a poorer city, and when you look at how much it costs to build here you need subsidies. That's a tough pill for the average resident to swallow."
The high costs are one reason why none of the apartments built or under construction include low-income units. The city doesn't require it and no developer has proposed to do so.
That's a concern for those who want to use new housing to address the growing income gap in Providence.  
And for some, the progress hasn't happened fast enough.
"All of our land literally supported the jewelry manufacturing industry," Steele said. "It stood to reason some of the land would be contaminated."
Brownfield sites were treated for heavy metals. 
"There are people who say, 'What took so long?' " Steele said. "But you had to take this scarred land and literally turn it into something."
Since 2017 – six years after the bridge's demolition and four years since roads and other infrastructure were completed – development has moved forward in earnest.
One of the biggest developments in the Innovation & Design District was the opening last year of the 6-story Wexford Science + Technology commercial office building, with 70 tenants in its 190,000-square-foot space.
The Cambridge Innovation Center, the largest tenant, provides low-cost shared work spaces to entrepreneurs. Other tenants include Brown University's School of Professional Studies and Johnson & Johnson.
A beer hall is coming to the first floor. 
Three companion Wexford buildings are planned on land reclaimed from the highway.
A 175-room Marriott-branded Aloft Hotel is under construction. Chestnut Commons, a residential building with 92 upscale apartments and planned retail space, was completed last month. Another apartment building, with 250 market-rate units, received approval by the commission in January to be built between Chestnut Commons and the Wexford building.
Johnson and Wales University chose the district to build the John J. Bowen Center for Science and Innovation.  
All this helped attract Trader Joe's to another parcel. Retail space, offices and 52 market-rate and workforce apartments have been announced as part of a project that's expected to break ground this year.
A 1,250-space parking garage draped in green and silver mesh has also been built.
A 7-acre park now flanks the river by the pedestrian bridge, and a riverwalk will be extended 4,100 feet once a seawall is repaired.
The new projects have spurred historic preservation efforts.
"The removal of the highway has stimulated a ton of investment in historic buildings and new buildings," said Runyon of the Providence Preservation Society. "It's had a huge transformative effect."
The most pronounced is the hulking, 420,000-square-foot South Street Landing, a former power station whose only residents for two decades were pigeons. Now, an estimated 1,000 people go through its doors daily.
The renovation preserved the building's exposed brick walls and concrete dynamo block that held the original power turbines, earning a Richard H. Dreihaus Foundation National Preservation Award in 2019.
The $220 million public-private redevelopment, which opened in October 2017, includes 13 administrative offices for Brown University and the Rhode Island Nursing Education Center. The project includes the 174-unit River House Apartments and an accompanying parking garage.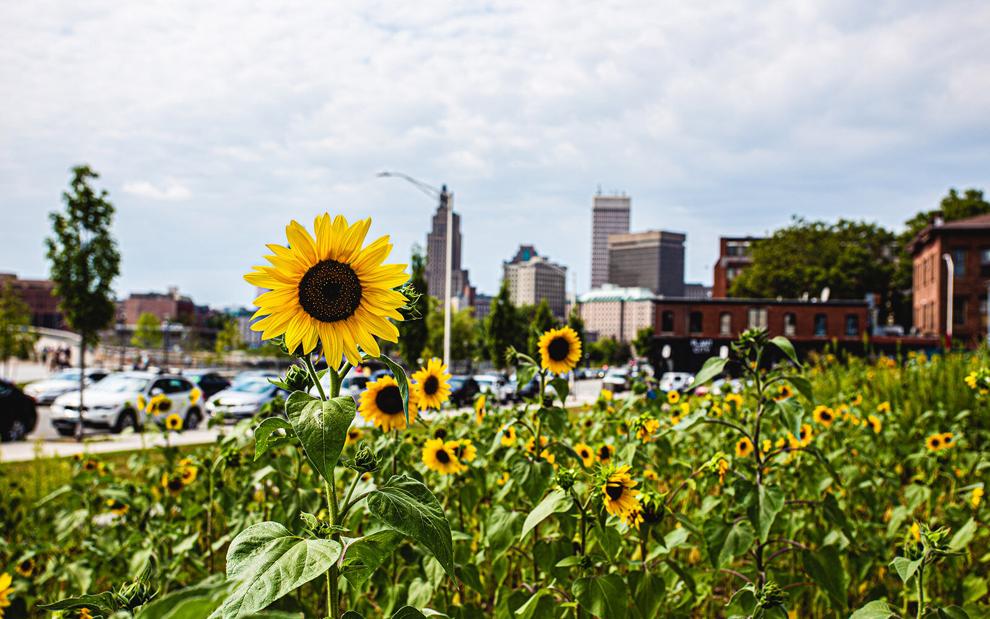 "South Street Landing wouldn't have come to fruition if it wasn't smack in the middle of the parcels," Steele said. "That was the incentive to get it done."
A nearby National Grid building with three large stacks protruding skyward is being renovated.
"We have seen tremendous momentum in the past few years," said Caroline Skuncik, the I-195 Commission's executive director. "We did two requests for proposals last year and got seven responses from really quality developers. That was incredibly encouraging. We are fielding calls regularly from developers on the other parcels."
Brown University has invested over $200 million and bought a dozen properties in the Innovation & Design District. Some 450 medical students at its Warren Alpert Medical School learn in a building once used for jewelry manufacturing.
The research university's role made the Wexford and South Street Landing projects possible, said Wood of the Providence Foundation.
"Brown's investment was huge," Wood said. "It built in students, concerns about security, safety and infrastructure, as well as providing a kind of gravitas."
Al Dahlberg, Brown's assistant vice president of government and community relations, said Providence has much to offer for those working in the new economy, making the Innovation and Design District a gamble worth taking.
"Providence is a gem of a city," Dahlberg said. "It has such incredible assets, from arts and culture to food and tourism, and it's a place people want to be, quite simply."
A bridge for pedestrians wasn't initially on the drawing board. But it's proved to be a hit, whether people are walking or biking across or being viewed from one of the large windows in Plant City, a popular vegan food hall that overlooks the bridge by the east entrance.
"Yay, Providence! It's about time," exclaimed Wendy Clifford recently while taking her first walk on the bridge.
"It's attracting so many people to come here not only during the day, but also at night when it's all lit up and beautiful," said Josh Grab, part of a Providence photo meetup group that began at the bridge.
"Bridges create connections, and this one is very well designed and fits in with the aesthetics of the city. It has a good communal vibe," Grab said.
For Steele, the bridge has become a symbol for what is taking place in Providence since the highway bridge was relocated.
"It changed everything," she said.
Mark Sommer covers preservation, development, the waterfront, culture and more. He's also a former arts editor at The News.