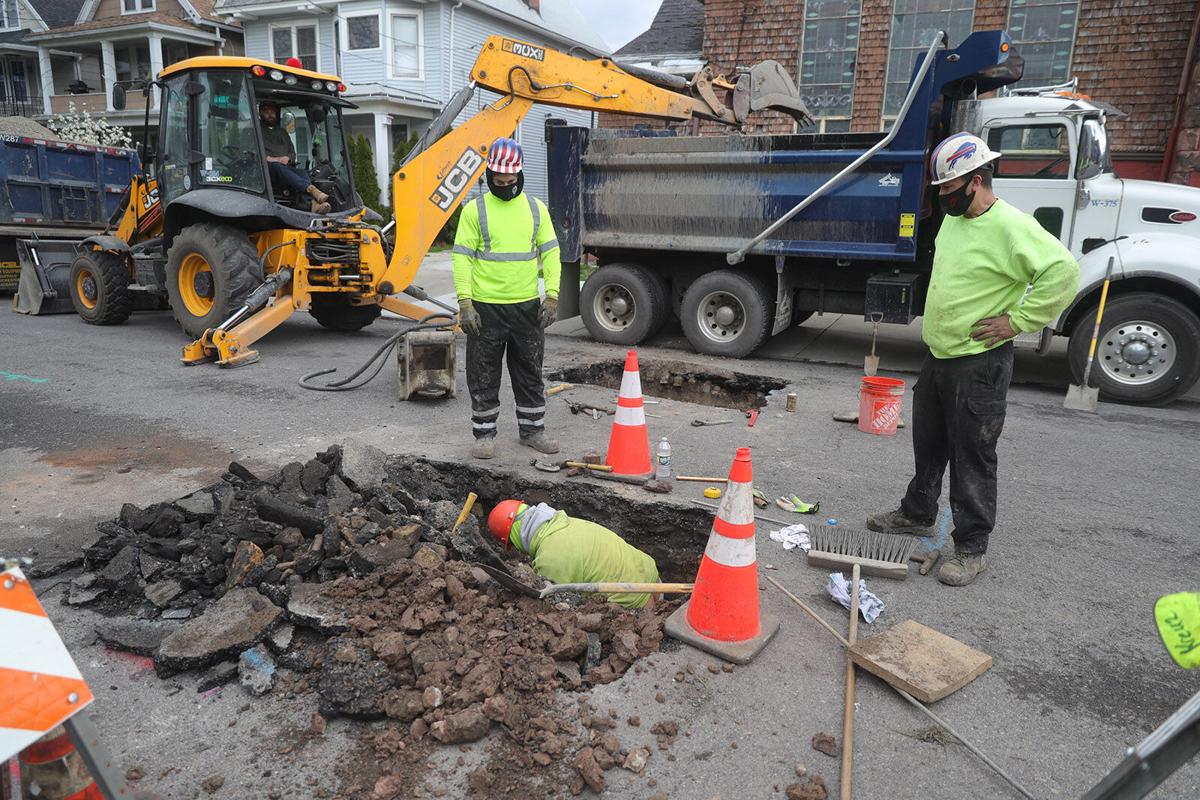 WASHINGTON – The infrastructure bill before the Senate is a compromise, and to hear the experts tell it, the measure compromises President Biden's goal of replacing every lead water pipe in America.
That's because while Biden proposed spending $45 billion specifically to remove lead water pipes – including more than 100 miles of them in Buffalo – the bipartisan infrastructure bill sets aside only $15 billion for that purpose.
Buffalo has so far evaded the risk that was buried beneath the city more than a century ago.
"Fifteen billion doesn't go very far," said Bob Keefe, executive director of E2, a nonpartisan group of business leaders pushing for environmental investments such as the lead pipe removal effort. "It doesn't go far enough. Several studies have shown that it's going to take $45 billion."
That's certainly the case. E2 released a study this week pegging the cost of the lead pipe removal at $45 billion. The Natural Resources Defense Council also says the massive undertaking would cost $45 billion, and the American Water Works Association says the total price tag could run to upwards of $60 billion.
Nevertheless, the Biden administration insists that the money included in the infrastructure compromise is plenty to solve what it sees as a lurking danger to the nation's drinking water.
Democrats and Republicans in the Senate have come together on a bipartisan infrastructure package that could bring unprecedented amounts of money to Western New York for roads, bridges, lead pipe removal and much more.
In addition to the $15 billion specifically targeted toward lead pipe removal, there's another $11 billion or so for general drinking water improvements that can be used toward removal of lead pipes and service lines, said Deputy White House Press Secretary Andrew Bates.
"That's nearly half of the deal's full resources for clean drinking water, reflecting what a driving priority this is," Bates said. "The bipartisan agreement will eliminate all lead drinking water pipes and service lines in the United States with this unprecedented funding – full stop."
But the people who work on removing lead pipes don't think so.
"It's a start," said Tom Bigley, director of plumbing services at the United Association of Union Plumbers and Pipefitters. "I think even $45 billion is on the low end."
Removing the lead service pipes leading to just one home costs $15,000, Bigley said – and there are millions of homes that are served by those pipes.
Mick Jagger told us 52 years ago that we can't always get what we want, but progressives in Buffalo will find that that's clearly not the philosophy behind President Biden's first federal budget proposal.
It's so expensive to remove those pipes because they're not easily accessible, said Harold Harrington, business manager for a Plumbers and Pipefitters local in Flint, Mich., where a switch in the water supply led to pipe corrosion and a lead poisoning crisis several years ago.
"It's very hard to replace these lines because they're over 4 feet underground, and you've had 100 years of infrastructure put on top of them – well, not just infrastructure, but tree roots, sidewalks, driveways." Harrington said. "It's a very complicated situation, replacing these in Flint. I kind of like to say it's like trying to change your socks once your shoes are on."
By shortchanging the pipe replacement project, Congress could create another complicated situation, said Keefe, who spoke this week along with Bigley and Harrington on a webinar on the lead pipe issue, which was sponsored by E2.
"I wouldn't want to be a member of Congress trying to pick who gets clean water and who doesn't, but that's what's going to happen if we don't fund this fully," Keefe said.
Environmental groups argue that all the nation's lead pipes should be removed because every one of them is a potential danger. While they are all lined with material aimed at preventing lead from seeping into the drinking water supply, changes in the water supply can lead to corrosion – and that can result in lead poisoning for anyone who drinks the water. And lead poisoning can cause behavioral and learning problems in children, as well as heart, kidney and reproductive issues in adults.
Buffalo's highway relics – including the Skyway, the Scajaquada and the Kensington – could finally be fixed under President Joe Biden's $2.25 trillion infrastructure plan.
In Buffalo, the Brown administration is five years into an aggressive effort to combat that threat. The city imposed tougher lead standards than the federal government, and also is working on its own to replace lead pipes.
"This past year, we replaced 400 of them, but we have tens of thousands to go," Oluwole A. McFoy, the chairperson of the Buffalo Water Board, said in April.
Congress should go the full way and fund the replacement of all of those lead water pipes, said Rep. Brian Higgins, a Buffalo Democrat. He said the cut in funding for the lead pipe removal effort was emblematic of the bipartisan infrastructure package, which was whittled down to about $1 trillion from Biden's original $2 trillion American Jobs Plan.
"They can talk all they want about their bipartisan deal, but it's an epic failure in the sense that goes in the wrong direction," Higgins said.