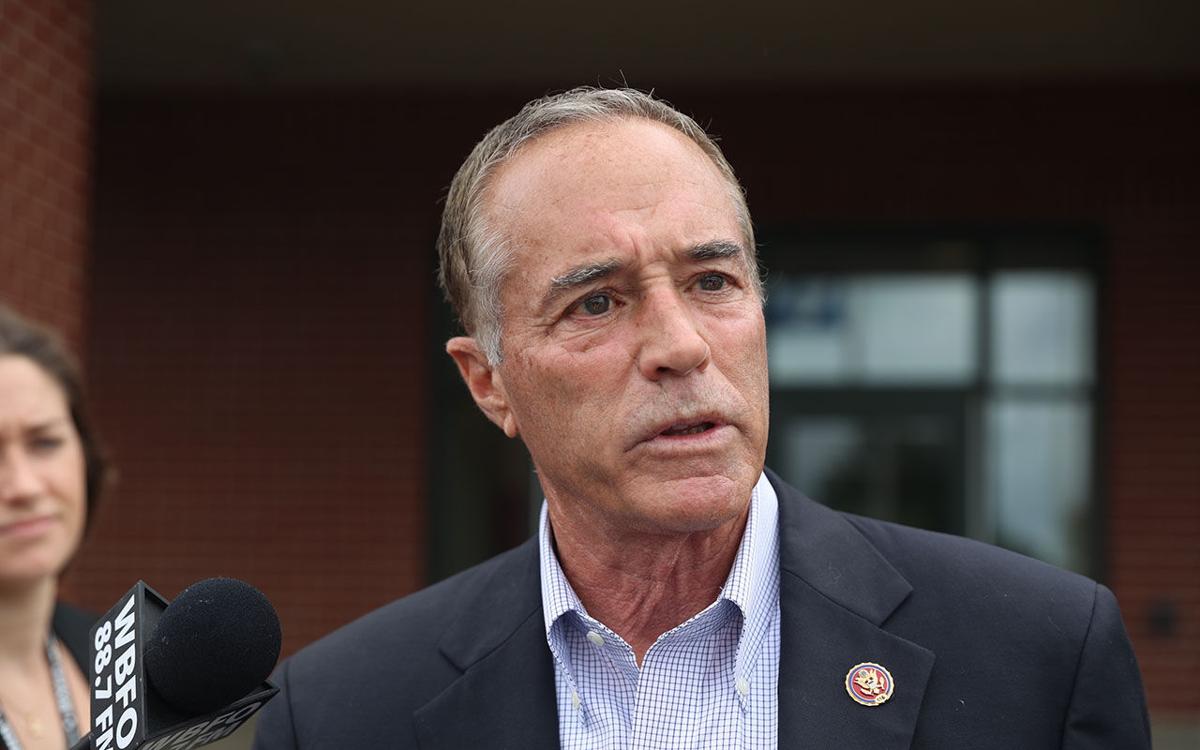 On his last afternoon of freedom before reporting to prison for at least the next 17 months of his life, Chris Collins seemed to experience just about every emotion possible.
In a 45-minute phone conversation with The Buffalo News while en route to the federal prison camp in Pensacola, Fla., the former Republican congressman from Clarence seemed anxious to express everything weighing on his mind in his first interview since pleading to insider trading charges just over a year ago.
Former Rep. Chris Collins is scheduled to begin serving his sentence Tuesday at Federal Prison Camp Pensacola, a Florida facility that, judging from those who know it, lives up to its name.
He was resigned to leaving behind his wife and family, acknowledging that part will prove tougher than anything. He feels content that his affairs are in order, and that his wife, Mary, will be financially comfortable and his business interests secured.
As a father, Collins is convinced that pleading guilty was the right thing to do, since he believes his co-defendant son was spared jail as a result. Now, Cameron Collins can embark on the rest of his life with his new bride.
Collins is also prepared, even if he is uncertain about what he faces upon reporting to the federal prison facility at 2 p.m. Tuesday.
But most of all, the former congressman, once a favorite of the Trump White House and a ubiquitous figure on cable television, feels abandoned after federal prosecutors pressed for his immediate incarceration and the U.S. district judge hearing his case ignored a final plea for either home confinement or another 60-day delay. He believes he made the case to avoid the coronavirus he is convinced awaits him in a crowded jail.
And he is fearful. He does not want his 17-month incarceration – the time he expects to serve based on his imposed sentence of 26 months – to turn into a "death sentence."
"I'm 70 years old with asthma and hypertension, and it's senior citizens that we're supposed to worry about," he said while driving to Pensacola on Monday. "That's me. 
"I've got to do it. But I do know I do not want to get this virus."
Collins' 9 1/2-hour drive from his Marco Island home in Florida north to Pensacola came about after federal prosecutors from the Southern District of New York in Manhattan charged that he gave Cameron an inside stock tip that shielded him from hundreds of thousands of dollars in losses from an Australian company in which they had invested. Cameron Collins and his then-prospective father-in-law, Stephen Zarsky, who also invested, were sentenced to probation in the insider trading case.
Instead of another delay, the Collins legal team also suggested an alternative – "time-served plus a period of supervised release with the special condition of home confinement."
As he headed north on Monday, Collins remained bitter about the situation, labeling it "inexplicable" that prosecutors have not recognized the dangers awaiting a senior citizen with compromised health inside the sealed confines of a prison.
"The only people saying it's safe is the Southern District of New York," he said. "Why do they want to put me in harm's way when delay – potentially  does not disadvantage anyone?"
Collins related that the last seven months since his sentencing before U.S. District Judge Vernon Broderick in New York have been a time of "nervous tension," "uncertainty" and "sleepless nights." All of that should have counted for something, he believes.
"I get no credit for 60 more days of sleepless nights," he said. "It is not safe since the guards there would potentially bring it in every day. Since the last time we requested a delay, four guards have tested positive. There right now could be 30 inmates that have it."
The Manhattan U.S. attorney, however, has resisted all of Collins' arguments, even as the convict successfully gained several 60-day delays.
"The public has an interest in seeing justice done in this case without further delay," wrote Audrey Strauss, the acting U.S. attorney for the Southern District of New York, in a court filing Wednesday. "It is time for Collins to begin his prison sentence."
"The public has an interest in seeing justice done in this case without further delay," wrote Audrey Strauss, the acting U.S. attorney for the Southern District of New York.
Even as he headed toward Pensacola on Monday, his attorneys were working feverishly to gain a delay from Broderick – who had not replied late in the afternoon. And Collins was still making his case while driving north, holding out one last hope that the judge would grant another delay. 
But Collins also seems accepting of what lies ahead. On Sunday, he and his family gathered for their last dinner together in the Marco Island home where he has lived and where he hoped to serve a home confinement sentence. He said his daughter has been living with him and his wife. "She said she was coming for three days and stayed eight months," he said.
Many of his thoughts now center around Cameron, who is 27 and received a six-month home confinement sentence that he served at the Marco Island home that he owns with his sister, Caitlin (deeded to them 10 years ago for estate planning purposes).
Chris Collins, who once bragged about how many millionaires he made in Buffalo, ended up making three felons on a summer night in
"Cameron is done," Collins said of his son's sentence. "He did his six months starting Feb. 4 and did his community service."
Cameron married Zarsky's daughter, Lauren, immediately after the sentence, he said.
Collins acknowledged that he had every intention of fighting the government's charges, especially after his lawyers launched a defense based on the Constitution's "speech and debate" clause, which holds that a member of Congress cannot be prosecuted while performing official duties. But once prosecutors separated Cameron's case from his, he said, he realized his son lacked similar protection and would face jail if convicted.
"They said, 'We're going to try your son and future father-in-law separately,' " he said. "I could not let that happen. As circumstantial as it is, I don't think anyone would have shown him any mercy whatsoever.
"I think he would have been convicted, I believe, by his future father-in-law, and they would have had to throw somebody in prison. He would have gotten two or three years in prison.
"The minute they said they would split the case, I said, 'I'm going to plead guilty.' Sure enough, the judge took it out on me – which I am very glad of. I'm 70 years old, I've lived my life, I've traveled the world. I've been to the North and South Poles. I've been on Air Force One. I've lived one hell of an exciting and full life."
Prison, the former congressman said, looms as a small price to pay in return for Cameron getting on with his life.
Collins noted that probation recommended one year and a day for his sentence, but that Broderick ordered 26 months. He believes he received the longer sentence because his son and Zarsky gained probation. 
"I understand this price that I'm paying," he said.
Beginning at 2 p.m. Tuesday, Collins – a multimillionaire – reports to the prison camp in the Florida panhandle. He notes it has no hardened prisoners, no barbed wire and few guards.
"I'll have some buddies to talk to in the morning, have a cup of coffee and read the paper – almost what you do in retirement," he said. "You actually make good friends. Everyone there has made a mistake. They have regrets related to that mistake. But most everyone everyone has done good things in their lives, and I know I've done a lot of good things. 
"My family is with me. It's not like I did something that made them destitute. My family is stronger now than it's ever been."
Collins said he has spent much of the last several weeks preparing for this day. He knows he will be unable to manage any of his many business interests, passing on those responsibilities to Caitlin, right down to color-coded files for each of his companies.
"I've simplified my life to make it easier for Mary," he added.
For the past several months, he has enjoyed the family dinners around the table, talking about politics or the stock market over a glass of wine, he said. There have been daily bike rides, but also a constant dread.
He feels the worst for his wife, who faces her own health challenges and will be affected most.
"She's taken this harder than anyone," he said. "Her husband of 40 years is going away."
"We have made the best of it; that's all you can do. ... It's been a frustrating seven months; not happy times," he said, adding he has not spoken with President Trump – his old ally – about any pardon, though he holds out hope.
He planned to get a hotel room Monday night, turn in his rental car Tuesday morning, and grab an Uber to the prison gate. Everything begins anew at 2 p.m.
"I am prepared to go in tomorrow," he said.