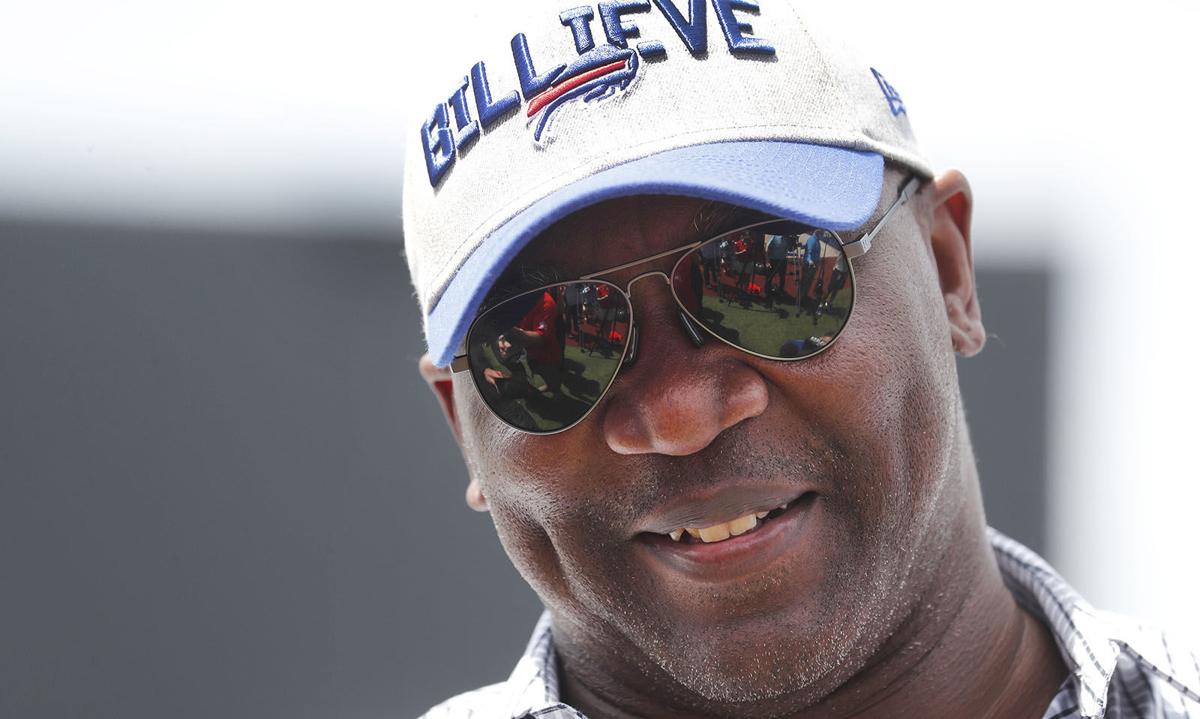 Keith Bernard drove from Ohio to New Jersey on a mission Tuesday.
The CEO of 34 Group, a construction company owned by Buffalo Bills Hall of Fame running back Thurman Thomas and his wife, Patti Thomas, was on his way to check a shipment of hospital gowns possibly destined for Roswell Park Comprehensive Cancer Center.
About two weeks ago, the Thomases' company lined up a supply of surgical masks that the Buffalo cancer hospital purchased.
"The reason where I'm driving where I am right now is, Roswell had another need," Bernard said Tuesday by phone from West Virginia.
The 34 Group, during the New York coronavirus shutdown, has become almost like an unofficial purchasing agent for Roswell Park.
A shipment of hospital gowns was available in Columbus, Ohio, but the vendor refused to ship without receiving payment first.
"I drove to Columbus two nights ago and waited to inspect the shipment (Monday), and timing-wise, it didn't work out, and the shipment ended up getting sold at a higher price to somebody else," Bernard said.
"But we found another shipment that's available in New Jersey, so I'm driving from Columbus to New Jersey because I don't want our name to be associated with something for Roswell where they lost money or got swindled," Bernard said. "No money's being transferred from Roswell until we know for sure it's the exact product they wanted and it's on a truck to be shipped to Buffalo."
As it turned out, the trip to a warehouse in Somerset, N.J., where 50,000 gowns allegedly were held, was another dead end.
"The source we were supposed to get them from turned out to be very unreliable," Bernard said Wednesday morning, just before he headed back to Buffalo. He stayed at the warehouse for two hours Tuesday night and never saw any gowns.
The involvement of 34 Group in finding quality hospital supplies in a tight and overpriced market, where many fly-by-night operators are peddling counterfeit or shoddy goods, shows the Thomases have moved beyond charitable contributions to take a more active role in helping Roswell Park.
"Roswell Park's relationship with the Thomases and their support for cancer patients in our community go back many years," said David Donovan, Roswell's vice president for business development, strategy and supply chain management.
"This latest act of friendship shows just how invested they are in our work and our mission," Donovan said. "When they heard that there were products we were looking to source, they went to work to help us find suppliers through their contacts and networks. They are an incredibly generous and supportive partner for Roswell Park."
Reached out to help
"Thurman's got a lot of friends in places that will help facilitate things. That's why people have reached out to us," Bernard said. "I've been on the phone constantly for the last month."
"In a time of need, we were reached out to by several different parties because of being involved in construction and the cleaning business, (to see) if we had any contacts to help supply local hospitals," Patti Thomas said. "We did reach out to try to help the community."
"There's a of lot of deception in the marketplace. A lot of people have been burned," Bernard said. "We're super careful, because we're not going to do anything to put our company and Thurman's reputation at risk."
He said hospitals called 34 Group, named after Thurman Thomas' uniform number with the Bills, because the construction company buys face masks to protect its workers.
"As people heard we were asking, the suppliers came back to us and said, 'We're hearing about supplies that are available, but the prices are starting to go out of control because the demand is so much higher than the supply,'" Bernard said.
His on-the-scene efforts won Roswell a large shipment of surgical masks that landed in Virginia Beach, Va., last month.
"We found masks for them that did come from China but were secured by someone else," Bernard said. "We put the two together. ... We will get a small fee for that, but if you look at the hourly rate we're getting for the time I'm spending on this, it doesn't equate, frankly."
Prices for hospital supplies have "completely exploded" because of high worldwide demand during the pandemic, Bernard said.
"There's stuff that we've walked away from because we didn't want to be part of it because of price gouging," he said.
"The second problem is finding a situation that's not risky because of payment terms. A lot of these companies and brokers out there want you to send money ahead of time. Obviously, we're very conservative. We're not going to tell anyone, especially a hospital in our own backyard, that they should wire money over to a company in China," Bernard said.
Providing meals
In addition, the Thurman Thomas Family Foundation received a donation of 1,000 KN95 respirator masks. So far, about 900 of those masks, regarded by federal regulators as a more affordable and almost-as-good version of the increasingly rare N95 masks, have been given away to local companies that need them for essential workers, Patti Thomas said.
It's just the latest in a series of community efforts by the Thomases since the pandemic began.
They bought 1,250 meals from stockthefreezer.com, a website founded by the owners of four local Italian restaurants. The meals were sent to churches in minority neighborhoods in Buffalo and Niagara Falls.
"We were able to get the first 1,000 meals Thurman and Patti bought to the inner city of Buffalo," said Nick Pitillo, owner of Osteria 166 and one of the founders of the website.
The 1,000 meals were sent to Pastor James E. Giles, president of VOICE-Buffalo, to distribute to city churches. A week later, the Thomases bought 250 meals for Mount Sinai Baptist Church in Niagara Falls, Pitillo said.
"Thurman and Patti have been a big part. They jumped in and said, 'We want to do this,'" Pitillo said.
Jon Corto, a former Bills player and vice president of Buffalo Strive Vending, said the foundation spent $5,000 to buy and then donate snack boxes and beverages to senior care facilities.
"There was tons of food dropped off to thousands of people in Western New York," Corto said. "It was a great thing, and I was happy to partner with them."
And the Thomases helped Journey Church of Buffalo with its Groceries to Seniors Initiative, providing food from Manna @ Northland, an East Side service that delivers groceries on Fridays to senior citizens stuck at home.
"They had donated to the cause and when it gets a little better, they'll choose a day to come out and be on-site for some things," Journey pastor Art Hall said. "It has been a very successful and very much-needed cause."