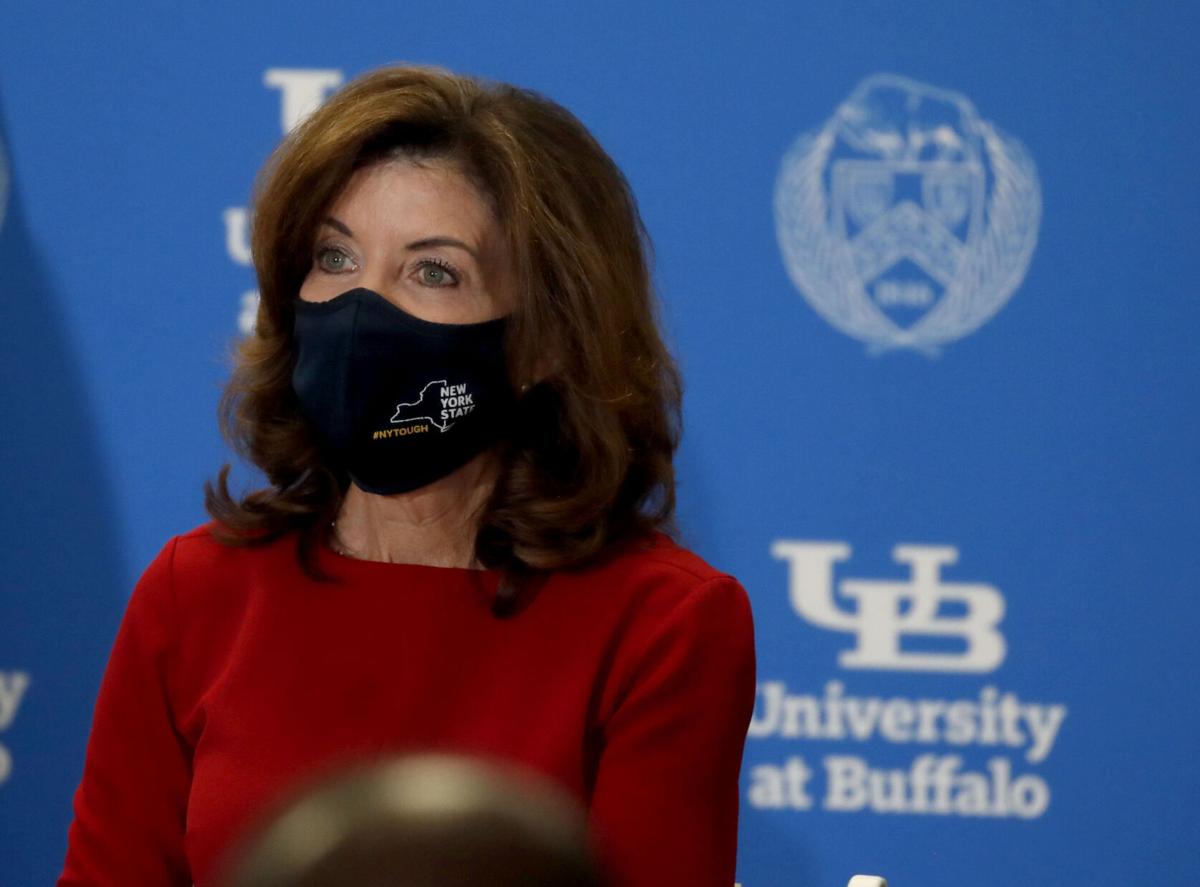 Gov. Kathy Hochul isn't afraid to use guilt as a way to get more people to obtain vaccinations against Covid-19.
If if that doesn't work, perhaps the words of Bruce Smith will.
During a news conference Thursday, 
"Mom guilt was very effective when I was raising my kids," Hochul said. "I still can use it once in a while, and I'm using mom guilt on moms now, letting you know that this is really an important step you can take to protect your children."
Hochul displayed statistics that showed 65.1% of 12-to-17-year-olds in New York have had at least one vaccine dose.
"I would not want to be a parent living with the guilt that anything happened to your child, such as getting sick with Covid or even worse, because they were not vaccinated," Hochul said. "So I encourage all parents to look at it from that perspective."
Hochul also announced that the Buffalo Bills, New York Giants and New York Jets each are making game tickets and other prizes available in a weekly raffle for people who obtain vaccinations.
The Bills are offering tickets to their home games against Miami Oct. 31 and Indianapolis Nov. 21, as well as Josh Allen-autographed footballs, helmets and jerseys, Highmark Stadium tours and VIP tickets to next year's training camp.
Hochul, a Bills fan, presented Hall of Fame defensive end Bruce Smith and co-owner Kim Pegula via video link to urge Bills fans to obtain vaccinations.
"We are beyond excited to be partners with the state, the Giants and the Jets to help promote the importance of vaccination to our New York family and to football fans across the state," Pegula said. "It is our collective goal to protect and keep each other safe so we can beat this virus and have some fun while doing this."
"I am fully vaccinated, and it's important that all of New York gets vaccinated in this fight against Covid-19," Smith said.
Not mentioned at the event was Erie County Executive Mark C. Poloncarz's recent announcement barring unvaccinated fans from the stadium.
Stadium and arena goers must be fully vaccinated to attend games and events by the end of October. The only exception is for children younger than 12, who must wear a mask inside the stadium.
Hochul also guilt-tripped the state's health care workers. She said 84% of them have been vaccinated, but hospitals and other facilities are preparing for worker shortages Monday, when Hochul's mandate takes effect.
"Every single person who ends up in your care has the right to know that they are as safe as they can be, that there is no chance that they will be infected by the person charged with protecting them and their health," Hochul aid in a message to workers. "And those who have done the right thing don't want to be with those who are not vaccinated, either. It's frightening for them to be with co-workers who are not vaccinated, if you think about that. They're entitled to a safe workplace as well."
Hochul said she has been working with health care unions to make sure care continues, and an agreement was made yesterday with the union representing nurses at state university facilities.
But she also said she has been looking for ways to import temporary health care workers from other countries to fill the gaps, although Hochul admitted that can't happen without federal approval, which won't come in time for Monday's deadline.
Hochul specifically mentioned the Philippines and Ireland as sources of workers, saying she had spoken to the prime minster of Ireland about the idea.
"What is looming for Monday is completely avoidable, and there's no excuses," Hochul said.
Hochul said 50,000 New Yorkers were vaccinated Wednesday, bringing the total to almost 83% of the 18-and-older population with at least one dose, and 74.4% with complete vaccinations.
Hochul said Zucker agreed stay to on until his replacement is chosen and the position is filled.
She reported that statewide, 24% of intensive care beds are empty, including 32% in Western New York, so there is no crush of Covid patients.
The statewide positivity rate for Wednesday's Covid tests was 2.75%, but the figure was 4.26% in Western New York.