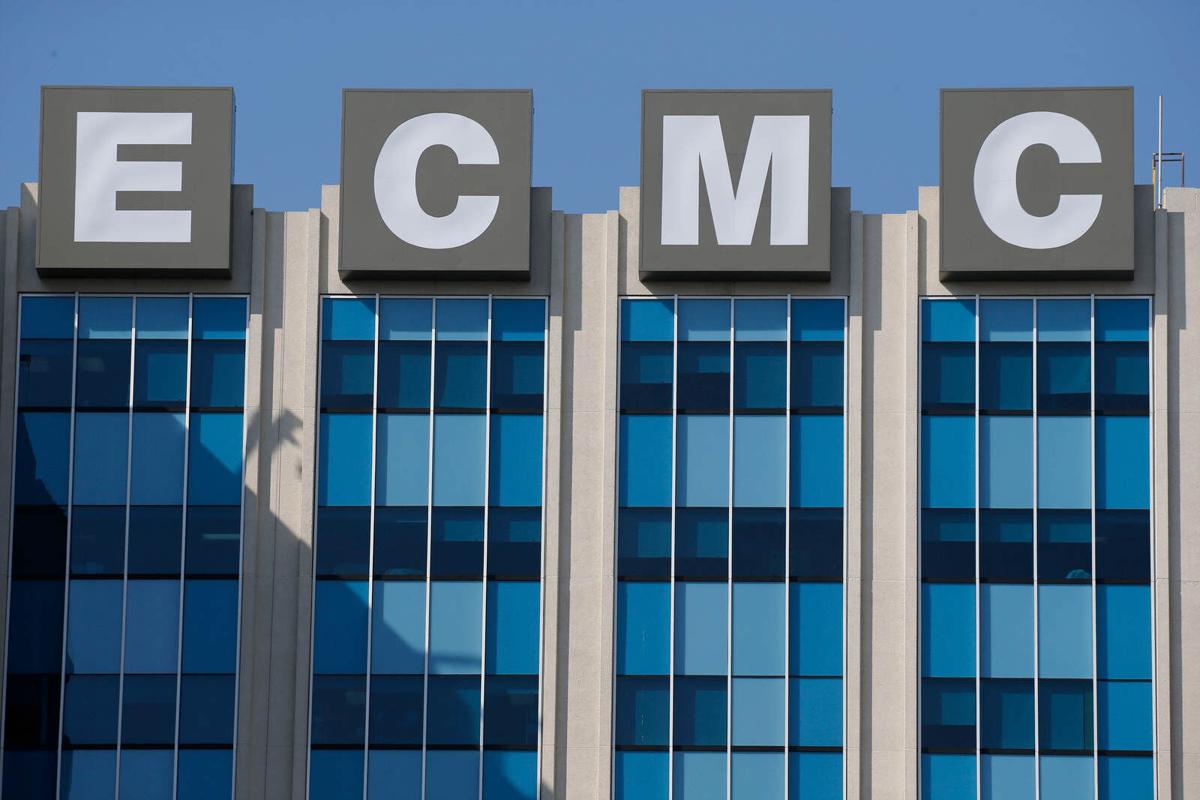 Erie County Medical Center says it has a tenant problem.
Back rent is part of the claim, as the hospital seeks an early termination of Benderson Development's lease for retail space in the lobby. But a court fight between Western New York's second-largest hospital and the region's biggest property manager also has to do with doughnuts, and not just dollars.
For ECMC, part of the fight is over the heart and soul of the retail space, according to affidavits in the State Supreme Court case. The hospital's vision includes healthy food options – not fast food fare. And ECMC also wants a pharmacy open for longer hours so staff members don't have to send patients to a downtown Walgreens for prescriptions at night. 
For its part, Benderson says ECMC itself approved the retail uses in the lobby for nearly two decades, accepting Benderson's monthly rent payments all along, even amid the pandemic when visitors were not allowed in the hospital. 
The ECMC lobby gives patients their first impression of the hospital. And the opening of the new Russell J. Salvatore Atrium has improved those first impressions, said Cassandra Davis, the hospital's vice president of ambulatory services and population health, in a court affidavit.
But ECMC deserves better than Benderson's "languishing lobby space," Davis said.
As ECMC expanded programs and built new facilities, the flow of patients and visitors to the campus has grown in recent years. From 2010 to 2019, ECMC's inpatient admissions increased from 15,007 to 19,996; emergency department visits increased from 58,090 to 69,391; and surgeries increased from 9,159 to 13,808.
But the retail space for those patients, plus the hospital's staff of 3,500, has remained stagnant, ECMC says. Davis criticized Benderson for a "lack of appropriate management and hands-off approach" that she said "is no doubt driven by the financial windfall it receives from paying well below market value for prime retail space while collecting a premium from its subtenants."
Benderson acknowledges the improvements at ECMC. But it also cites the hundreds of thousands of dollars it invested in the lobby two decades ago, when the promise of success wasn't such a sure bet and the hospital didn't look nearly as good as it does today.
Benderson has asked State Supreme Court Justice Timothy J. Walker for a judgment declaring the lease is not in default and that ECMC is not entitled to terminate the lease and remove Benderson from the premises.
"We admire everything ECMC has done at this facility," said Eric Recoon, vice president of development and leasing at Benderson Development. "We're pleased to be associated with it. We want to continue that process on. We don't want to fight with them or anybody. There's clearly been a hiccup, and we're trying to work through that. It's unfortunate it comes to a process where we all had to involve attorneys."
Benderson subleases the lobby space to Tim Hortons and a Subway, and also to a pharmacy that is not open 24 hours a day. A third space remains vacant following the departure of Mighty Taco. Before leasing to Mighty Taco, Benderson leased the space to a fast food pizza operation, Davis said.
"Benderson has consistently failed to meet the needs of ECMC's staff and patient population in its management of the space it leases within ECMC's lobby," she said.
Hospital officials want healthy food options beyond the fast-food chains.
"The No. 1 social determinant of health facing poor communities such as Grider Street is access to healthy food options," Davis said in her affidavit. "Benderson has only escalated this problem by focusing on unhealthy options."
ECMC has to constantly police Benderson's subtenants for garbage and supplies left in common area hallways, Davis said. The hospital even had to provide additional space to Tim Hortons outside the Benderson lease just to stop its practice of littering hallways, she added.
Davis also described the pharmacy as "bare-bones." 
The hospital would like a pharmacy that offers post-surgical supplies and durable medical equipment, items that are customary in most patient-facing pharmacies, Davis said.
Recoon called the focus on current subtenants "a mischaracterization of the real issue at hand."
"When we first put tenants into that space, it was all about providing what the employees and visitors were clamoring for. Tim Hortons was a natural. That was the first lease we signed. I'm not certain there's a single hospital in town that doesn't have a Tim Hortons in it. I think the employees would stage a revolt if there wasn't a Tim Hortons in there."
Subway was also a sought-after option nearly 20 years ago when Benderson began leasing the space, Recoon said. Both Subway and Tim Hortons provide healthy alternatives on their menus, such as salads and sandwiches, he said.
Benderson has ideas about new establishments to recruit to the lobby, more in line with what ECMC wants, Recoon said. But he sees the real issue as how to sign them, given that Benderson, even if it blocks the early lease termination, has only a couple of years left on its lease with ECMC. Companies are hesitant to sign up for the costs of opening a location amid that uncertainty.  
Benderson pays $4.30 per square foot of lobby space, far lower than what the hospital considers the fair market value: $28 to $38.
But two decades ago, the far lower amount reflected the "tremendous risk" Benderson took on when it signed the lease, long before the improvements at the hospital, Recoon said.
Benderson financed all of the costs of remodeling the lobby space, investing more than $300,000 with no guarantee that the space could be developed into a successful retail operation, Mark Chait, executive director of leasing for Benderson, said in an affidavit.
The rent structure is outdated at this point, Recoon told The News.
"We've been working for a while now to try to extend the lease that we have and have offered up meaningful increases commensurate with what we believe fair market to be," Recoon said.  
But for now, the focus is on the court case.
Benderson has failed to maintain the lobby in accordance with the terms set forth by the Erie County Legislature when the lease was authorized 20 years ago, according to legal papers submitted by attorney R. Anthony Rupp III, who represents the hospital.
Benderson's focus on subleasing to fast-food chains rather than health-care related enterprises has enabled it "to illegally convert public space into a pure profitmaking enterprise at the expense of the taxpayer." That is a basis for invalidating the lease entirely, Rupp wrote.
Benderson replied that it has not converted anything, but is simply honoring the terms of the lease.
The first sign of trouble for Benderson came in September, when ECMC sent a letter advising the lease was in default.
Benderson paid partial rent when it began leasing the space in May 2003, escalating its monthly rent payments as additional space was sub-leased, according to its legal papers. Benderson exercised its option to renew the lease, starting a second 10-year term in June 2013.
Since the 2013 renewal, ECMC has accepted the $1,405 monthly rent every month without objection, until September, according to Benderson's lawsuit against ECMC.
ECMC approved every use in the lobby, including a "coffee/bagel/donut/pastry shop (or any combination thereof)" and a "sandwich/salad shop," Chait said.
The September letter asserted for the first time that six years earlier, in 2014, the "full rent commencement date" had occurred, triggering a higher rent, according to the lawsuit.
Benderson found the letter contradictory.
"The notice letter states that rent increased to $1,633 in 2014 because all rentable space was sub-leased at that time. But then, it claims that the proper rent amount became $1,796 one year earlier, in 2013, when Benderson exercised its renewal option," according to the lawsuit. "The notice letter does not state which of these two amounts ECMC claims should be paid. Nor does the notice letter advise of what action ECMC demanded in order to cure this purported default."
In its reply, Benderson told ECMC that it was never able to sublet all the rentable space, according to the lawsuit.
Benderson's letter identified each commercial unit it had sub-leased, clarifying the $1,405 rent. Given the explanation, Benderson added that ECMC's counsel should contact Benderson for any further questions about the leased area or rent.
The next letter from ECMC came in November, giving notice that the lease was being terminated. By Dec. 16, according to the letter, Benderson "must quit and surrender the premises to ECMC." 
Despite what Benderson called ECMC's "bad faith attempt to terminate the lease without any cause," Benderson enclosed a check for $35,227 in its Nov. 19 letter to ECMC "as a good faith effort to cure any alleged default while the parties engaged in further discussions," according to the lawsuit.