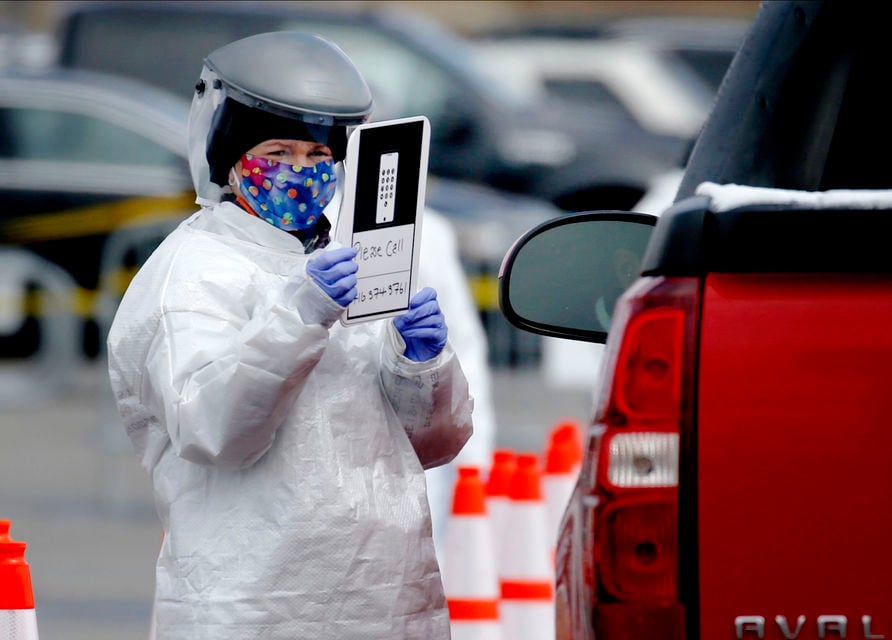 So you need a Covid test – for crossing the border, complying with workplace rules or because you or your children feel ill or have been exposed to someone who tested positive.  
Whatever the reason, the Covid-19 testing landscape has changed dramatically since the early days of the pandemic. More places offer tests, and there are more types of tests available, adding to the convenience and comfort. Results, even for the most sensitive tests, now come back faster.
"The technology has been amazing," said Don Arthur, pharmacist and owner of Brighton Eggert Pharmacy in the Town of Tonawanda, where testing has expanded from simple rapid antigen tests to more advanced, quick-turnaround PCR tests. 
Testing advancements have come amid increased demand. Last week, more than 55,000 tests were administered in Erie and Niagara counties. That's a 46% increase compared with the last week of August in the Buffalo Niagara region.  
The sheer volume of information about Covid-19 test choices, availability and costs can lead to confusion. So here's an overview of what you need to know.
Q: What types of tests are out there?
A: There are two broad categories of tests. We used to differentiate them as either "rapid tests" or "slow-but-really-good tests." But don't think of them like that anymore because many of the "slow" tests aren't slow any longer.
The two broad categories are molecular and antigen.
Molecular tests are sensitive tests that take a viral sample and can replicate the genetic material many times to detect very small amounts of the Covid-19 virus. The more commonly known PCR tests are one type of molecular test. But there are others, like the nucleic acid amplification test, or NAAT, which works similarly.
It used to be that it would take a full day or longer to process and return results from a traditional PCR test, but with advanced technology, certain PCR test results can come back in 30 minutes.
Antigen tests look for certain proteins in the Covid-19 virus that triggers an immune response. Unlike molecular tests, antigen tests do not require specialized lab equipment to process a test sample. As a result, they are easier to use, cheaper and can produce results in 15 minutes.
The downside? Antigen tests are less accurate than molecular tests and are more likely to produce false negative results, especially if they aren't administered within the first week of symptoms. For those who have no symptoms, or who have had Covid-19 symptoms for more than a week, the likelihood of false negative results grows.
The good news for both types of tests is that, unlike the first days of the pandemic when many tests required deep, tear-inducing nasal swab samples, many of the current tests no longer require such an invasive procedure. 
Antibody tests also exist for those who want to know if they have previously had Covid-19 and carry antibodies, but that is not a diagnostic test designed to show if you are currently infected.
Q: Which test should I take?
A: If you are a cross-border or international traveler, rapid antigen tests are typically not accepted as proof of your Covid-19 status. You need a molecular test. 
If you've been recently exposed to the virus and have few or no symptoms, or you've had lingering symptoms for quite some time, you should also opt for the more sensitive molecular test.
Rapid antigen tests are also not typically accepted for students who are suspected of having Covid and are looking to return to school. Again the molecular test is the best choice.
However, if you have been beset with Covid symptoms and you've felt ill for a week or less, then the rapid antigen test may be cheaper, more convenient and reasonably reliable. 
Q: How much do these tests cost?
A: The do-it-yourself antigen tests are cheaper. They can be purchased online or from stores for less than $30. Or they could cost about $65 if you go someplace that administers the antigen test for you. Community Testing Services, which has locations in Buffalo, Amherst and Chautauqua and Cattaraugus counties, offers these antigen tests free of charge.
The cost for the molecular tests range from free to more than $200, depending on your circumstances and how much advance planning you do. The faster you need the results, the more it will cost.
Most county- and government-sponsored testing locations offer Covid-19 tests free of charge, as do certain Rite Aid and Walgreens locations, thanks to federal government support. A number of other testing businesses, including Quest, KSL, MedLab and CTS, offer free tests in certain instances, but do your research online or call ahead to be sure.
If you need a Covid-19 test because you feel sick or need it to undergo any hospital procedure, insurance should fully cover the cost or reimburse you if you paid out of pocket and can provide a detailed receipt. Urgent care centers will typically bill your insurance or New York State first before asking you for money.
In these scenarios, molecular test results are returned within one to three days. 
But if you need guaranteed molecular test results within a couple of hours, a place like Brighton Eggert Pharmacy will charge $140. Guaranteed next-day results are $125, with discounts for frequent border crossers. KSL charges $125 for results within 24 hours of less. Appointments aren't required but online registration is. 
Vital Pharmacy at the D'Youville College campus, near the Peace Bridge in Buffalo, offers 30-minute PCR testing for $140, and same-day results for $100. The pharmacy's rapid antigen tests are also more budget friendly than other locations, at a cost of $39. Appointments are booked online.
If it's 11 p.m. and you're stuck at the Canadian border or trying to board an international flight, then you may find yourself shelling out $225 for a 30-minute, real-time PCR test from WNY Rapid Testing, a local company that offers 30-minute PCR testing and other tests. The company has five locations, three of which keep evening hours seven days a week, unlike other testing locations. Hours run until 8 p.m. at the Peace Bridge, 12:30 a.m. at the Rainbow Bridge, and 1 a.m. at the Buffalo Niagara International Airport. There is little-to-no wait at any of the locations, said co-owner Karen Misiak, and inconclusive results are re-run free of charge. 
Q: Any other testing tips?
A: Do your research. Many testing sites and government health departments have online testing resources and Covid-19 hotline numbers to help you understand your options. Also, some testing businesses tend to be busier first thing in the morning, so you can reduce your wait time by getting tested midday or by making an appointment in advance if you have that option.
International travelers will save themselves time, money and aggravation if they plan ahead and know what their destination country requires for entry. Customer service representatives at testing companies may do their best to help, but it's up to you to know what vaccination proof is required and to obtain the test results you need within the timeframe your destination country requires.