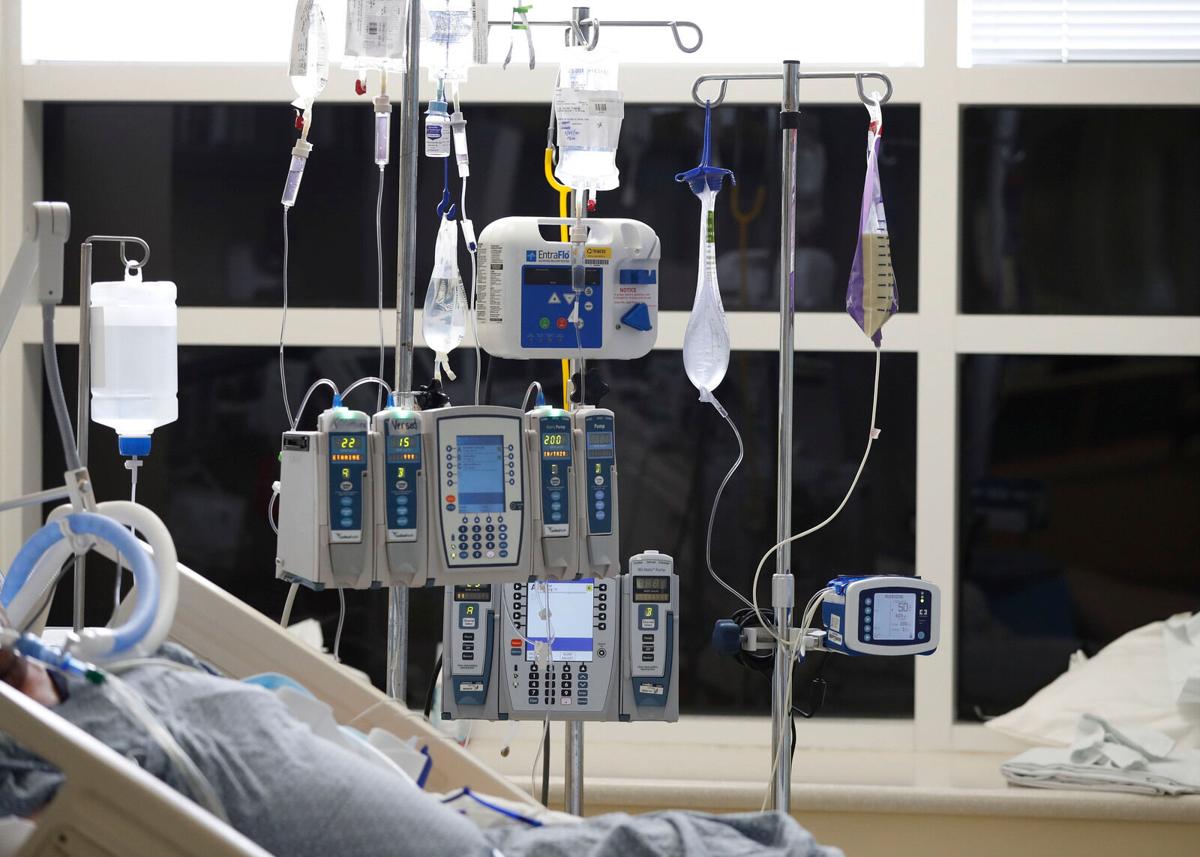 The number of beds available in Western New York hospitals to treat the sickest patients has fallen to the lowest levels since the start of the Covid-19 pandemic.
An average of 15% of the regional hospitals' intensive care beds were not filled during the week ending last Thursday, before ticking up to 17% as of Sunday, according to data from the state Health Department. This represents a sharp decline from about 10 days earlier, when 32% of the region's ICU beds were not being used.
The share of available ICU beds in the five-county region had never dipped below 30% until last month, the state reported, even during the previous Covid-19 waves of spring 2020, winter 2020-21 and spring of this year.
But government data suggest serious Covid-19 cases are not driving the recent surge in ICU hospitalizations.
More Covid-19 patients are requiring treatment in ICUs over the past three months, but the number remains below peak levels of the pandemic.
 Patients with other conditions and ailments are filling the region's ICUs.
"What could increase ICU bed use? A surge in elective surgeries? A surge in non-Covid admissions and people that have been staying home or dragging their feet addressing medical issues?" said Dr. Thomas Russo, chief of infectious diseases at the University at Buffalo's Jacobs School of Medicine and Biomedical Sciences.
That's happening at Erie County Medical Center. ECMC has 48 beds in its ICU. On Tuesday, 42 of them were in use, but just four for patients being treated for Covid-19, a hospital spokesman said.
State and Erie County health officials declined to say whether the shrinking available ICU space is cause for concern, or what steps they would direct local hospitals to take if the trend continues.
"The department is monitoring capacity in hospitals across the state," said Abigail Barker, a spokeswoman for the state Health Department. 
Available ICU bed capacity statewide was at an average of 22% for the week ending Sunday. The Capital region, at 6%, had the lowest available capacity, and the Mid-Hudson region, at 34%, had the highest.
Aside from the Capital region, only Central New York, at 11%, and Mohawk Valley, at 12%, were lower than the 17% average for the Western New York region made up of Erie, Niagara, Chautauqua, Cattaraugus and Allegany counties. Put another way, this means roughly 83% of all ICU beds in the region were in use. 
The average available capacity for all hospital beds in the region was 29% for the week ending Sunday.
ICU capacity in the region's hospitals had dipped below an average 45% in April 2020, less than a month into the Covid-19 pandemic, but rose above 50% by May 2020 and never fell below that threshold until December. It fell below 40% in January, and again in April, before rebounding in June and July.
This excess capacity began a steady decline in August that accelerated last month, data show, falling below 30% and then 20% in recent weeks.
The number of seriously ill Covid-19 patients in Western New York has risen dramatically since early July, from a pandemic-era low of four ICU patients as recently as July 16 to 52 such patients on Sunday. As of Friday, 36 of the region's Covid-19 ICU patients were in Erie County hospitals, Russo said.
But that regional total is lower than the peaks during previous waves of 89 in Western New York ICU beds on April 25, 118 on Dec. 15 and 130 on April 9, 2020 – periods when the region had far more excess ICU capacity.
"There are definitely Covid patients in the units, but it's not like it was a year ago, or beginning of this year," said Dr. John Sellick Jr., an epidemiologist and infectious diseases physician at Kaleida Health and the Veterans Affairs Western New York Health System.
Other critically ill patients
There are a few potential explanations for the shrinking ICU capacity in the region.
For one, local hospitals could have taken some ICU beds offline.
"That's the last place you want to cut back on," Russo said.
ECMC, for one, said this isn't the case. The medical center has maintained 48 ICU beds since last year, up from 36 before the pandemic.
It's also possible that patients who put off elective surgeries and other inpatient procedures for many months are now moving forward with them.
Falling into one general category of those who require care in an ICU are either patients recovering from a high-risk surgery or patients recovering from a less risky surgery who, because of a pre-existing health condition, are themselves at greater risk of suffering from post-surgery complications, Russo said.
Hospitals for long stretches of time earlier in the pandemic didn't perform many elective procedures to ensure they had enough ICU beds for the sickest Covid-19 patients. And the state under former Gov. Andrew M. Cuomo prioritized making sure hospitals had enough beds and ventilators to treat patients with the virus in the first weeks of the crisis.
"After the initial surge, and then after the winter/spring surge from last year, there's huge, pent-up demand for open-heart surgery and other complex surgery that requires ICU stays," Sellick said.
The hospitals also could be seeing a rise in critically ill patients from the community seeking care, Russo said.
ECMC's 42 ICU patients include a mix of trauma patients, patients in the medical ICU and four Covid-19 patients on ventilators, spokesman Peter Cutler said. By way of comparison, the U.S. Department of Health and Human Services said ECMC had 41 patients in 63 ICU beds on Jan. 15, with 11 of the patients battling Covid-19.
Kaleida Health, for the week ending Sept. 24, had patients in 139 of its 215 ICU beds, with 16 of them filled by a Covid-19 patient, according to federal data, meaning 35% of ICU beds were available. On Jan. 15, by way of comparison, 143 of 215 beds were occupied. That's a similar patient load, but 33 of the patients – double the number from September – were being treated for Covid-19.
At Mercy Hospital of Buffalo, the Catholic Health hospital with the largest ICU, 34 of its 40 ICU beds were occupied as of Sept. 24, but HHS did not report how many were Covid-19 patients. On Jan. 15, 31 of 40 ICU beds were filled, with Covid-19 patients in eight of them.
Managing ICU beds
How worrisome is it that the number of available ICU beds in the region shrinks?
The Erie County Health Department deferred questions on ICU patient loads and capacity to the hospitals and the state Health Department.
"I'm still not that concerned. We still have some capacity," Russo said. "I think we're getting close to turning the corner on this Delta wave. I don't expect a surge in Covid cases. I'm not so worried from a Covid point of view."
If he's wrong, Russo said, hospitals may have to postpone or scale back on elective surgeries, as they did last year.
Hospitals can, if necessary, add new ICU beds on a temporary basis, Russo said. ICU beds, however, are costly to equip and require specialized staffing, at a time when some hospitals are struggling to maintain workforce levels.
"We have been able to manage our current patient volumes," ECMC's Cutler said in an email. "We are most concerned with being able to discharge patients to nursing homes and congregate facilities, which would help relieve inpatient volume in ECMC. But the continuing staffing challenges at those outside facilities has created a bottleneck situation here and at other health care facilities in our region."
Studies have shown that mortality rates are higher at hospitals where staffs scramble to handle a surge in ICU Covid-19 patients, Russo said, as happened in the New York City metro area at the beginning of the pandemic and is happening now in some parts of the country where unvaccinated Covid-19 patients have filled ICUs.
"The Covid patients who are in the ICU are almost all unvaccinated," Sellick said.
Adding on "makeshift" ICU beds, Russo said, isn't an ideal solution.
"That puts a stress on the system, and when you stress the system, you always worry about outcomes may not be optimal," he said.
"People could go ahead and improvise, but obviously you only want to do that if you really need to," Russo said.