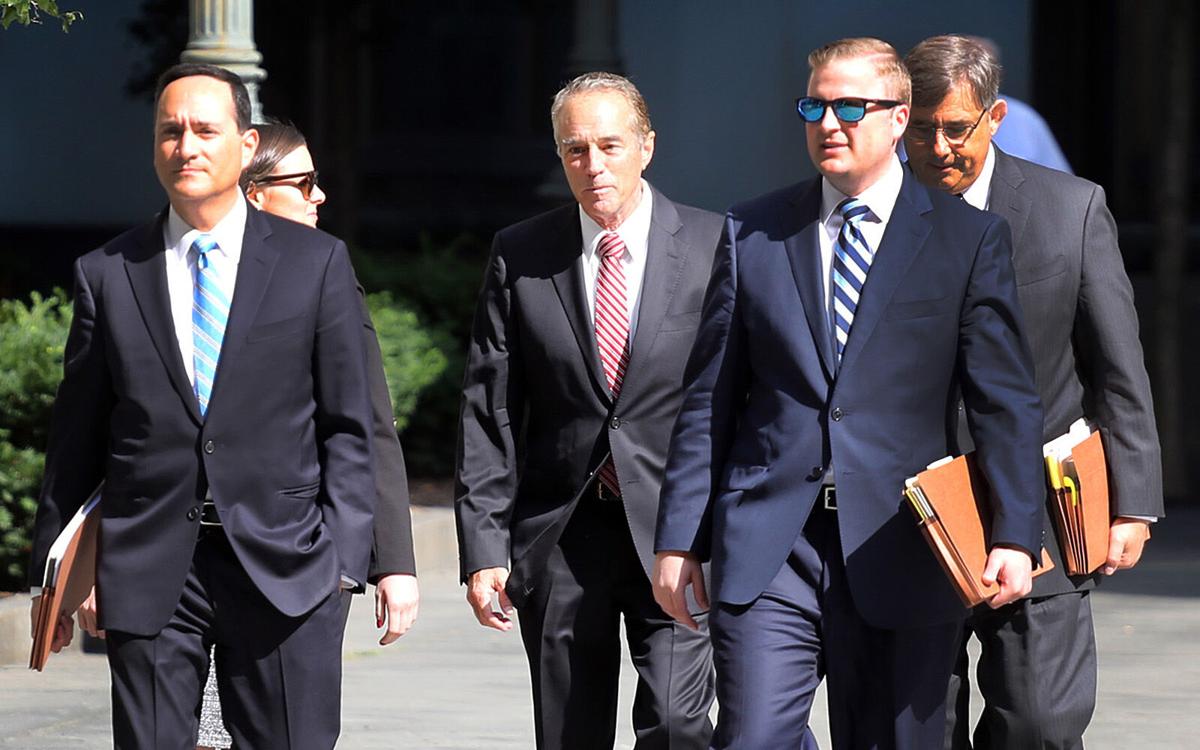 NEW YORK – Former Rep. Chris Collins Tuesday pleaded guilty to two felony counts tied to an insider trading scheme in a deal with prosecutors that calls for him to spend up to 57 months in federal prison.
In doing so, Collins – whose resignation from Congress took effect Tuesday – essentially admitted he had been lying when he insisted for the past 14 months that he was innocent.
In a statement to the judge, Collins acknowledged that while at a picnic on the White House lawn in June of 2017, he called his son with an inside stock tip that saved Cameron Collins hundreds of thousands of dollars.
Collins then told the judge that when the FBI asked about that phone call eight months after it happened, he lied.
"When I did these things, I knew they were illegal and improper," Collins said.
And now, he said, he's sorry about it.
"The actions I took are anything but what a model citizen would take," Collins said. "I am sorry with regret. There's nothing I can do to change that other than to take responsibility, own up to my actions and tell the truth."
Telling the truth meant that, in an agreement with prosecutors, Collins pleaded guilty to one count of conspiracy to commit securities fraud and one count of making false statements to the FBI.
In signing onto the plea deal, prosecutors agreed to forego the other charges they brought against Collins in a revised indictment issued in early August: seven counts of securities fraud, plus one count of wire fraud and one count of conspiracy to commit wire fraud.
Still, the charges Collins pleaded guilty to carry with them potentially severe penalties.
Under the deal, Collins agreed not to appeal a sentence of up to 57 months – although U.S. District Court Judge Vernon S. Broderick made clear that he could give Collins a prison term of more or less than that.
Each of the two charges includes a maximum sentence of five years in prison plus two years of supervised release, along with possible fines of $250,000 or more.
Broderick set Collins' sentencing for Jan. 17.
In sentencing Collins, Broderick will take into account a pre-sentencing report prepared by probation officers, as well as the opinions that prosecutors and Collins' lawyers file in court papers.
The judge also may take into account the apologetic act of contrition that Collins delivered during Tuesday's change of plea hearing.
In his own words, Collins acknowledged that for years, he served as a board member of Innate Immunotherapeutics, an Australian biotech firm with one product: an experimental treatment for a severe form of multiple sclerosis.
He was still an Innate board member when he went to a congressional picnic at the White House on June 22, 2017. There, he got an email from Innate's CEO, saying the company's only drug had failed in clinical trials.
"I was stunned," Collins said. "I was devastated by the news, and thinking of the MS patients who would not be able to get treatment.
"I was in a very emotional state, and I called my son, Cameron," Collins told the judge. "I made it clear (to him) that the trial had not been successful."
In doing so, "I understood I was allowing him to avoid trading losses. I knew the news would have a devastating effect on the stock price."
Armed with that knowledge, Cameron Collins started dumping his Innate shares the next day, three days before the company publicly announced that its drug failed. Prosecutors say Cameron Collins, 26, saved himself from about $570,900 in losses. Prosecutors also say Cameron Collins then passed the bad news on to Stephen Zarsky, his prospective father-in-law, thereby averting losses of around $143,900.
Cameron Collins and Zarsky have also agreed to plead guilty. They will do so at a hearing before Broderick on Thursday.
Chris Collins was by no means ready to do that, though, when FBI agents knocked on the door of his Washington condo in April 2018.
"I falsely denied to the agents that I had told Cameron about the drug trials," Collins told Broderick.
Collins then launched into an extended apology.
"I'm sorry for the pain I have cause my wife, who has been devastated these last 18 months, for my son, for putting him in this jeopardy at this young age.
"I don't think regret is the proper word for it," Collins continued, noting that he had let down his friends, Innate's other board members and "my constituents as a member of Congress."
That's a far different sentiment than the one that Collins, a Clarence Republican, had expressed since his arrest on Aug. 8 of last year.
Repeatedly, and as recently as three weeks ago, he proclaimed his innocence.
"I continue to say I'm innocent and have every confidence I will be exonerated," Collins told reporters after pleading not guilty to the renewed indictment in federal court here on Sept. 12.
Twelve days later, on Sept. 24, Collins signed the plea agreement. Several sources close to Collins said Tuesday that he did so to protect his son, who is likely to get a lesser sentence by pleading guilty to fewer charges than if found guilty by a jury to multiple felonies.
The same is true for Collins.
Collins did not respond to questions shouted at him by reporters as he rushed down the courthouse steps and slid into the back of a black SUV that was quickly swarmed by camera crews.
Geoffrey S. Berman, the U.S. attorney for the Southern District of New York, did not say why prosecutors agreed to the lesser deal.
Speaking with the press after the hearing, Berman took no questions, instead simply reading a prepared statement.
"By virtue of his office, Christopher Collins helped write the laws of this country, but he acted as if the law did not apply to him," Berman said. "Today, by pleading guilty, Collins acknowledged that while he was a member of Congress he committed insider trading and then lied to the FBI in an attempt to cover it up."
Despite Collins' admissions in court Tuesday, the judge seemed concerned that Collins might keep lying when he speaks to the probation officers who will prepare his pre-sentencing report.
Accepting the plea agreement, Broderick pleaded with Collins.
"I'd ask that when you speak to the probation officers, that everything you tell them is the complete truth," the judge said.