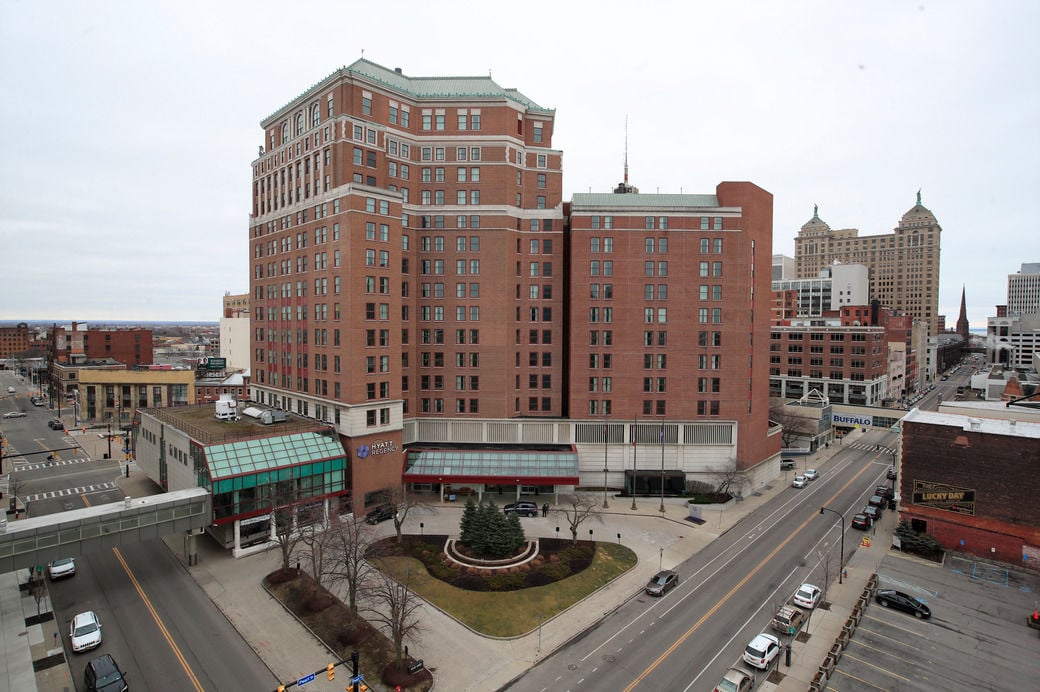 Snyder Corp. may be dealing with a new lender on its flagship Hyatt Regency Hotel in downtown Buffalo, as the special servicer on the $20.7 million mortgage has put the loan up for sale.
Miami-based LNR Partners is seeking a buyer for the nonperforming commercial real estate loan – now in foreclosure – that is secured by the second-largest full-service hotel in Buffalo.
Located at Fountain Plaza and connected to the Buffalo Niagara Convention Center, the 396-room hotel has been owned by Snyder Corp. since it opened, but is now being operated by a court-appointed receiver – Raymond Walter – effectively locking Snyder out while the foreclosure process winds through court.
As a result, the loan and hotel are being offered without restrictions on either the hotel brand or the management, and investors have "the opportunity to pursue lender's rights and a potential path to title."
The call for offers is being conducted on LNR's behalf by a New York City-based team of brokers from CBRE's National Loan & Portfolio Sale Advisors group, along with CBRE Hotels.
No minimum price was disclosed. Bids are due by Thursday, Oct. 22.
"This offering represents an opportunity to acquire a nonperforming loan secured by an urban, full-service, nationally branded hotel in good physical condition at a fraction of replacement cost given the high barriers-to-entry and rising construction costs in downtown Buffalo," according to the CBRE offering.
CBRE also noted the $441 million proposed renovation and expansion of the convention center, which would double its size. The plan was unveiled in February 2020 – just before the coronavirus pandemic closed down business activity.
"This would significantly improve the appeal to regional groups as well as attract groups that have turned to other markets with more modern facilities," CBRE wrote. "As the Hyatt is the convention center's headquarters hotel, it would benefit greatly from the renovation and expansion."
However, there's no guarantee the loan will fetch what CBRE and LNR are hoping for. The hospitality industry has been hammered by the coronavirus pandemic and resulting restrictions, forcing many hotels to close and lay off staff, either temporarily or even permanently.
As a result, they're not worth as much on the open market as they used to be. Last week, the Rhode Island-based owner of the Buffalo Niagara Marriott rejected the high bid during an auction for the region's largest suburban hotel because it came up short of the reserve – and was just half of what the company owes on its own mortgage.
The sale marks the latest chapter in the saga of the well-regarded landmark hotel, widely considered the premier hospitality destination in Buffalo for conventions, meetings, galas and other events – but currently closed because of the coronavirus pandemic and the battle over its brand and ownership.
Developed from the historic Genesee Building that dates to 1922, the 16-story hotel opened in 1984 on 1.8 acres, and was fully renovated in 2008-2009. It includes more than 27,000 square feet of function space with 10 meeting rooms, three dining options, a fitness center and spa, an indoor swimming pool, a full-service business center and a gift shop and newsstand.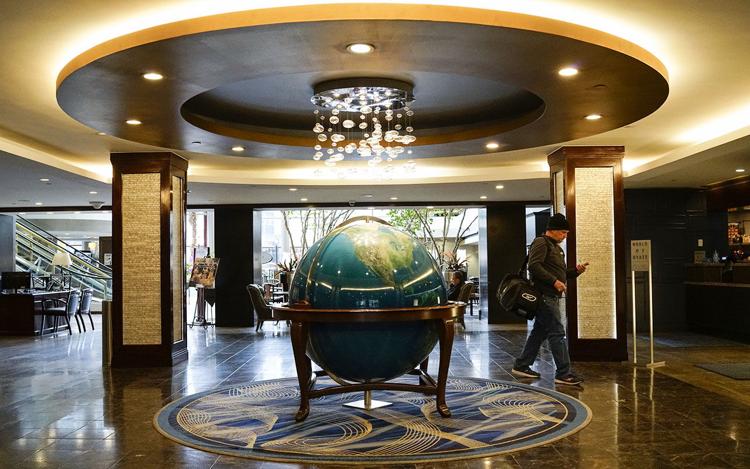 But it was also fairly unique among Hyatt properties nationwide, because while Snyder owned the building and effectively the hotel, it was operated completely by Hyatt Hotels Corp. under a rare management agreement that dated back to its founding. And Hyatt had longed for years to get out of that costly relationship, preferring to franchise its brand instead.
When the coronavirus pandemic hit the United States early this year, it laid bare the underlying tensions, as the precipitous drop in both leisure and business travel sapped hotels' revenues and devastated their bottom lines. Hyatt and Snyder privately fought over funding the losses, with Hyatt demanding that Snyder cough up $2 million in working capital in April, plus additional infusions as needed, while Snyder said it wasn't obligated to do so under the agreement, especially since the hotel was closed.
Hyatt finally pulled the plug in May, announcing that it would terminate the agreement and affiliation and lay off the hotel's staff. Snyder sued, and obtained first a temporary restraining order and then a preliminary injunction to block Hyatt's move. But the court also agreed that the burden wasn't all Hyatt's, and required Snyder to deposit $1 million into the hotel's operating account and post an $843,000 bond for future costs. When Snyder failed to do so, the injunction was lifted.
Meanwhile, though, Snyder had also defaulted on its $21 million mortgage, leading LNR to file for foreclosure in mid-June. Walter was appointed on June 29, and hired Aimbridge Receiver Services to manage the hotel. Discussions ensued among Hyatt, LNR and Aimbridge about transitioning to new management and ownership. The sale of the loan would facilitate that movement.
The hotel remains closed.