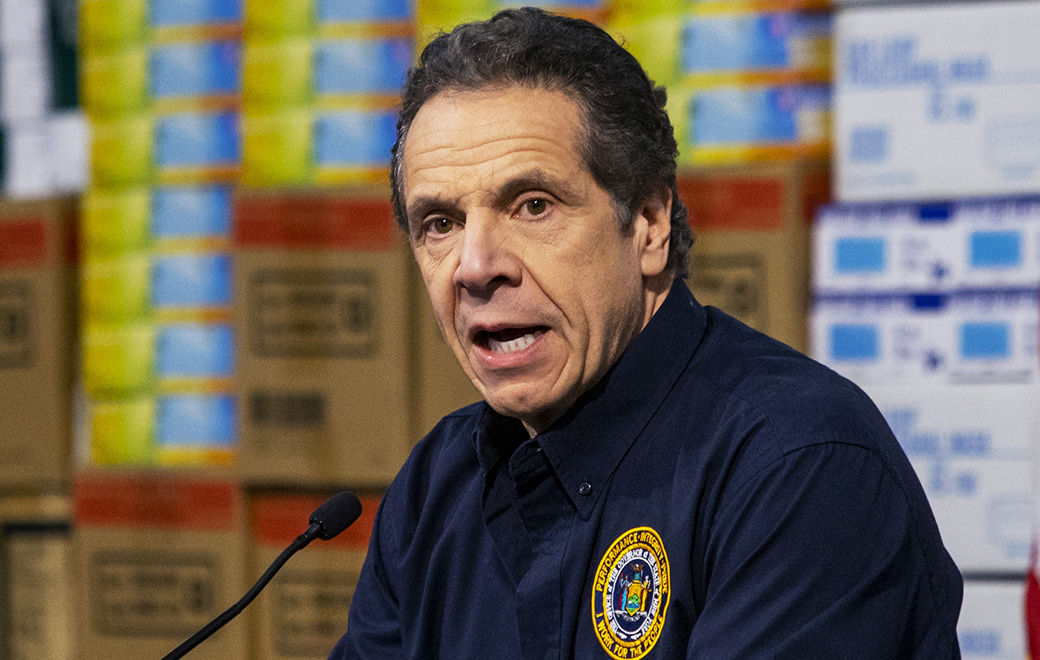 As some of the country reopens amid the coronavirus pandemic, Gov. Andrew M. Cuomo said the debate is best characterized this way: "How much is a human life worth?"
During his daily briefing Tuesday in New York City, the governor said updated models are projecting more lost lives due to the coronavirus, projections that have increased because of the states that have recently reopened or plan to do so.
"There's a cost of staying closed, no doubt. Economic cost. Personal cost," he said. "There's also a cost of reopening too quickly. Either option has a cost.
"The faster we reopen, the lower the economic cost, but the higher the human costs, because of the more lives lost. That is the decision we are really making. What is that balance? What is that trade-off? Because it is very real."
The governor also pointed to an Institute for Health Metrics and Evaluation model that projects the number of coronavirus deaths by Aug. 4. The model had projected 60,000 deaths on April 7 and April 17; as of Monday, the model was projecting more than 134,000 deaths.
"Why are they going up?" Cuomo said. "Now they're factoring in the reopening plans and schedules that states are announcing."
Cuomo announced Monday a list of criteria that regions of New York State would have to meet in order to reopen by May 15. The criteria showed that Western New York is lacking in several standards.
"To me, I say the cost of a human life is priceless, period," he said. "Our reopening plan doesn't have a trade-off.
"Our reopening plan says you monitor the data, you monitor the transmission rate, you monitor the hospitalization rate, you monitor the death rate. If it goes up, you have a circuit breaker: You stop. You close the valve on reopening.
"But it is a conversation we should have openly. Hard conversation, a painful conversation, a controversial conversation. ... But it's also the right conversation. Because those are the decisions we're making."
Cuomo again took aim at Washington, as he as done several times in recent weeks, especially regarding a lack of stimulus funding for state and local governments. On Monday the governor cited President Trump criticizing the "mismanagement" of New York and his use of the word "bailouts" regarding states that are struggling financially due to to the coronavirus.
"Every state has coronavirus cases, and it's not just Democratic states that have an economical shortfall," Cuomo said. "What we're asking, what every state is asking: Because of the coronavirus, we need financial help in restarting the economy. How do you call that a bailout? Which is such a rhetorical, hyperbolic word. There's no bailout."
Cuomo again cited New York's contribution to the "pot" of money that the federal government collects via taxes.
The governor said the top contributing states, on an annual basis, were New York ($29 billion); New Jersey ($18 billion); Massachusetts ($12 billion); Connecticut ($9 billion); and California ($6 billion).
He also named the five states that receive the most from the pot each year as Virginia ($82 billion); Maryland ($42 billion); Kentucky ($37 billion); Alabama ($32 billion); and Florida ($30 billion).
"This whole discussion that ... senators are raising this is counterproductive, and it will lead to defeat for all of us," Cuomo said, referring to the "blue-state bailouts." "You need a bipartisan bill to pass. If you go down this path of division, you will defeat all of us. If you don't think about the collective interest, you're going to defeat us all."
Cuomo said Trump needs to "be the reasonable one" or he will "have failed as a leader."
"He has to be the compromiser," Cuomo said. "The Democrats in the House cannot be fooled again. They cannot pass a bill that does not provide help to the people they represent. They can't do that and then come home and stand before the people they represent."
Cuomo said the state's hospitalization numbers continued to decline, with a decrease in net hospitalizations and intubations and total hospitalizations at 9,600, a figure the governor described as "basically flat."
The state's coronavirus death toll Monday was 230, a slight rise from Sunday (226) and the fifth straight day in the 200-range.
"There's no doubt that we're coming down the mountain," Cuomo said. "The only question is what trail we take, how fast does the decline happen. ... That is purely a function of what we do."