Truck backups spilled over from the border bridges to the I-190 and beyond in both Buffalo and Lewiston Friday as Canadian customs unions began a work slowdown to protest long-stalled contract negotiations.
By midafternoon, truckers hoping to cross the Peace Bridge were backed up all the way into the streets of downtown Buffalo as far as Niagara Square, prompting Buffalo police to take to Twitter to warn motorists to avoid Niagara Street. And at both the Peace Bridge and the Lewiston-Queenston Bridge, wait times for truckers hoping to cross into Canada stretched past two hours through much of the day.
The traffic "was well up the Thruway, throughout the city of Buffalo," said Ron Rienas, general manager of the Peace Bridge. "It was a mess."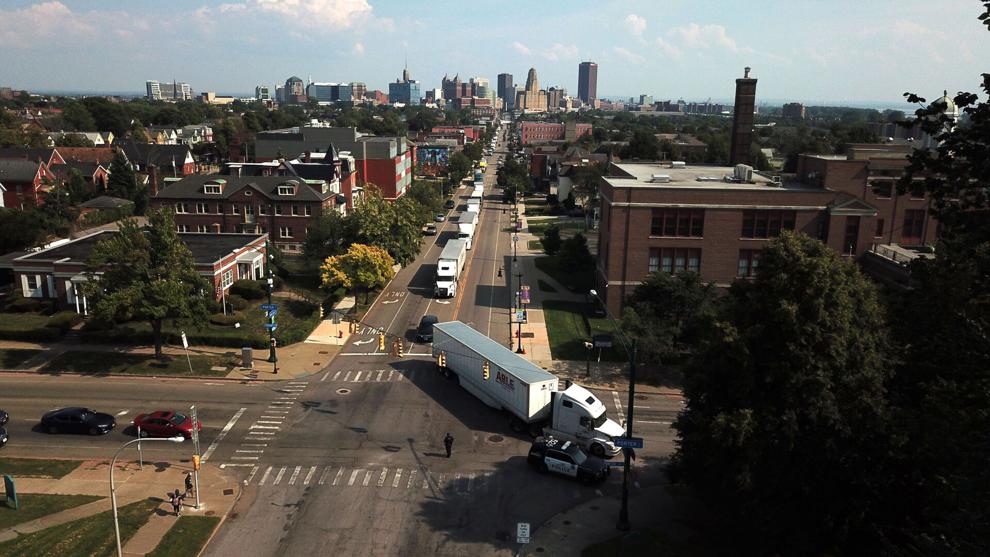 For the Public Service Alliance of Canada and its Customs and Immigration Union, it was a well-timed mess that put pressure the Canadian government to resolve the labor dispute, coming shortly before most Americans will be allowed to cross the border bridges for the first time since the early days of the Covid-19 pandemic.
It appears to have worked. Late Friday, the border agents' union posted it had reached a tentative agreement with the Canadian government following a marathon 36-hour bargaining session. 
It wasn't immediately clear whether that would mean an immediate end to the labor protests that caused Friday's delays. 
Passenger lanes at both the Peace Bridge and the Lewiston-Queenston Bridge remained relatively clear throughout Friday, but that was largely because there was so little passenger traffic. That situation could change at 12:01 a.m. Monday, when the border opens to nonessential travel for the first time since March 21, 2020.
Commercial traffic has long been considered essential, meaning truck travel over the border bridges has fallen only slightly during the pandemic. And on Friday, with Canadian border agents practicing a "work to rule" job action that slowed the customs process, the truck traffic at the border bridges was overwhelming.
"There's a safety concern when you get trucks backed up on the 190," Kenneth N. Bieger, general manager of the Niagara Falls Bridge Commission, said. "You know, you don't want somebody coming in there at 60 miles an hour and suddenly all these trucks are stopped."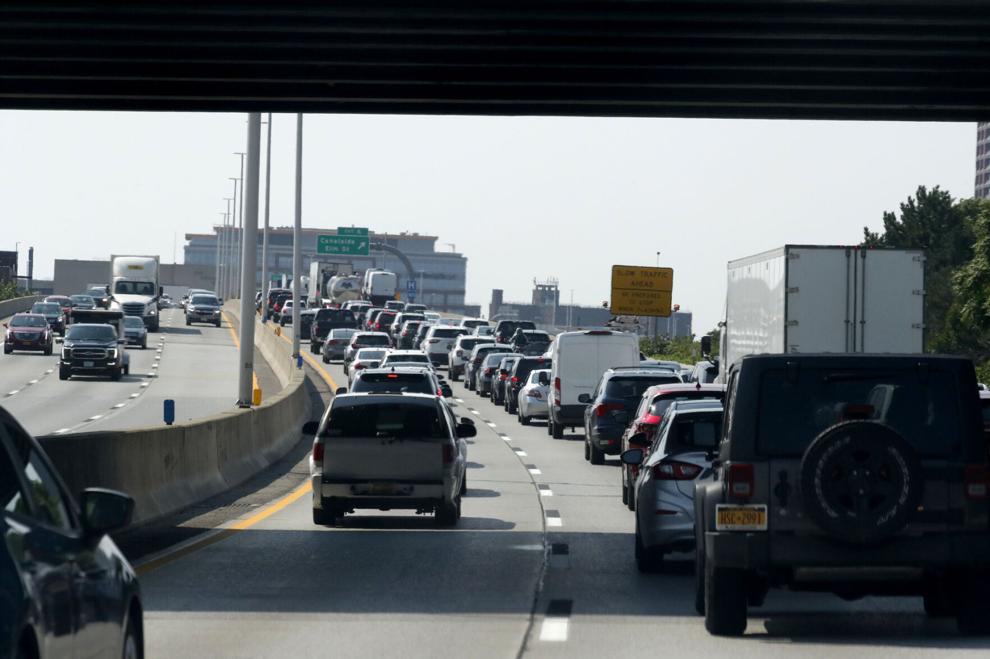 Backups occurred at bridges all along the U.S.-Canadian border, Rienas added.
The Canadian unions, who represent customs agents at the Canada Border Services Agency, or CBSA, focused not on safety concerns, but on their yearslong contract dispute with the Canadian government.
"This is our opportunity to cause significant disruptions to CBSA operations and force the government to come back to the table to address the toxic workplace culture at CBSA and provide parity with other law enforcement personnel across Canada," the Customs and Immigration Union said on its website.
Canadian customs officers are considered essential personnel who are not actually allowed to strike. But they can stage work-to-rule protests that disrupt the border-crossing process, and that's just what the Customs and Immigration Union instructed its members to do causing Friday's backups that spilled onto the streets of Buffalo's downtown and Lower West Side. 
"Don't work during your breaks or unpaid lunches," the union said on its website. "Don't work past your scheduled work hours. Ask every question in your manual at ports of entry. This may cause long and unavoidable delays at Canada's borders, but we know you take pride in your work and will rely on your discretion to not cut any corners while performing your duties."
By doing that, "we'll send a clear and decisive message to the government: we're prepared to do what's necessary to make CBSA a better and safer place to work," the union said.