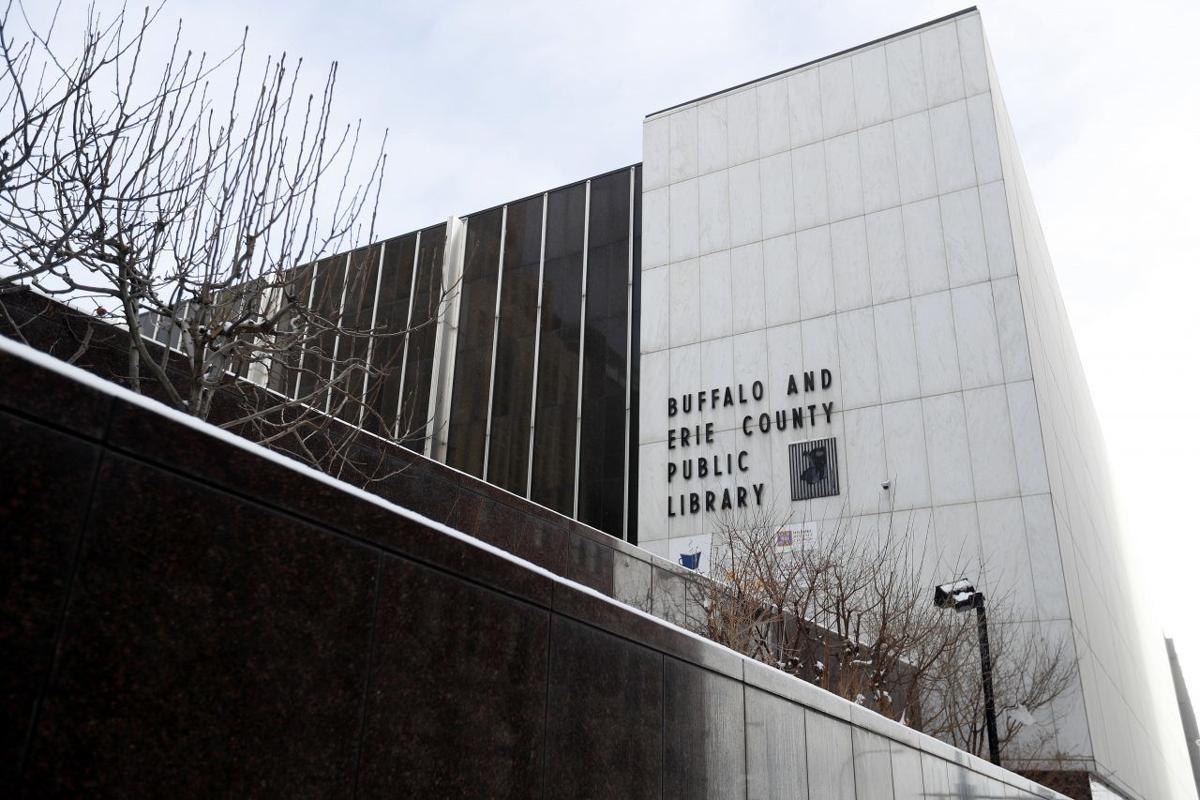 Public libraries aren't often the stuff that memes are made of. But the Buffalo and Erie County Public Library is basking in the sweet, sudden glow of internet fame after an Instagram post praising the library went viral on social media.
The post – a photo of a lime-green Buffalo library tote bag, overlaid with comically exuberant exclamations about the library's features – was shared to Twitter Tuesday by stand-up comic and Clarence High School graduate Maddy Smith, where it racked up 196,000 likes and 22,000 retweets in less than 48 hours.
"Someone I follow on Instagram thinks she discovered the library," Smith joked. The model and TV host Chrissy Teigen has since tweeted about the image – as have singer Carrie Hope Fletcher, writer Beth McColl and dozens of other online personalities and influencers.
"Believe me when I say to you that we are following and taking advantage of this," said library director Mary Jean Jakubowski, who got in on the action Thursday with a tweeted picture of herself reading Teigen's cookbook. "I mean, as of about an hour ago, it's at nearly 190,000 tweets – I get goosebumps and those little tingles."
To 27-year-old Marisa Miosi, who posted the original Instagram two weeks ago, all this unexpected attention represents an opportunity for the library to attract more users. Miosi, who works for her family's IT consulting firm and grew up in Clarence, visited the Central Library for the first time in July after moving to downtown Buffalo with her boyfriend. While Miosi describes herself as an avid reader – her monthly book club is currently working through Tara Westover's "Educated" – Miosi rarely visited the library as a child, and has since mostly bought e-books for her Nook reader, she said.
The Instagram post, Miosi added, was intended to get the word out to other locals who aren't familiar with the library's full range of resources. Among other things, it praises the library for offering a 3D printer and music-streaming service and letting users borrow "up to 50 books at a time for 3 weeks for FREE!!!!"
"Ok I am TOO excited about this and need to share!" Miosi wrote.
But the post didn't attain true viral status until Smith – Miosi's old high school classmate and a cast member on MTV's "Wild 'N Out" – reshared it with her far larger audience on Twitter. Miosi's deadpan earnestness struck Smith as a "humorous way of describing libraries," she said, "almost like satire."
The retweets and comments began rolling in by the thousands. Some have criticized Miosi: "omg she's so out of touch," one Instagram user wrote. "Someone didn't go to public school and it shows," said another. (Miosi acknowledges that her post came off as "entitled" to some readers, particularly given her socioeconomic background.)
But the bulk of the internet commentariat – Chrissy Teigen included – defended Miosi's unbridled enthusiasm for the public library system, especially at a time when the institution is evolving and adding new services.
"I just went to the public library for the first time in *23* years. I could not believe my eyes," Teigen wrote.
"Seriously. go to the library. it's a delight," she added.
Jakubowski points out that even seasoned cardholders often don't realize the Buffalo library offers free access to things like virtual reality glasses, musical instruments, high-end cameras, board games, streaming services and sports equipment. She's grateful to Miosi and Smith for getting the word out, she said.
Smith, for her part, told The Buffalo News that her post was not meant to mock Miosi or libraries, and that the two have since chatted on Facebook. On Thursday morning, she posted a picture of herself holding the self-help book "Chill" below the message: "Everyone on twitter should go to their local library and check this out."
Jakubowski said she expects sign-ups for BECPL library cards to jump this week. And to Miosi, the original library 'grammer, that's a happy end.
"All my friends are like, 'The library should hire you to be their spokesperson or brand ambassador,' " she said. "Because I'm so excited about it. I really am."