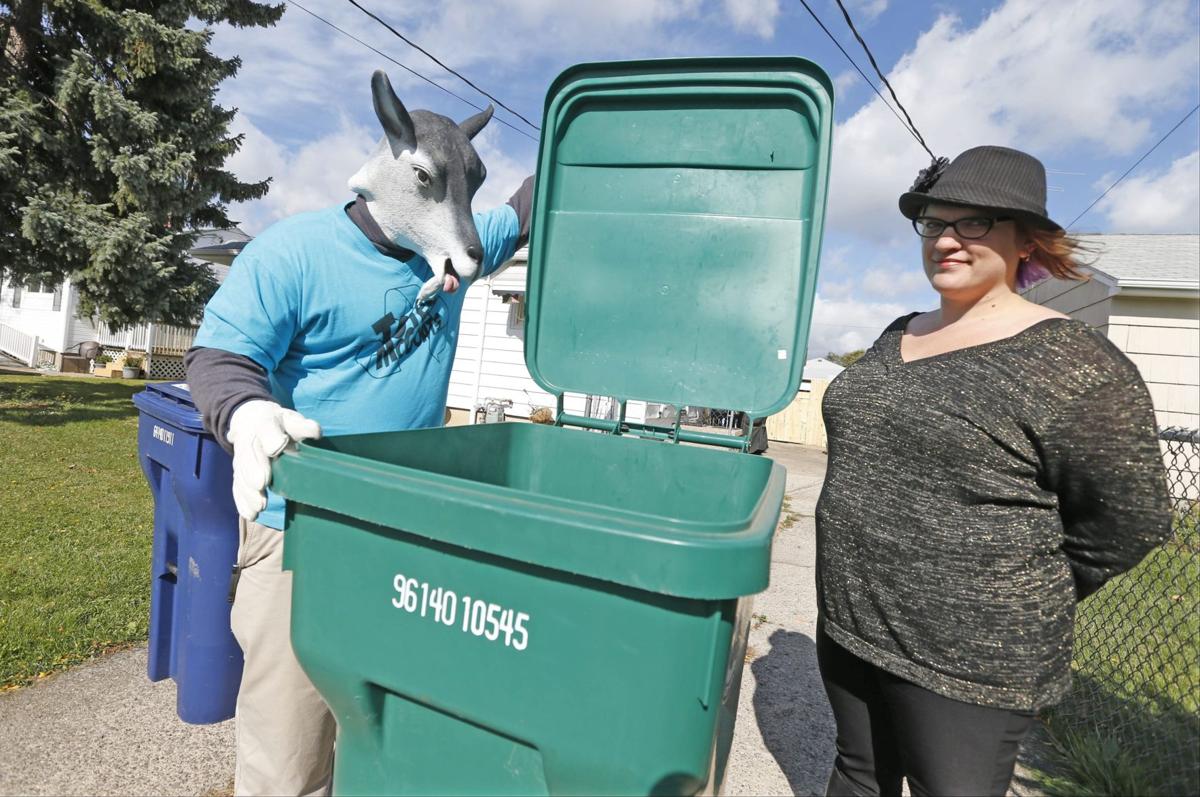 The "Recycla-Bulls" just didn't have that certain je ne sais quois Brook D'Angelo was looking for.
As the program coordinator of Niagara Falls' Solid Waste Education and Enforcement Team, she was searching for a mascot that would inspire young people to throw their empty water bottles, cardboard boxes and soup cans into the city's new 96-gallon green recycling totes, instead of the trash.
There were already so many bulls, bison and buffalo logos roaming the Niagara Frontier, she thought. So last summer, D'Angelo and her friend and collaborator Chris Stoianoff, a promoter with Niagarahub.com, went back to the drawing board.
D'Angelo never dreamed that the kooky, kind-of-scary goat-headed guy they came up with would be rocketed to international, social media stardom.
"You hope somebody pays attention," said D'Angelo, the woman behind the Internet phenom that is Totes McGoats. "But this has been beyond expectations."
D'Angelo, 31, isn't your prototypical municipal worker.
The Falls native has degrees in communications from Niagara County Community College and SUNY Buffalo State and is part of a tightly knit group of artists and other creative types in the city.
Passionate about the city she grew up in, she has owned a photo studio, worked as a wedding planner and has been involved in many artistic projects that try to bolster Niagara Falls' image.
She also has a history of getting creative with recyclables. She makes "wearable art" using upcycled items like garbage bags and junked plastic to create runway-style fashion.
And D'Angelo has faced hard times – she jokes that her friends say the Lemony Snicket movie was misnamed.
"It should have been called 'Brook D'Angelo's A Series of Unfortunate Events,'  " she says laughing and without a hint of self-pity.
When she was a student at Buffalo State, D'Angelo was in a serious car accident that left her with a broken neck. She put off surgery three years so that she could finish school. She finally had the operation and couldn't work for months.
"I took some solace in creativity," she said.
She did something silly. She took a look at the X-ray of her neck, which now had part of a cadaver's bone, two metal plates and four screws in it.
"I photoshopped lips and a necklace on it," she said.
A year later, she was in another car accident and ended up having two artificial discs put in her neck.
She also found out she had a benign tumor on the other side of her neck, which resulted in a third operation.
D'Angelo ended up making a series of artworks with all of her X-rays.
Her surgeon, Dr. Andrew Cappuccino of Buffalo Spine Surgery, who is famous for operating on Buffalo Bill Kevin Everett, has her X-ray art up in his office, she said.
"I'm very, very honored," she said.
D'Angelo went to work at Niagara Falls City Hall a year and a half ago as part of what would become the Solid Waste Education and Enforcement Team. She tends to refer to the team by its acronym: SWEET.
"Sounds so much better," D'Angelo said.
In mid-2014, Mayor Paul A. Dyster began rolling out what would end up being a controversial overhaul of the city's garbage and recycling program. Over the summer, the city issued about 46,000 new totes to residents and some businesses – a 64-gallon blue cart for regular garbage and a 96-gallon green one for recycling. The garbage would be picked up once a week, the recycling every other week.
The goal was to improve on Niagara Falls' 4 percent recycling rate, which an analysis by the Investigative Post found was the worst in Western New York.
Many in the Falls complained.
Business owners wanted to know why they would no longer receive free service. Others raised questions about what to do if their totes were stolen.
Dyster needed someone to spearhead an outreach effort. He brought on D'Angelo, who he knew from the local arts community.
"We were looking for someone to be the face of the city on the recycling issue, someone who would be very imaginative but used to making something out of nothing," Dyster explained.
D'Angelo fit the bill, Dyster said, and she went to work meeting face to face with the city's residents and business owners about recycling. It hasn't been easy work.
"People will tell you they are hungry for change here, but if you try to change something …" Dyster said, it's met with some resistance.
Within a few months, it was starting to work. By January, when the city's ordinances related to the totes went into effect, the city's recycling rate was up more than 16 percent.
D'Angelo recalled how she and her promoter friend, Stoianoff, were trading ideas this summer about getting the recycling message to older kids and millennials.
"There's no one way to reach anyone anymore," D'Angelo said. "Not everyone gets the paper. Not everyone watches the same news channel. People don't even open their mail anymore."
Making things even more difficult: They had virtually no budget.
What they needed was a mascot.
One night, Stoianoff texted D'Angelo: "How about Totes McGoats?"
"Totes magotes" is teen/Valley Girl/millennial speak for "totally." It was used liberally in the Paul Rudd movie "I Love You, Man."
James Earl Jones and Malcolm McDowell bellowed the words like Shakespearean dialogue in a 2014 Sprint commercial, dramatizing text messages of "Lizzy and Kim."
Totes: fit with the recycling program.
They eat everything – which parallels recycling – and then there's the association with Goat Island of Niagara Falls State Park.
"There's no way that recycling is going to be sexy. You know what I mean?" she said. "You have to be creative. If silly is the way to go, then you make your mark and you make it distinct."
"What am I going to dress this guy in?" D'Angelo thought.
She knew she couldn't go out and spend thousands on a cute, furry costume.
She went to her friends. One friend, a tattoo artist, came up with a logo: "Totes McGoats" with the three-arrow recycling logo around it. Another friend hand-brushed the logo onto three shirts.
D'Angelo then started Googling for just the right goat head. She found it on Amazon.com.
The whole costume, from the goat mask to the shirt and gloves, came to $101.70.
Last Wednesday, the city wanted to publicize that Modern Disposal, the company Niagara Falls has contracted with for garbage and recycling, was offering free bulk pickup of up to six items next week and the week after.
But how would they get the word out?
The TV stations weren't going to schlep all the way out to the Falls for a news conference about garbage pickup.
"Why don't we make the announcement about the mascot?" Dyster said he and D'Angelo thought.
D'Angelo had plans for her and Totes to star in a video about recycling, complete with a jingle, that would be aired mid-November.
But the Wednesday bulk garbage event needed Totes.
An unidentified public works employee donned the Totes McGoats costume – "He's a man of mystery," D'Angelo said – and stood flanked by Dyster and D'Angelo on the steps of Niagara Falls City Hall.
Within hours, the Internet was in love with Totes McGoats.
Time. Huffington Post. Cosmopolitan. MSNBC.
The creepy, recycling-loving, goat-headed mascot that looks like it is straight out of a David Lynch film was click bait incarnate.
D'Angelo fielded calls from around the world over the next couple of days.
"I expected great things out of Brook," Dyster said. "I thought maybe we'd get a mention in Recycling magazine or something, but I don't know how anyone could have predicted this. It became a meme."
D'Angelo hopes the silliness will lead to more people recycling and thinking about the taking care of the environment.
"It's just another way to reach people," she said. "Some people learn visually. Some people like to read. Some prefer face to face."