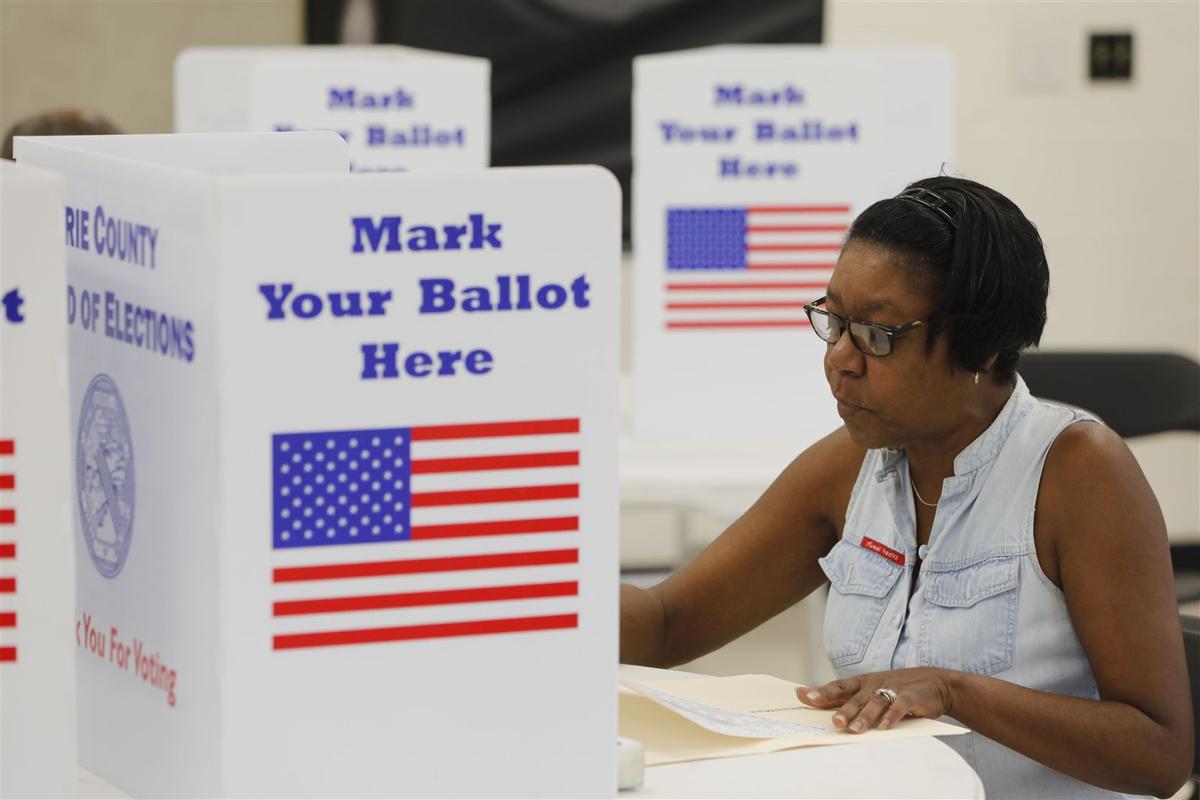 School board elections tend to attract little interest and few voters.
This year, that changed – courtesy of the pandemic.
Typically, people cast ballots in person to vote on the school budget and to select school board candidates. A handful of people mail in absentee ballots.
For today's school board elections, all in-person voting was replaced with mail-in ballots as a precaution to prevent the spread of Covid-19. Districts were required by Gov. Andrew M. Cuomo to mail a ballot and a postage-paid return envelope to every voter.
"It was so easy to designate who they were voting for and put it in a self-addressed, stamped envelope," said Jay Worona, a spokesman for the New York State School Boards Association. "It was a lot more convenient."
And more convenience yielded more voters.
In many places, three to four times as many as in a typical election. Williamsville, for instance, usually sees about 3,000 people vote. This year, more than 12,000 have already voted. In Niagara Falls, somewhere around 2,000 people usually vote. This year, 6,000 have.
And more votes may still arrive.
Ballots have to be received by mail by 5 p.m. today to be counted. Voters also had the option of hand-delivering their ballots, as long as they were received by 5 p.m. June 9.
While that's great news for civic participation, it created some logistical challenges for school officials – primarily, how to open and count hundreds or even thousands of ballots as quickly and accurately as possible.
Every district has some experience opening and counting absentee ballots – but relatively few. For instance, Orchard Park officials usually have 80 to 100 absentee ballots to open and count. This year, they have more than 7,000 paper ballots.
District clerk Cheryl Connors estimates it will take three or four hours for a dozen election workers to open all of them. She will have three stations set up to ensure no one can find out how a particular person voted. At the first station, workers will slice open the envelopes At the next, a different set of workers will take the ballots out of the envelopes. Finally, another set of workers will unfold the ballots and put them in a bin that will be sealed and secured until the ballots are counted.
Luckily, election workers in Orchard Park and many other local districts will not have to count the ballots by hand.
The Erie County Board of Elections invited districts to bring their opened ballots downtown, where workers will feed them into a high-speed scanner, which can handle about 14,000 ballots an hour, according to Elections Commissioner Ralph Mohr.
"We kept telling the districts it's a big job," Mohr said. "Some of them were delusional and said, 'We'll just count them by hand.' "
All but one or two districts in Erie County plan to have the Board of Elections scan their ballots, he said. Lackawanna has decided to count its own ballots, and Holland might decide to do the same, he said.
In Niagara County, districts will be counting their own ballots.
Some districts in Erie County say they believe they will be able to open all of their ballots and have them scanned Tuesday night, so that the results can be announced by the end of the day. At least one of the largest districts in the area, though, realizes it might not be possible to get its ballots downtown to be counted that quickly.
"This will likely be Wednesday," said Patrick Fanelli, spokesman for the Kenmore-Town of Tonawanda School District.
Adding yet another twist to this year's unusual school voting is that districts are supposed to make the opening of ballots as transparent as possible, once they begin opening them at 5 p.m.
What exactly does that mean in the midst of the pandemic?
"The expectation is that districts will be livestreaming the opening of the ballots," Worona said. "The law basically says people are supposed to be able to watch in real time the process."
Some districts will have the technology available to livestream, he acknowledged, while some will not.
In Erie and Niagara counties, officials from some districts said they plan to livestream, while others said no one has told them they need to do that.
From the surge in voter participation to the logistics of counting ballots and livestreaming, this year will be like no other.
"I think it would be appropriate to say that this is going to be a very interesting view of modern democracy in the Covid-19 world we live in," Worona said.
Concerned about COVID-19?
Sign up now to get the most recent coronavirus headlines and other important local and national news sent to your email inbox daily.