Erie County's announcement this week requiring proof of Covid-19 vaccination for all those attending events at Highmark Stadium or KeyBank Center is being called many things: necessary, controversial, overdue, unfair.
But two things it is not are spontaneous or new. 
Erie County Executive Mark Poloncarz said as far back as April that no one had a "God-given right" to attend a Bills game, announced a requirement for all stadium attendees to be vaccinated, and went toe-to-toe with the governor over who had more authority to set the rules.
Poloncarz rescinded the vaccination mandate in June, as cases plummeted and the pandemic seemed to be nearing an end. But within weeks, county and team officials together were taking another look at the plan as cases seemed to be on a relentless upward climb. 
"Yesterday was the highest day of new cases since April," Poloncarz said Wednesday, referring to the 322 new cases reported. "For those that are complaining, there was always going to be this possibility."
For Bills games, all fans must have at least a first dose of a Covid-19 vaccine to attend the team's next home game Sept. 26.
Some have protested the mandate for reasons that include politics and personal freedom, and because the requirement is more stringent than what most other NFL teams have in place. Only the Las Vegas Raiders require proof of vaccination for stadium entry.
The Seattle Seahawks and New Orleans Saints require either proof of vaccination or a negative Covid-19 test for stadium entry.
But the spread of Covid-19 is not the only thing that has changed since Poloncarz first pushed for stadium vaccination mandates in June and Gov. Andrew Cuomo said he was overstepping.
There's a new governor now, and Kathy Hochul wasted no time praising Poloncarz and Pegula Sports & Entertainment on social media and in person for adopting the vaccination mandate. While the new governor has no sweeping authority any longer to require vaccinated fans at sporting events, Hochul encouraged everyone to follow Erie County's example as cooler weather raises the likelihood of more coronavirus infections.
"I'm asking you, every organization, every sports organization to follow this lead and institute a requirement that your fans be vaccinated before they can attend," Hochul said. "That's how we're going to deal with this fall vulnerability. This is where people congregate."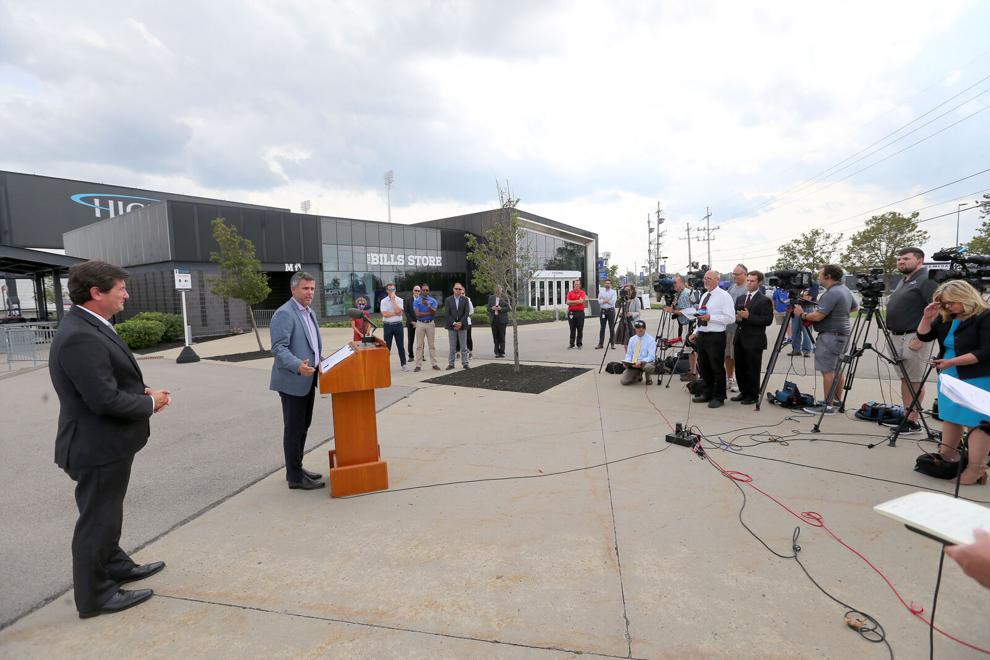 Under the new requirements, anyone planning to attend Buffalo Bills games at Highmark Stadium must have at least one vaccine dose to attend the team's next home game Sept. 26. For those entering KeyBank Center, the mandate will apply starting Sept. 25 for those going to the Eric Church concert.
Stadium and arena goers must be fully vaccinated to attend games and events by the end of October. The only exception is for children younger than 12, who must wear a mask inside the stadium.
Poloncarz said that while a small percentage of people have valid medical reasons for not being vaccinated, those instances are rare. In addition, he said, there is no major religion that forbids vaccination so the county won't burden the Bills staff with making determinations of religious legitimacy.
"How are we to judge if we come up with a letter from a pastor from Kentucky?" he said. 
Support for the new mandate appears strong. Poloncarz said he has received praise from some who are more likely to attend Bills games knowing that everyone else in the stadium is vaccinated. 
PSE Executive Vice President Ron Raccuia said the policy has led to few requests for refunds.
"I would still characterize it as minimal, which I'm thrilled with," he said. "I'm very proud of our fans."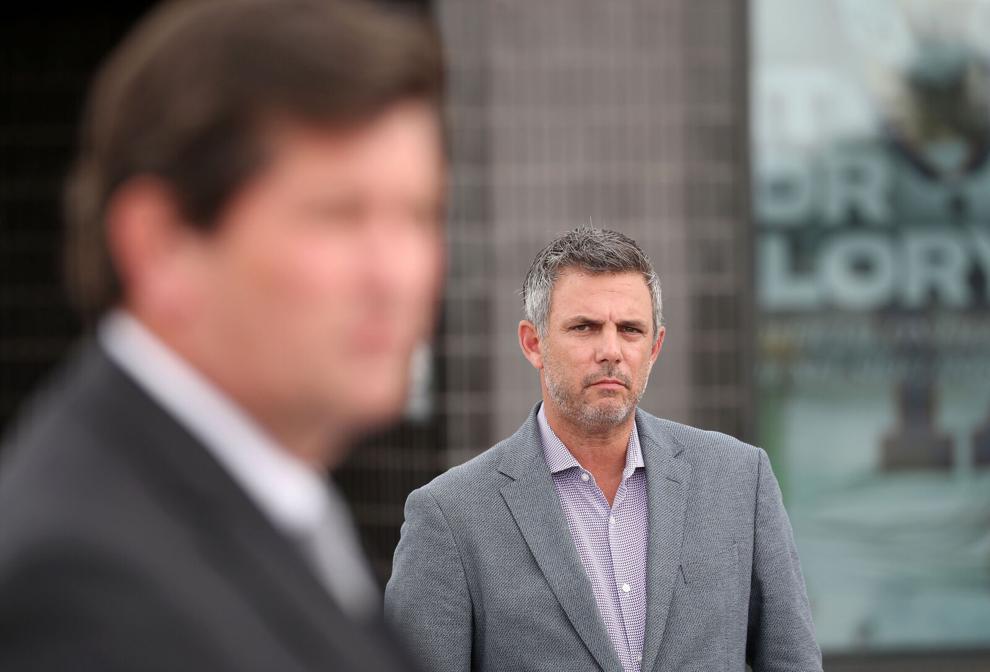 That support is not unanimous. Some public officials and Bills ticket holders have expressed criticism and concerns, including some Republican county officials and others who have raised the usual complaints about a vaccine mandate being an infringement on personal freedoms and health privacy. Comptroller Stefan Mychajliw called the policy a political power grab. And County Legislator Frank Todaro, R-Lancaster, said that while he's fully vaccinated, he respects those who choose not to get the vaccine.
"I do not like the path we are heading down as a society, and as a legislator, I cannot support it," he said. "I will not support tax dollars to build a new stadium if rules remain in place that only certain people can use it. If everyone is paying for it, everyone should be able to use it."
Others have zeroed in on the awkward timing of the announcement and the impact the new rules will have, particularly on season ticket holders. They argued that if the county was going to issue such a requirement, they should have done it before the season started instead of creating headaches for people who don't plan to get vaccinated and bought tickets thinking their vaccination status wouldn't be an issue after Poloncarz rolled back his stadium vaccination mandate in July.
The decision to announce the new restrictions after the Bills' home opener was made by the Bills organization in joint recognition of the need to line up staffing levels required, Poloncarz said, since several layers of admission procedures need to take place for everyone entering the stadium.
Unvaccinated people with season tickets were eligible for a prorated refund if they request it by Friday – but they would be permanently giving up their seats and fall to the bottom of the wait list for future season tickets. Meanwhile, because of how individual game tickets are sold, no refunds can be given to those ticket holders either.
There is more flexibility for Sabres ticket holders because the season hasn't started and no wait list exists for season tickets to Sabres games, Raccuia said. If Sabres season ticket holders want to defer their seats for a year, they can. For people who have bought concert tickets at KeyBank Center, refunds are determined by the ticket seller. 
Raccuia said the decision was made to not allow season ticket holders to defer their season tickets to next year because there's no way to know how long Covid-19 will remain a lingering public health crisis and isn't fair to other people on the season ticket wait list who are fully vaccinated.
He also said the decision was made to not permit a Covid testing option for fans because the county still would have required everyone in Highmark Stadium and KeyBank Center to wear a mask indoors in that case. That's a difficult mandate to enforce, creates another layer of logistical issues regarding identification verification and hinders fan engagement at games and events, he said.
Poloncarz defended the county's requirement that the Bills and Sabres organization require masking of all fans indoors if some fans were allowed to simply submit a negative Covid-19 test. The tests don't guarantee that a person doesn't have Covid-19 at the time they enter the stadium, he said.
"Our concern was, if you have unvaccinated individuals who were in the facility and they weren't wearing masks, they are at high risk of catching the illness," he said.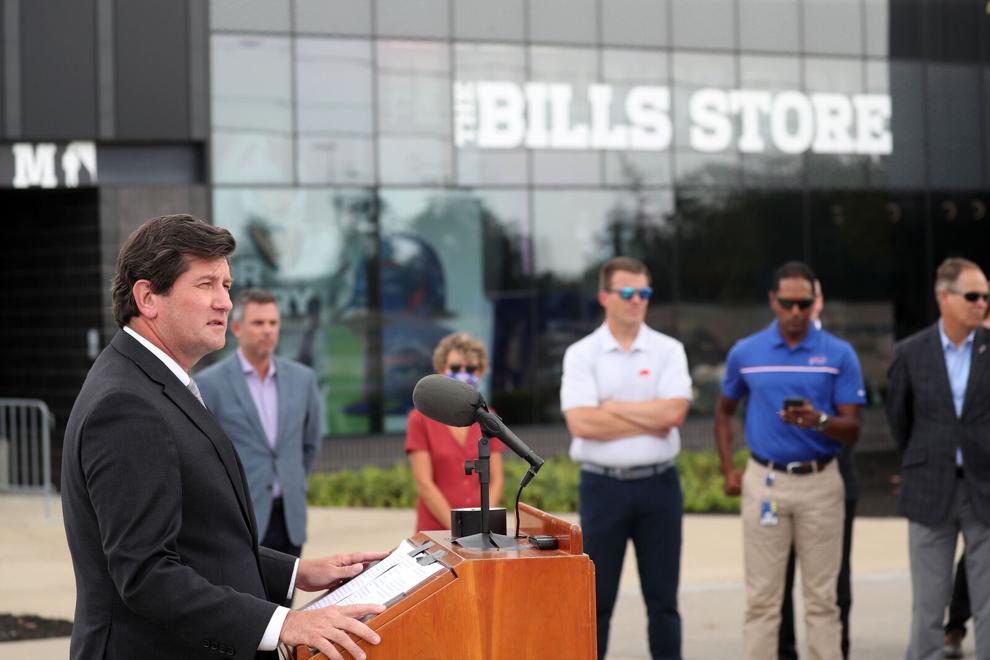 He pointed out that the county's contact tracers were aware of some cases of Covid-19 spread that were traced to the Billy Joel concert and Bills preseason game in August, though there was no known outbreak and no Covid-19 testing requirement for those events. 
Raccuia said the Bills and Sabres organizations want to forestall any potential new capacity restrictions that might be imposed regarding social distancing for unvaccinated fans in the future and pointed out that vaccination is a safer environment than testing overall.
While the county and the Bills and Sabres organization may not have seen eye-to-eye on everything, Raccuia said, "I give the county a lot of credit for understanding our business concerns."