Buffalo Niagara is smaller, older and poorer than nearly every other market in the National Football League.
For anybody who has paid attention to pro football economics over the last few decades, this is a familiar refrain. The Buffalo Bills are recognized as one of the NFL's small-market clubs, often in the same breath as Green Bay, New Orleans and Jacksonville. A Buffalo News analysis of  census data illustrates the implications of those gaps as team officials seek public funding from New York State and Erie County to build a $1.4 billion stadium in Orchard Park.
• The Buffalo Niagara market's population (1.1 million) is second smallest in the league — and while that is about four times the size of the Green Bay, Wis., market, households in the Packers' region have an average income of just more than $65,000 – nearly $5,000 higher than the same figure in Western New York.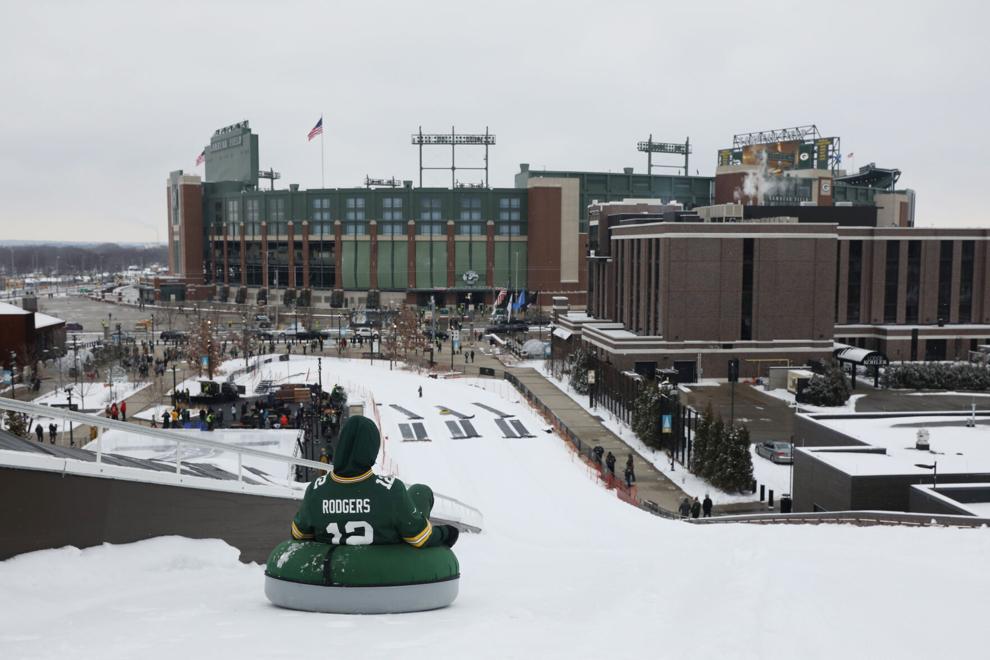 • Buffalo's corporate base is small. The census in 2016 estimated the region has 1,631 companies with 100 or more employees – second lowest in the NFL. For comparison's sake, consider New Orleans: Its population of 1.3 million is similar to Buffalo, but it has nearly 500 more companies with 100-plus employees. Jacksonville, with 1.6 million people, has nearly 800 more 100-plus-person companies.
• The median age in the Buffalo market is 40.8 years old. Most other NFL markets are in the 30s. The slightly older Buffalo population isn't problematic, but when contrasted against the average age of Bills season ticket holders – approximately 51, according to a team official – it illuminates an important gap for the Bills: "Attracting younger fans is a key goal in the sustainability of the franchise in Buffalo," said Ron Raccuia, executive vice president of Pegula Sports and Entertainment, the management company that oversees the holdings of team owners Terry and Kim Pegula.
Winning is part of that strategy, and so is designing a new stadium facility with updated amenities, such as standing-only party decks and networking that allows for speedy connectivity of wireless devices. But that has to be scaled and priced for what Terry Pegula once referred to as a "Buffalo style" stadium.
Meanwhile, the haggling over who's paying for it will happen as the days flip by on the calendar: The Bills' current lease for Highmark Stadium expires in July 2023. 
"When we look at the situation as it stands right now, if the public sector doesn't step up, there may be some issues down the road that no one really should even want to talk about," said Marc Ganis, a Chicago-based sports consultant who has worked with about two-thirds of the NFL's teams and on approximately two dozen sports facilities projects. "That's a reflection of the fact that there isn't the size of market and a corporate base that is compelling for Buffalo to have an NFL team."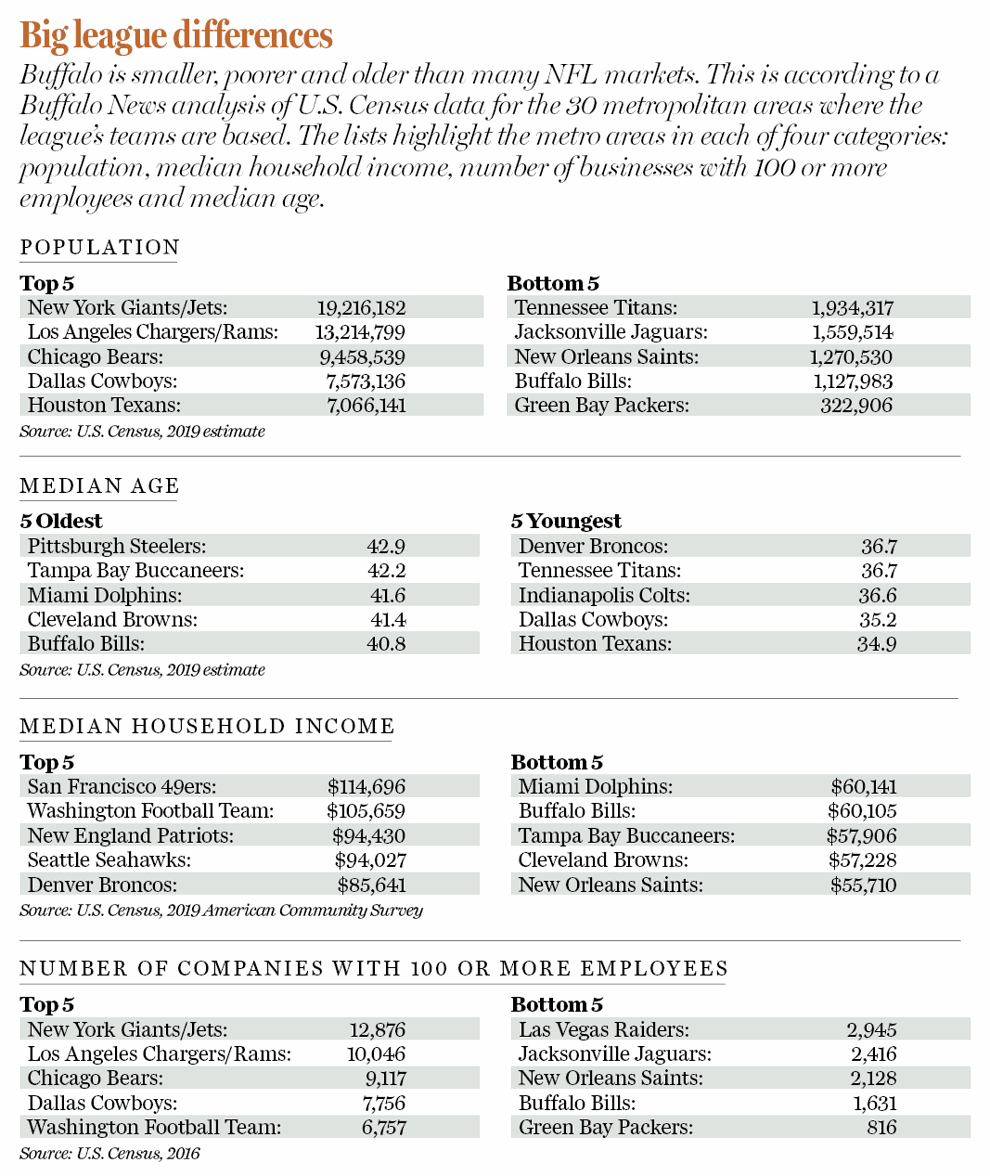 Here's a look at the Bills' small-market challenges and strategies: 
What keeps the Bills viable in Buffalo?
Two factors: The NFL's revenue-sharing model, and a collective bargaining agreement with players that keeps the salary cap the same for every team.
About 75% of each team's revenues come from the NFL and are shared equally, while the salary cap prevents cash-rich clubs from large, corporate-heavy cities – think Dallas – from paying out sums that a team like the Bills could not afford. "Without those two, the Buffalo Bills could not field a competitive franchise," Ganis said.
To envision what would happen if revenue sharing and a salary cap didn't exist in football, you need only look to baseball, in which clubs in Los Angeles and New York are perennial playoff contenders.
The Bills benefit from revenue sharing far more than they contribute to it. The NFL doesn't release its revenue sharing figures, but they can be gleaned each year through annual reports from the Packers, which is publicly owned. Those documents reveal that each of the NFL's 32 teams received $309.2 million in 2020.
Raccuia declined to share specifics about the Bills' revenue sharing contributions, but told The News "the Bills consistently rank in the bottom quartile in the NFL in terms of revenue generation." That places Buffalo among the bottom eight teams.
What's the role of Buffalo's economy? 
Buffalo's economy, founded in durable goods production, was in a decadeslong decline, and previous recessions hit this area harder, and longer, than other faster-growing parts of the country. But this pattern might have changed with the pandemic-related downturn, and recent data show the region's economy and population are stabilizing. 
"We're not falling the way we were," said George Palumbo, a Canisius College economist who attended his first Bills game in 1965 at War Memorial Stadium.
How do the demographics of the Buffalo Niagara market affect the Bills' business model?
The largest source of revenue for NFL teams, generated by the sale of broadcast rights, is shared equally among all teams. But market size affects how much the team can generate in local revenue – everything from suite sales to sponsorships. For example, the NFL average is $1 million per team in airline sponsorships and $450,000 per team in hotel sponsorships, according to a league source. But the Bills, according to a team official, generate no dollars in those areas, in part because Buffalo is neither an airline hub nor a significant convention town.
In some ways, the demographic rankings don't illustrate the Bills' full reach. "We are upstate New York's team," said Bruce L. Fisher, director of SUNY Buffalo State's Center for Economic and Policy Studies. For example, he said the census and Nielsen, which measures television market size, don't consider the population of Rochester or Southern Ontario.
The Bills have tried to expand their market by engaging fans in Ontario, where they added a series of games in Toronto from 2008 to 2013, and in Rochester, where the team held training camp from 2000 to 2019.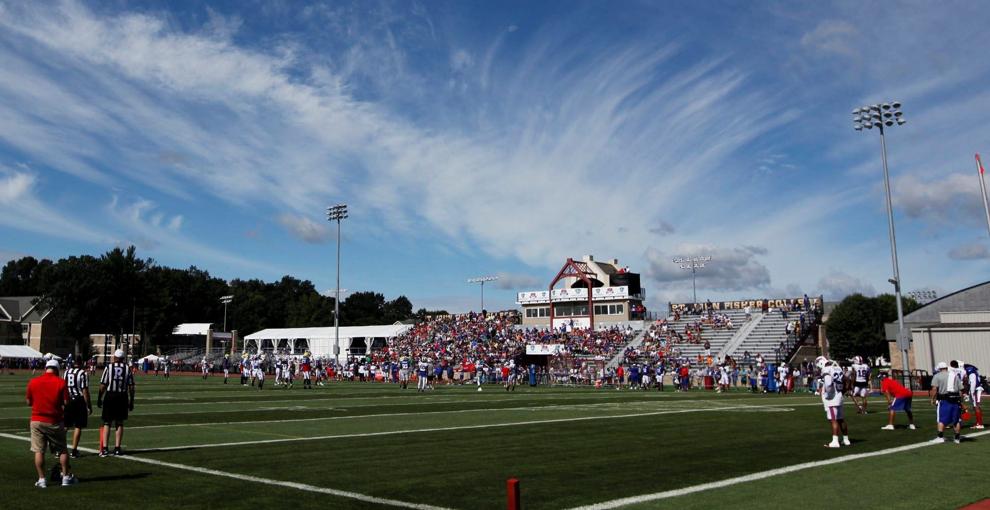 Nellie Drew, director of the University at Buffalo's Center for the Advancement of Sport, said census data laid out on a spreadsheet don't capture a key area where Buffalo measures up to any league market.
"There's one column that's not there, and I'm not sure how you would quantify it, and that's the passion," Drew said, noting the team's strong showing on social media and how well its fans travel.
Stanford sports economist Roger Noll said the Raiders, when presenting their economic impact statement for moving the team from Oakland to Las Vegas, pointed to the so-called Bills Mafia. "One of the specific examples they gave was all those people from Buffalo are going to come to Las Vegas and they're going to learn what a wonderful place this is and keep coming back," Noll said.
This weekend's Bills-Chiefs game in Kansas City illustrates the Raiders' point: According to the secondary ticket marketplace TickPick, nearly one-third of the tickets purchased have a New York ZIP code. The average purchase price for the Buffalo-Kansas City game was $300 on Saturday, behind only Tampa Bay-Miami ($321) and Las Vegas-Chicago ($515) this week.
Fans on the road don't boost Buffalo's economy, but the willingness of Bills fans to help fill other city's stadiums does have value to NFL owners – and might help reinforce the idea of keeping the team in Buffalo.
What's the impact of winning on small-market viability?
While fielding a winning franchise doesn't wipe away the impact of the difference between Buffalo and other cities, it does help generate better television ratings and increase the opportunity for big-dollar sponsorships.
In that regard, the Bills – who are tied for first place in their conference – are moving in a positive direction. "There are a lot of teams that spend a lot of money, but they don't select well – whether it's GMs, coaches, players," Ganis said. "They don't manage their caps well. The Bills are hitting on all of those cylinders right now."
Raccuia calls winning a "critical" element of the team's business strategy. "We know organizationally that the more success we have on the field," he said, "the more sustainable our small market franchise is in the NFL."
How does Buffalo's market size play into the plans for a new stadium?
That's a term used by Raccuia, when asked about the Bills' choice of a stadium site. PSE "looked at 10 to 12 different locations" for a stadium, Raccuia told The News. They considered factors such as availability of property, size of footprint, utilities, ingress/egress, infrastructure, parking, security concerns with adjacent buildings, and even how the sunlight would strike the stadium.
Ultimately, Bills officials identified three options they considered viable: the University at Buffalo's North Campus, a stretch of land near downtown along South Park Avenue and across the street from the current stadium in Orchard Park.
After an in-depth study, the team identified Orchard Park as the "fiscally responsible" choice, Raccuia said, for a stadium that will likely be funded through a public-private partnership between the state, county and Pegulas. "With all of that in mind," he said, "building a stadium in Orchard Park across from the existing stadium is, in fact, the most economically efficient model in our opinion."
However much is spent on a stadium in a small market such as Buffalo, you can't splurge and expect to get a solid return. "Studies by scholars have found that you cannot expect there to be a positive economic impact from a project like this," said Andrew Zimbalist, a sports economist at Smith College.
That's because NFL stadiums sit empty most of the year, and the league's revenues – approximately $16 billion in 2019, and $12 billion in pandemic-dampened 2020 – tend not to recirculate in local communities.
Beyond the footprint and cost, how does being in a smaller market impact stadium planning?
The answer to that is highly specific to each city, but look at it this way:
In Buffalo, the vibe is grilling hot dogs and smashing tables in a parking lot. You'll see some of that happen in other places, too, but in bigger and richer cities, you're also more likely to see fans who prefer – and can afford – a country club atmosphere when they're attending games.
"Small market versus big market also means different fan expectations," said Ryan Starkovich, a principal and sports practice director with Henderson Engineers, the Kansas City-based firm that works on sports venues around the country, including SoFi Stadium outside Los Angeles and the Chiefs' renovations of Arrowhead Stadium.
In a bigger, richer market, you're likely to see pricier club seats, while in Buffalo it might mean an emphasis on creating tailgate zones and other more affordable party areas.
Does Buffalo's small-market status make it more susceptible to another city wooing the team away?
Theoretically, yes. An August report in The News identified nine U.S. cities that could viably support an NFL franchise, along with Toronto or London if the league opted to field an international club.
"I think a new stadium is what's needed. I think it's going to require a public-private partnership," Goodell said Monday while visiting the Jim Kelly Celebrity Golf Tournament in Batavia.
In practicality, relocating the Bills is unlikely to happen – but it's not an impossibility. Moving a team requires the approval of NFL owners and the payment of a steep relocation fee and there are a few powerful players – NFL Commissioner Roger Goodell, who is a native of Western New York, and Senate Majority Leader Charles Schumer, the Democrat from Brooklyn – who would likely balk at the idea. More vitally, Terry and Kim Pegula have expressed zero interest in moving the team.
"The best thing that Buffalo has going for them about having an NFL team in the future is that they have one today," Ganis said. "I can't emphasize strongly enough: Don't lose what you've got, because Buffalo would not be thought of as a relocation market down the road."