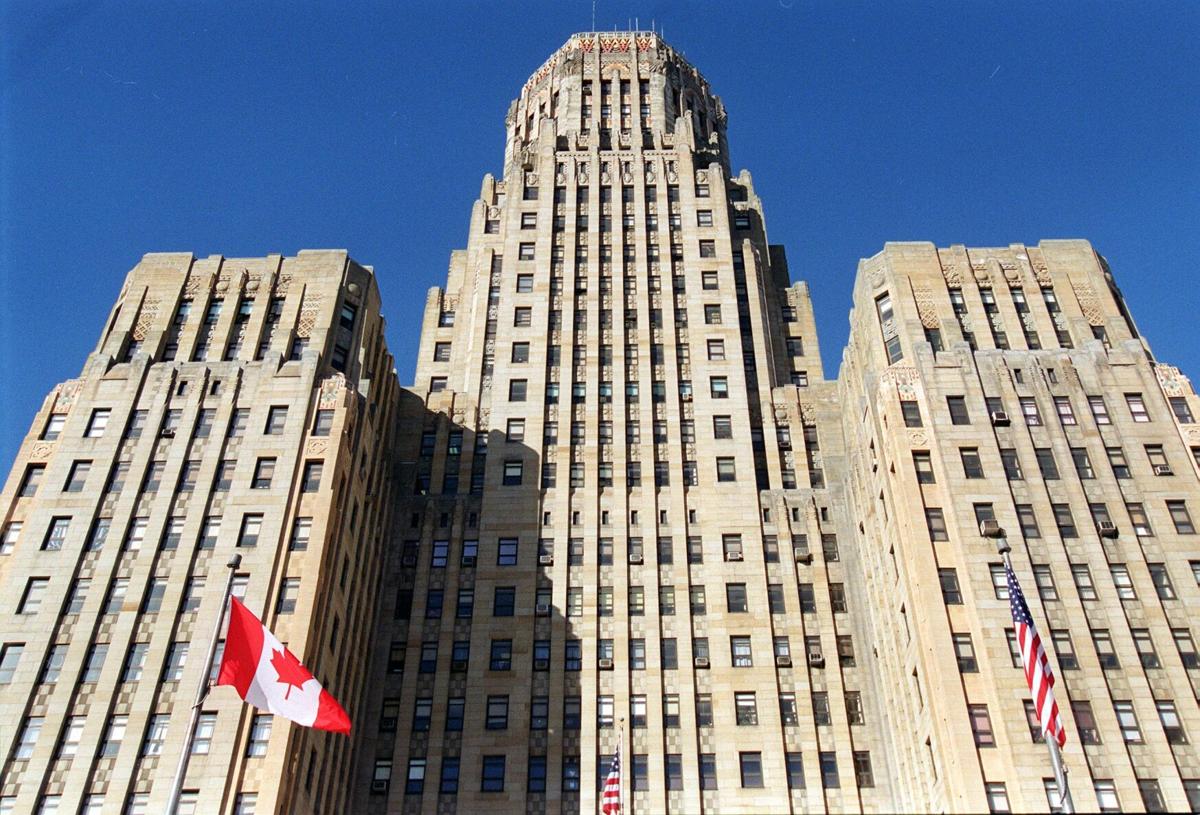 The "guaranteed income" program Mayor Byron W. Brown has proposed for Buffalo shares the traits of other such initiatives around the country with one exception: More people would participate.
The $500 monthly payment is in line with pilot projects proposed or already running in 16 other cities, according to a Buffalo News review of their criteria.
Here are the highlights of Mayor Byron Brown's proposal for spending some $328 million in federal stimulus aid.
Like Buffalo, the programs in Richmond, Va.; Newark, N.J.; Stockton, Calif.; and Pittsburgh call for signing up households for two years.
But a bigger share of residents would participate in Buffalo's program if it gains approval from the Common Council and eventually the federal government, which would provide the $20 million in funding through the American Rescue Plan.
Brown recommends sending $500 monthly checks to low-income households selected by lottery, providing direct support for more than 1,600 households.
The "income assistance program" is one of 28 ways Mayor Byron Brown has recommended spending more than $328 million in federal stimulus aid to the city over two years.
Pittsburgh's plan enrolls 200 families. Newark has twice that many. St. Paul, Minn., sends checks to 150 families. 
Los Angeles, the nation's second-biggest city with nearly 4 million residents, announced a program this past spring for 2,000 recipients. And Chicago, the nation's third-biggest city with nearly 2.7 million residents, proposes providing at least 5,000 recipients with $500 a month, but only for a year. 
Proportionally, Buffalo would cast a wider net by enrolling 1,600 households, because its estimated 2019 population of 255,284 falls far short of the overall number of residents in Chicago and Los Angeles, whose programs call for signing up more people. 
Most programs across the country sign up those who are poor. Brown's proposal summary references "low-income households," but doesn't spell out how poor someone must be to become eligible for the program.
Some cities added criteria beyond being poor. And a few don't specifically require being poor.
Once classes begin in September, each student in Buffalo will be screened to identify what skills need to be retaught to get them up to grade level, according to a report recently released by the school district.
Oakland, Calif., unveiled a program in March to provide hundreds of low-income families $500 monthly payments for 18 months. Households with the greatest income disparities, as defined by the Oakland Equity Index, have priority. To qualify, families must have one child under the age of 18. 
Marin County, Calif., announced a pilot program in March to provide $1,000 to 125 women of color who are raising at least one child under the age of 18.
In Richmond, the program calls for enrolling those who do not qualify for traditional public benefits. Its recipients are chosen from people who use the city's Office of Community Wealth Building, part of a city anti-poverty commission. All have children and are employed.
Tacoma, Wash., announced a program to start this summer to provide at least 100 low-income recipients who are employed with $500 monthly payments for one year. The recipients are above the federal poverty limit, but still struggle to pay for food, housing, health care and child care.
And in St. Paul, recipients were chosen from those already enrolled in the College Bound Saint Paul program, a city initiative to provide St. Paul children born after January 1, 2020 with college savings accounts.
The district plans to spend $173.42 million for expanded instructional initiatives, $38.93 million to open schools safely; $38.92 for student emotional and social well being and support services, and $38.12 million for information technology upgrades and digital resources.
The Stockton Economic Empowerment Demonstration, or SEED, was launched in February 2019 by then-Stockton Mayor Michael D. Tubbs and funded by $3 million in donations and grants.
The program provided 125 randomly selected residents with $500 monthly payments over 24 months.  
Those in the program showed an increase in full-time employment – from 28% to 40% – and improvements in mental health and financial well-being, according to a study released in March 2021 that evaluated the first-year of the pilot. 
The first year occurred during the pre-Covid-19 time frame from Feb. 2019 to Feb. 2020. A team of independent researchers, found that the guaranteed income:
• Reduced income volatility, or the month-to-month income fluctuations that households face.
• Enabled recipients to find full-time employment.
• Improved the health of recipients, who showed less depression and anxiety.
• Alleviated financial scarcity and created opportunities for self-determination, choice, goal-setting and risk-taking.
Although the district spending plan is 169 pages, much of the document was devoted to background, academic concepts and guiding principles, not price tags, cost analyses or payroll needs for specific new academic and enrichment programs or construction-related expenses.
The researchers looked at spending data collected each month from the prepaid debit cards to determine how recipients spent the $500.
Recipients spent the money mostly on basic needs, including about 37% on food; approximately 22% on home goods clothes and shoes, including purchases at discount and dollar stores and larger stores like Walmart and Target where food also can be purchased; about 10% on auto care or transportation; and 11% on utilities.
A project of the scale Buffalo proposes should take at least a year to gather enough data, said Saadia McConville, spokesperson for SEED and Mayors for a Guaranteed Income.
Robert Silverman, an urban and regional planning professor at UB, said most income programs adopted around the country are pilot programs that run for a year or two to provide evidence that the concept works.
The time limit matters, he said.
"If people know the money goes away after a certain period of time, that will influence how they plan to spend it," he said.
For example, Silverman said, if someone gets $500 a month for two years, the person may apply it toward a short-term investment in a job training program, clearing debt and fixing credit scores, emergency home repairs or use it to buy a car so they have better access to a job. However, if there were no time limits, that money may fit into longer-term decisions about household finances, like the decision to take on a 30-year mortgage versus renting.
The $500 allotment is sufficient, "as we saw in Stockton," McConville said. "However, different pilots are trying different amounts, and we at MGI look forward to understanding dosage as an important variable."
The $500 a month "would essentially pull many households out of poverty, or at least reduce the worst effects of poverty for them," he said. "
Like Buffalo, Chicago would also draw on American Rescue Plan funds to finance a guaranteed income project. The city would use $30 million from its $1.9 billion ARP allotment.
But most of the pilot projects count on funding from elsewhere, usually grants from foundations.
St. Paul, Minn. is using federal Cares Act dollars, state funding and donations to fund its $1.53 million project. 
Donations help fund more than a half dozen of the programs reviewed by The News.
In Los Angeles, the $24 million program announced in April will get $6 million that the city reallocated from its police department budget. 
Most programs, like the ones in Gary, Ind., and Paterson, N.J.,, select recipients by lottery. 
McConville, the spokesperson for SEED and Mayors for a Guaranteed Income, said she is not aware of other pilots that use anything other than a lottery.
"At MGI, all our pilots are randomized control trials, so we need the random assignment of a lottery to ensure the validity of our data," McConville said. "Lottery is also more politically feasible because it ensures that folks feel as though they had a fair chance of being selected," she said.
Silverman said a targeted approach may be more effective, directing the money to, "for instance, young adults aging out of the foster care system, single mothers, victims of domestic abuse or others who are at a critical point in their lives where one or two years of additional income can help them become more economically stable," he said. "Targeting investments to these populations would probably have a bigger impact than just distributing the money by lottery."