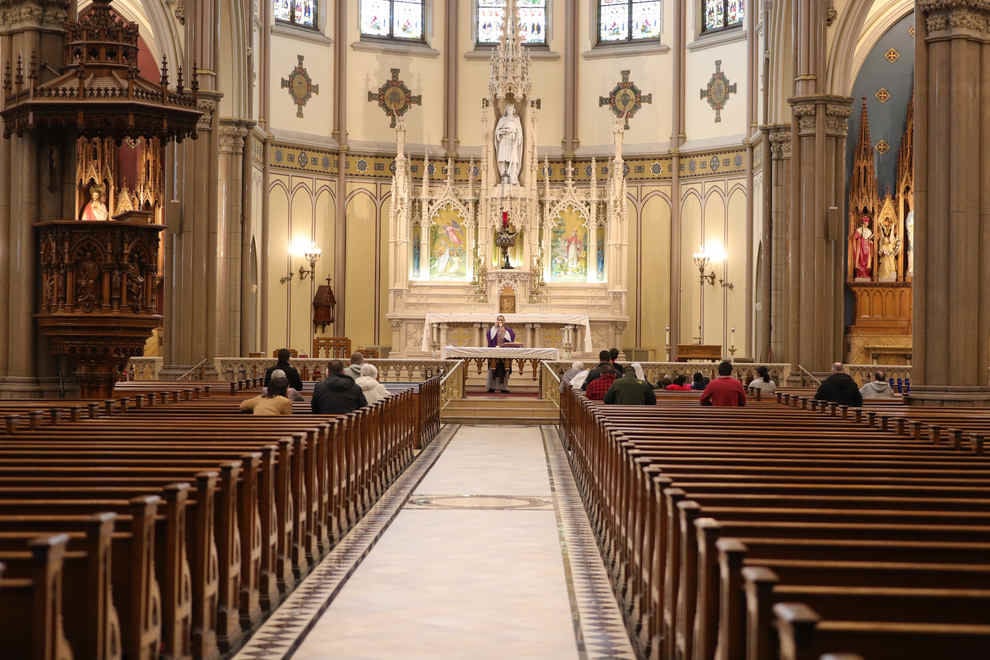 Houses of worship won't be allowed to reopen until the fourth and final phases of New York State's re-opening plan, Gov. Andrew Cuomo said Monday.
In Western New York, that's likely to take place in roughly six weeks, if there are no spikes in new cases of Covid-19 in the region and the phased re-opening goes as scheduled.
Church, synagogues, mosques and temples would be allowed to hold regular services at the same time other large gatherings such as those involving education, arts, sporting events, recreation and other kinds of entertainment get the go-ahead. It's possible smaller services might be allowed, though.
Starting Tuesday, the five counties designated by the state as Western New York — Erie, Niagara, Allegany, Cattaraugus and Chautauqua — can start Phase 1, which includes construction, manufacturing and curbside retail. Phase 2 includes professional services, including real estate, law and hair salons and barbers. Phase 3 includes restaurants and other food services. Each phase is scheduled to start two weeks after the previous one.
Regarding houses of worship, Cuomo said at his daily briefing, which was held at the Roswell Park Comprehensive Cancer Center, that the major issue is the "concentration of density," whether that's at "jammed churches" or tour boats at Niagara Falls or anywhere else. The same is true for meat-packing plants in the Midwest where hundreds of employees work in close quarters, Cuomo said.
And he cautioned that – aside from a nursing home in Seattle – the first "hot spot" or "super-spreader" in the United States was in New Rochelle, in Westchester County, when "one person, who went to a religious gathering and then a ceremony, infected dozens and dozens."
"Nobody can tell you when they'll be ready for that," Cuomo said.
As a result, Cuomo's budget director, Robert Mujica, who has been closely involved with the state's pandemic response, said houses of worship fall into the last of the four stages of reopening because "that's a mass gathering."
"The question is whether you could do something less than that," Mujica said, citing much smaller groups that have been suggested. "That hasn't been determined yet."
Cuomo said that enforcement will be left to localities, and both Erie County Executive Mark Poloncarz and Buffalo Mayor Byron W. Brown said they were prepared to do so. The local leaders cited the case of a local minister who was going to "violate the law" this past weekend by holding a religious service at his church.
"We told that minister that he would be arrested if he violated," Brown said. "We talked him through it. It did not occur. But we are prepared to enforce the law."
Get local news delivered to your inbox!
Subscribe to our Daily Headlines newsletter.